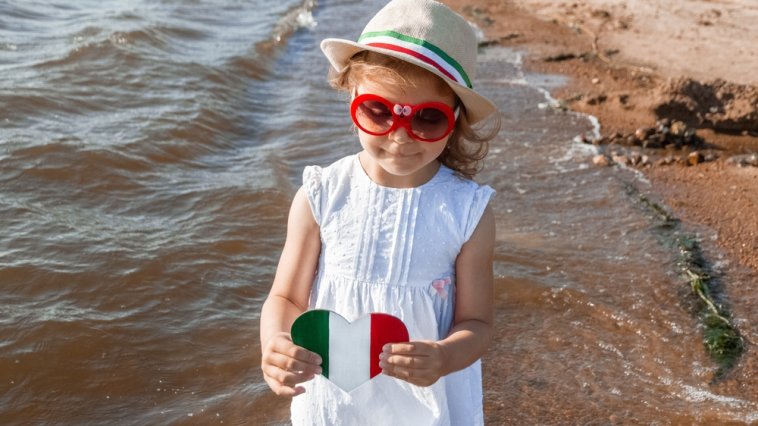 Naming traditions vary around the world. Some countries list surnames before first names; some pass the surnames of both the mother and father on to the children.
Not all Italians have middle names. It's quite common for Italians to have just a "nome" (first name) and a "cognome" (surname).[1]
Further complicating matters, there are traditions surrounding which specific names to choose for children based on their birth order or local customs.
One might choose the name of a saint that has a connection to the child's birthplace or birthday. Or, they might follow conventions like naming the first male after his paternal grandfather and the first female after her paternal grandmother.
Ancient Roman naming conventions were different as well, including a "praenomen" (personal name), "nomen" (family/clan name), and "cognomen" (family branch nickname).[2]
Below, we list various Italian middle names to choose from for boys and girls. Scroll past the list for tips on choosing the perfect middle name.
Traditional Options
Historically, Italian middle names have been religious and come from the following inspirations:
Locality
In this case, the middle name is inspired by the name of the patron saint of the city or town where the child is born.[3]
You can also get inspiration from the patron saint of a different city that's significant to the family, such as the ancestral home or the city where the child's parents married.
Examples:
Gabriella:
after Saint Gabriel of Our Lady of Sorrows, patron saint of Abruzzo
Francesco:
after Francis of Assisi
Alexandra:
after Alexander of Bergamo
Matteo:
after Matthew the Apostle, patron saint of Salerno
Catherine:
after St. Catherine of Siena
Calendar of Saints
The Calendar of Saints features saints and holy figures associated with each day of each year.
You can choose a name inspired by the saint appearing on the Calendar either on the day the child is born or the day after.[3][4]
Examples:
Cecilia:
after Saint Cecilia
Maria:
after Saint Maria Faustina Kowalska
Teresa:
after Saint Teresa of Avila
Antonio:
after Saint Antonio de Sant'Anna Galvao
Lorenzo:
after Saint Lorenzo Ruiz
Names for Girls
If you don't want to choose a name based on a saint, the following names are commonly used as middle names for girls in Italian culture:
Gianna

Antonia

Rosa

Giulia

Alba

Isabella

Diletta

Stella

Sole

Maria

Vittoria

Luisa

Carla

Berta

Giuliana

Sofia

Lucrezia

Emilia

Pietra

Roberta

Francesca

Raffaella

Anna
Names for Boys
If you'd rather just choose a name you like than one based on locality or the Calendar of Saints, the following are some traditional Italian names that commonly appear as middle names for boys:
Carmine

Massimo

Vincenzo

Donato

Alberto

Leonardo

Umberto

Filippo

Valerio

Carlo

Emiliano

Angelo

Giorgio

Paolo

Antonio

Benedetto

Giuseppe

Lorenzo

Ottavio

Bruno

Dante

Gianni

Flavio

Dario

Enzo

Fabrizio

Luca

Andrea

Norberto

Vittorio
Italian Middle Name Generator
Tips for Choosing an Italian Middle Name
Choosing a great name takes a lot of thought and consideration!
Keep these tips in mind while trying to choose the perfect name:
Consider the impact of the name. Think about things like whether having a longer name or a hard-to-pronounce middle name will complicate a child's life as they get older. If you live or plan to live in Italy, for example, a child with multiple names will need to include all of their names on official documents like marriage certificates and business contracts throughout their life.[3]
Match the middle name to the first name. While both names are important on their own, they should also sound good together. You can simply choose a pairing that sounds good to you or get inspiration from a classic Italian composite name like "Gianluca" (Gianni + Luca) or "Rosanna" (Rosa + Anna).
Get inspiration from your family. Italian names tend to be passed down through families. It's common to see family trees where every generation has several Giuseppes or Marias, for example. Consider choosing a middle name shared by a parent, grandparent, or beloved aunt or uncle.
Choose something meaningful. Names with stories behind them are great because as a child gets older, their parent or guardian can share the inspiration with them and tell them why their name is so special.
Follow conventions as closely or loosely as you wish. At the end of the day, traditions are important, but not as important as choosing a name you'll be happy with long-term! If something unconventional or unique seems like a better fit, follow your instincts.