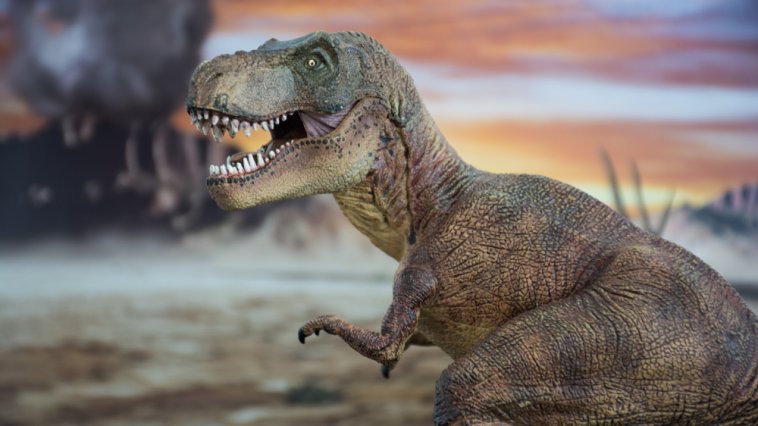 Children love dinosaurs. From toys to imaginary friends, it's unlikely you'll find a child who hasn't enjoyed playing with one of these long-lost creatures.
An all-time favorite dinosaur for kids and adults alike is the T. rex.[1]
The name Tyrannosaurus rex means "tyrant lizard king,"[2] reflecting its status as one of the most fearsome dinosaurs ever to roam the earth.
The T. rex was about the same length as a school bus, with 60 sharp teeth, each measuring around 8 inches long![3]
Whether you have a new T. rex toy or you're playing a game like "ARK: Survival Evolved," choosing the perfect name for your T. rex adds an element of fun and personalization.
Below, we have the list of names for a T. rex, as well as a name generator and tips for choosing the right one.
Brutus[4]

Titan

Apex

Rexecutioner[5]

T-Bone[6]

Reptar

as in the T. rex in "Rugrats"

Chaos[7]

Big T

Tyrone[6]

Spyro[6]

Max[6]

Alpha

Godzilla

Rexie[8]

Killer

Rexcellent

rex + excellent

Dino-mite

Claws

Thunder[7]

Stubby

Dinomighty[9]

Bowser

as in the villain in Mario games

Rex Box One[10]

as in Xbox One

Chomper

Rory[7]

Terror

Tank

Yoshi[6]

as in Mario's faithful dinosaur

Mr. T

Lockjaw[4]

Ripsaw[10]

Stomp

T-Wrecker

Mega Rex

Fang[4]

Crusher[4]

Devastator[9]

Dino Saw

Destructo

Dino

as in the dinosaur in "The Flinstones"

Charizard[6]

Danger Zone

Rex Effects

T-Dog

Total Takedown

Stuffosaurus Rex

Lord of the Dinosaurs

Rage

Lizard Lord

Tyrannosaurus Wreck[6]

Titanosaurus[4]

King

T.R.
T. rex Name Generator
How to Choose the Perfect Name for a T. rex
There's a lot to consider when choosing the right name for your very own T. rex. It's got to match your style and be a perfect fit for your unique dinosaur.
Keep these things in mind when making the choice:
Consider the T. rex's personality. If you're choosing a name for a dominant T. rex, a powerful title like "Alpha" or "Lord of the Lizards" might work best. If it's a dinosaur of mass destruction, you may want to go with something like "Tyrannosaurus Wreck" or "Danger Zone." Whatever the personality of your T. rex, it can provide great inspiration to help narrow down your choices.
What will you be doing with your T. rex? If you're looking to name a T. rex in a video game, that may give you some helpful guidelines for making the choice, such as character limits. If you need a nickname for a toy, consider what sort of things you'll be doing together when choosing the perfect name.
Does it have any unique characteristics? If so, use them to help choose your top picks and narrow them down to one. This can be helpful if you want to create your own name or alter one from our list. For example, if your T. rex is blue, you could add this color to one of the names on the list to create "Blue Godzilla" or "The Rexcellent Blue Bandit."