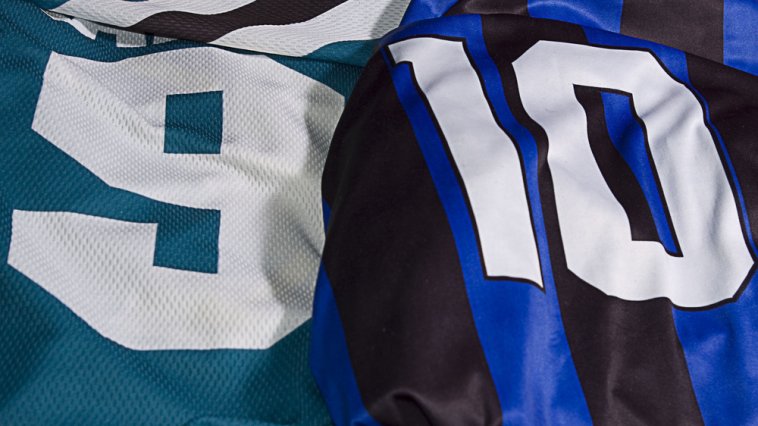 From hockey to football and baseball to basketball, sports are one of America's favorite pastimes. One way fans show their support and promote unity is by wearing their favorite team's jersey.[1]
Over the past 40 years, jerseys have exploded in popularity and sales.[2][3]
Today, not only can you wear your favorite player's name and number, but you can also customize what's printed on your jersey.
Recreational sports teams (such as local softball, baseball, and soccer leagues) also make custom jerseys.
Below, we have the list of over 100 funny and creative names and phrases perfect for jersey customization. The list is split into sections — first, jersey names suitable for all sports, and then ideas related to specific sports.
Also, see our ideas for creating your own perfect jersey catchphrase below the list!
All Sports
Big Baller

Respect the Game

Play With Heart

Fan at Large

Star Player

Mega-MVP

Every Shot Counts

Hot Shot

Record Smasher

Player Slayer

Don't Hate -- Motivate

Unstoppable Force

Throw off Some Steam

a play on "blow off some steam"

Game of Throws

Saved by the Ball

Master of Defense

Fast and Furious

Soul Player

Passion and Perseverance

Ready for Victory

Go Big!

Oddball

Refuse to Lose

3, 2, 1, WIN

Goal Oriented

Sacrifice and Dedication

Unity. Heart. Victory.

Game Changer
Baseball/Softball
Dirt Devil

Bat to the Bone

Hitman

Double Header

Base Stealer

Mound Pounder

Turf Warlord

I Glove You

Mad Batter

Bang or Bunt

The Perfect Catch

Pitch Perfect

[Queen/King] of Diamonds

Penny Pitcher

Fully Loaded

Catcher in the Rye

Diamond Thief

Bat Attitude

Ebb and Throw

Grand Slammer

Super Slugger

Fastball Frenzy

Sir Sandsalot

Play Ball

Base Odyssey

King Cracker Jack

Home Runner

[Princess/Prince] Pitcher

Homerun Hitter

Bunt Cake

Mitt and Grit

Smooth Slugger

Scaredy Bat
Football
Huddle Bros

Goal 9 Yards

Total Take Down

Kick Their Door Down

Remember Rudy

Punt Intended

Football Fanatic

When Pigs-kin Fly

a play on "pigskin" and "when pigs can fly"

Case in Punt

Blitz 'Em

Total Tackle Takedown

Block and Tackle

Touchdown Showdown

Sack 'Em

Touchdown Triumph

Ready for Kickoff

Move the Goalpost

The Huddle is Real

Kickoff Crew Member

Halftime Showdown
Soccer
Kick It Into High Gear

Heads Up

Footloose

Kickin' It Old School

I'm a Keeper

Just for Kicks

Fancy Footwork

I'm a Soccer for You

a play on "I'm a sucker for you"

Goal in One

Alive and Kicking

Kick 'em Like a Habit

Dropkick the Competition
Basketball
Dr. Dribbler

Fastest Shooter in the West

Swish on a Star

a play on "wish on a star"

Drop It Like It's Shot

a play on "drop it like it's hot"

Blood, Net, and Tears

a play on "blood, sweat, and tears"

Swish Come True

a play on "wish come true"

Swishful Thinking

a play on "wishful thinking"

Like Mike

reference to Michael Jordan

Slam Dunker

Dominant Dribbler

Shaq Attack

reference to Shaquille O'Neal

Swish You Were Here

a play on "wish you were here"

Straight Shooter
Hockey
Ice Ice Baby

Icicle Thrasher

Too Cold to Hold

Puck-splosion

Twice as Ice

a play on "twice as nice"

Blizzard Banshee

Skate or Die

Pucker Up

Glacial Goalie

Ice to Meet You

a play on "nice to meet you"

Puck Massacre

Holy Goalie

Straight Shooter

Meet Me at the Rink

Gloves Off, Fists Up

I Call the Shots

Penalty Box Frequenter
Jersey Name Generator
How to Create Your Own Funny Jersey Names
Still having trouble finding the right jersey name? Creating your own can be fun and can help you find a personalized option that fits you perfectly.
Use the following tips to help you brainstorm.
Take inspiration from your favorite team. Think of the team's mascot or what it's known for and build off of that. You can find great puns online for almost any word. For instance, if you want your jersey to represent the Bulls, you might use "Bull-ieve in Yourself" or "The Bull Monty."
Use words unique to your chosen sport. Every sport has specific gear and terminology. Make a list of words that reflect your sport and write phrases using these words. You can also think of words that rhyme with an item on your list, find popular phrases with the rhyming word, and substitute it with the sporty word from your list. We used this technique to come up with ideas like "Swish on a Star" for basketball lovers and "I Glove You" for baseball fans.
Write about your favorite game or sports memory. Grab a sheet of paper and jot down a few paragraphs about the best game you've ever watched or your best sports-related memory. Next, highlight phrases that stick out to you or have the most meaning. Feel free to move some words around; you might have just found your perfect jersey name!