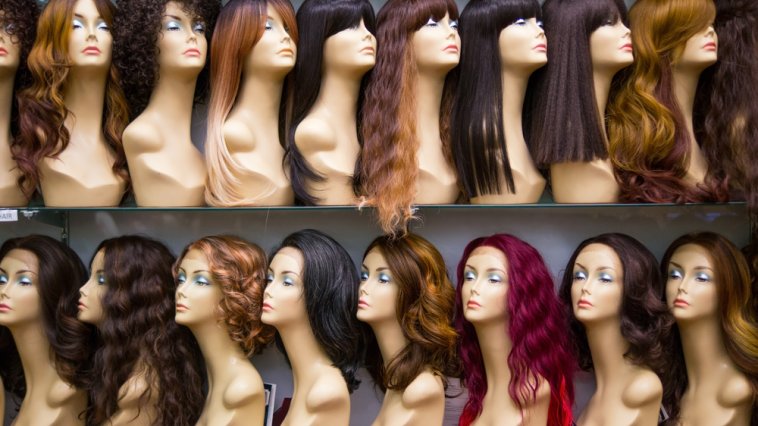 Wearing a wig can make an enormous difference in a person's life!
To a cancer patient who's lost their hair, it provides a sense of normalcy.[1]
For someone who's dressing up to play a part or try something different, it helps them feel like a new person.
Wigs have been worn for thousands of years by both men and women all across the world.[2]
They're more commonly worn by women today, but there have been periods in history when wigs were most popular among men.[3]
Most wigs are made with human or synthetic hair.[4] However, some are created from animal hair, such as a horse or a yak.[5]
Below, you'll find the list of nicknames for a wig, plus a nickname generator and tips to help you create a few of your own!
Pixie

Miss Wiggy

a play on "Miss Piggy"

Hedwig

Rapunzel

Flow

Bellisima

Goldilocks

Aphrodite

Velvet

Shaggy

Snowy

Twiggy

Hattie

Happily Hairy After

a play on "happily ever after"

Hollywood

Sassy

Lacy

Curly

Allura

Mystery

Hairzilla

a play on "Godzilla"

Bunny

Tress

Wisp

Scarlet

'Dye'ana

Hairloom

a play on "heirloom"

Silver Fox

Lovely

Shorty

Big Wig

Raven

Whimsy

Sparkle

Shimmer

Goldy

Frizzy Bee

a play on "busy bee"

Spike

Hattitha

Hairess

a play on "heiress"

Lush Rush

Chestnut

Deja 'Do

a play on "deja vu" and "hairdo"

Bouffantasy

bouffant + fantasy

Banger

Fringes

Tawny

Miss Frizzle

as in "The Magic School Bus" teacher

Extravanganza

Jewel

Grandiose

Sandy

Cole
Wig Nickname Generator
How to Create Your Own Nicknames for Wigs
Coming up with your own nickname can be intimidating, but it doesn't have to feel like work!
Use our helpful hints to make the process fun and easy:
Does your wig remind you of someone? If there's a person in your past, your present, or popular culture whose hair looks a lot like your wig, you might want to name it after them. For example, a fluffy blonde wig might be named "Farrah" after Farrah Fawcett.
What's your style? If your wig has an old-fashioned 'do, you might want to choose a word or name from an older time period — something classic like "Lucille" or "Harriet." If it screams rock and roll, you could use an edgy word or a famous rock star's name as your nickname. Whatever vibe you get from your wig, use it as your inspiration!
Use a word that makes you happy! Think of something that makes you feel joy and consider how you could turn it into a special wig name. This could be your favorite gemstone or city. It could be your favorite emotion or a personality trait. There really is no limit to what you can create.