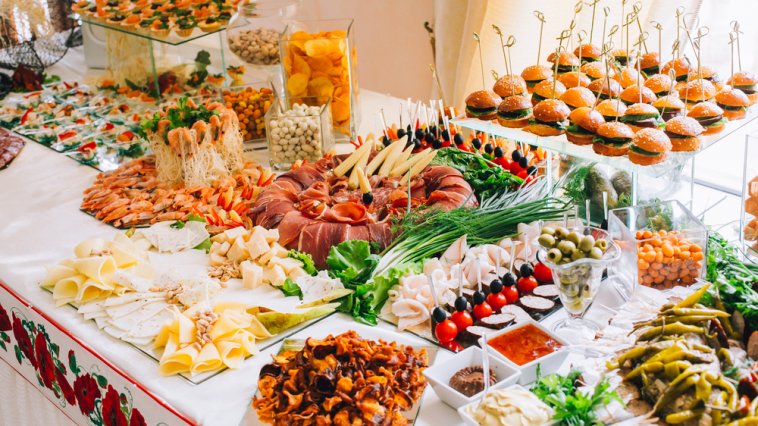 Parties are a wonderful opportunity to connect with people, have great conversations, and enjoy delicious food!
Celebrating special events with food is a long-standing tradition. The word "party" has been used to describe social events with food and drink since the 1700s.[1]
The word "potluck" was first used even earlier, in the 1500s. However, it originally meant a hastily-prepared meal for an unexpected guest. Now, it's known as a party in which each guest brings a dish or snack to pass around.[2]
Before any of these terms existed, celebrations with food were popular. The oldest known party invitation was sent in the first century, inviting guests to celebrate a Roman woman's birthday.[3]
Below is the list of party foods that begin with each letter of the alphabet. Scroll past the list for more information about planning the perfect party or potluck!
A
Alfredo lasagna cups

Antipasto

appetizer platter with olives, cheeses, and meats

Apple crisp

Apple turnovers

Angel food cake

Apple pie

Au gratin potatoes

Avocado toast

Apple tart

Antipasto salad

Alexander torte

iced shortcake with raspberry jam
B
Buffalo dip

Banana bread

Burgers

Buffalo wings

Bacon-wrapped pineapple

Breadsticks

Brownies

Bruschetta

Blondies

Brownie batter dip

Baked beans

Black-eyed peas

Bacon-wrapped dates
C
Cookies

Cake

Cowboy caviar

Cupcakes

Chips and dip

Chicken tenders

Chicken wings

Croquettes

Charcuterie board

Cheese dip

Collard and artichoke dip

Cheese ball

Chicken dip

Cheese pie

Churros

Crab cakes

Cheesecake

Cuban sliders

Cheese and crackers

Coleslaw

Collard greens

Cheddar biscuits

Candied apples

Cheese straws

Chocolate tart

Crab spread

Crostini

Cake pops

Cauliflower buffalo wings

Cheeseboard

Caprese salad

Chocolate truffles
D
Dumplings

Deviled eggs

Divinity candies

Donuts

Danish

Deep-fried Oreos

Donut holes

Dippin' Dots

Doritos
E
Eggplant rollatini

Elephant ears

Egg rolls

Eclairs

Empanadas

Egg salad tea sandwiches

Enchiladas

Eskimo pie

English trifle

Egg custard pie

Earl grey cookies

English muffins
F
French fries

Fruit and cheese board

Fudge

Fruit salsa

Falafel

Fried pickles

Fritters

Fruit salad

Flatbread

Frozen custard

Frybread

Frozen yogurt
G
Greek salad

Gelato

Guacamole

Griddle scones

Garlic bread

Garlic parmesan crisps

crispy baked parmesan cheese seasoned with garlic

Gorditas

masa dough filled with meat, cheese, and other fillings

Grilled skewers

Gingerbread cookies

Grilled cheese mini sandwiches

Green bean casserole
H
Hushpuppies

Hamburger pie

Hot dogs

Hummus and pita chips

Hamburgers

Honeydew melon and cantaloupe balls

Hoagies

Hasselback potatoes

Ham and cheese tea sandwiches

Hamburger casserole

Hand pies
I
Italian sausage bread

Ice cream

Ice pops

Icebox cake

Ice cream floats

Italian ice

Ice cream cake
J
Junket pudding cups

Jackfruit sliders

Jelly roll

Jerk chicken

Jordan almonds

Jalapeno poppers

Jell-O cups
K
Kebabs

Kale salad

Key lime pie

Kielbasa

Kimchi quesadillas

Kiwi sorbet

Kettle corn

Kimchi dumplings
L
Lettuce wraps

Latkes

potato pancakes

Lemon dessert squares

Loaded steak fries

thick-cut fries with melted cheese and bacon

Lollipops

Lemon pound cake

Lavash

Armenian flatbread
M
Mozzarella sticks

Meatballs

Mac and cheese balls

Mini quiche

Mediterranean layered dip

Mini bagel pizzas

Marinated shrimp

Mini tacos

Mousse cups

Muffins

Mushroom caps

Mini cheesecake
N
Nectarine cobbler

Nutella bars

Nutella-stuffed strawberries

Nachos

Naan

Nuggets

Nectarine crisp

Neapolitan ice cream

Nonpareils

Nutella and banana tea sandwiches

Nacho fries
O
Onion rings

Orzo salad

Opera cake

coffee-flavored almond sponge cake with ganache

Oreo mud pie

Oysters

Fried okra
P
Panna cotta

Potato skins

Pasta salad

Parfaits

Potato salad

Pizza

Popcorn

Peach cobbler

Pepperoni rolls

Potato chips

Pigs in a blanket

Pretzel bites

Pie

Pizza rolls

Popcorn shrimp

Pinwheels
Q
Quesadillas

Quiche

Queso dip

Qatayef

stuffed pancakes

Quinoa salad

Queen Elizabeth cake

made with sugar, flour, dates, eggs, butter, and coconut
R
Red velvet cake

Roasted cashews

Ribs

Rice pudding

Roasted vegetables

Rum cake

Raisin bread

Rice salad

Refried beans

Rhubarb pie

Risotto
S
Scalloped potatoes

Snack mix

Southwestern casserole

Spinach and artichoke dip

Shaved ice

Sausage rolls

Sundaes

Stuffed mushrooms

Scones

Seven-layer bean dip

Shrimp cocktail

Stuffed peppers

Sandwiches
T
Taco salad

Thumbprint cookies

Toasted ravioli

Tiramisu

Tacos

Tea sandwiches

Tarts

Tamales

Three bean salad

Tapenade

Turkey burgers

Tuna casserole

Tuscan sausage and bean dip

Tabbouleh

Turkey stuffing

Tortilla wraps

Tuna salad tea sandwiches

Tater tot casserole
U
Upside-down cake

Utah scones

Uszka

small Polish dumplings filled with mushrooms or meat

Uthappam

Indian flatbread topped with veggies and herbs

Udon noodle cups
V
Veggie platter

Vol-au-Vent

French stuffed pastries

Vanilla bean cheesecake

Veggie chips

Volcano cake

Vanilla souffle

Victoria sponge cake

Vanilla wafers
W
Walking tacos

taco filling added to a bag of Fritos or Doritos

Watermelon ice pops

Waffle cones

Watermelon

White chocolate s'mores bars

Waldorf salad

Water chestnuts wrapped with bacon

Waffle strips

Wontons
X
Xocolatl

spicy hot cocoa drink

Xiaolongbao

Chinese steamed buns

Xi gua lo

watermelon jelly

Xingren donfu

sweet Chinese dessert made with almond milk, sugar, agar-agar, and gelatin

Xoi

Vietnamese sticky rice

Xnipec salsa

salsa made with habanero peppers

Xiaodianxin

Chinese butter cookies; usually served during Chinese New Year
Y
Yakitori

Japanese chicken skewers

Yuca fries

Yorkshire teacakes

similar to scones

Yodel

cream-filled chocolate cake rolls

Yorkshire pudding

Yakisoba cups

single-serve Japanese noodles
Z
Zebra cakes

Zucchini boats

Zeppole

Italian fried dough balls with chocolate or powdered sugar

Zuccotto

chilled or semi-frozen, dome-shaped dessert

Zimtsterne

German star-shaped cinnamon cookies

Ziti

Zuppa Toscana

Tuscan soup with zucchini, kale, potatoes, and bacon

Zoodle cups

zucchini noodles with sauce in a single-serve cup

Zucchini and cheese roulades
Choosing the Perfect Party Menu
With various options available for every letter of the alphabet, it can be challenging to plan a great party or potluck menu that will satisfy all of the guests without overwhelming them with options!
Consider the following tips to choose the perfect party menu:
Choose a theme. Whether or not your party has a theme, selecting a theme for the menu can make it easier to choose dishes that go well together. For example, you might decide to serve only Italian recipes, foods of a certain color, or dishes that highlight your favorite cheeses.
Decide whether you'd prefer variety or cohesiveness. It can be fun to have a table full of very different foods at a party, but you might also want to consider whether the flavors of each dish will work together. A varied menu can provide something that will please all of your guests, while a cohesive menu can provide a curated dining experience. If hosting a potluck, it's okay to ask the guests to choose from a curated list of dishes or stick with a certain style of food.
Keep dietary restrictions and allergies in mind. No one wants their party ruined by an illness or allergic reaction! Be sure to gather information about your guests' dietary needs before planning your menu. For example, if you have a guest who is lactose intolerant, you'll want to plan a dairy-free menu or clearly note which dishes are dairy-free.