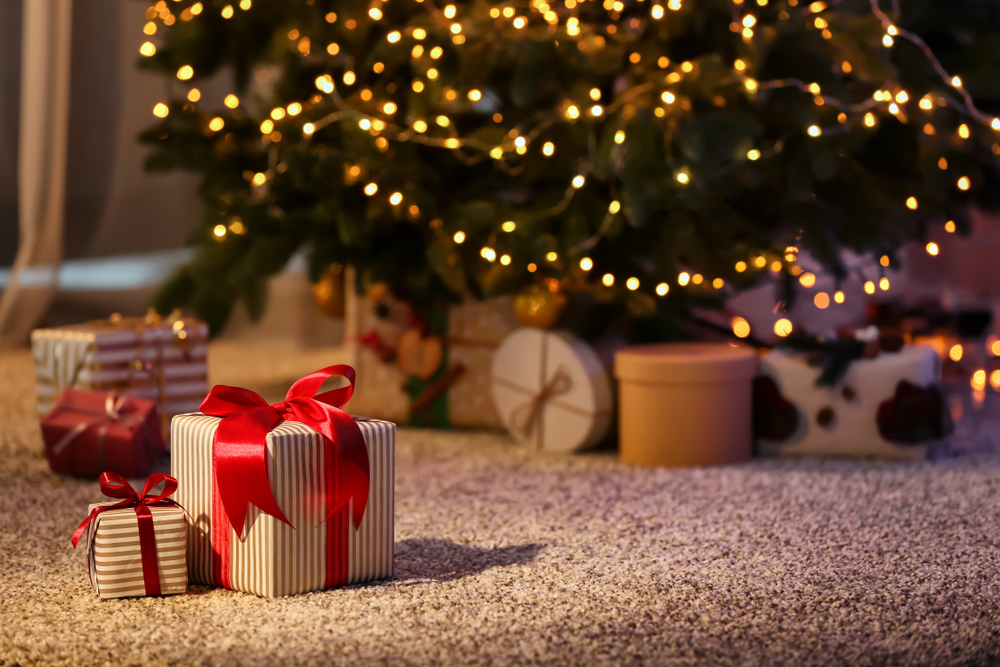 Below, we have the big list of Christmas words — an a-to-z list of words that celebrate and relate to the holiday season.
Our list is categorized by letter; scroll past the list for a fun Christmas activity using the words listed here!
A
Angels
Advent
Antlers
Assemble
gather together
Away in a Manger
Announcement
angels announced the birth of Jesus
Aroma
Artificial
type of Christmas tree
Angelic
Advent calendar
Abominable Snowman
character from "Rudolph the Red-Nosed Reindeer"
Apple cider
warm spiced apple beverage served at holiday parties
Andes mints
chocolate candy found at holiday parties
Appreciate
Aunt Clara
character from "A Christmas Carol"
Attend
attending church and Christmas parties
Acknowledge
All Is Calm, All Is Bright
Aspen
popular holiday destination in Colorado
Anticipation
B
Bethlehem
Believe
Bring
gifts, or good tidings of great joy
Bells
Boots
worn in snowy weather
Blessings
Boxing Day
the day after Christmas; celebrated as a public holiday in some countries (including the U.K. and Canada) and some U.S. states
Blitzen
one of Santa's reindeer
Bows
Boxes
used for wrapping gifts
Belief
Baking
Bing Crosby
singer of many classic holiday songs, including "White Christmas"
Birth
Buche de Noel
French Christmas cake
Boughs
Balsam
type of Christmas tree
Beauty
Blizzard
heavy snow storm that brings a white Christmas
Born
Baubles
ball-shaped glass or plastic Christmas tree ornaments
Blessed
Best
Benjamin
the ghost of the future in "A Christmas Carol"
Beaming
Christmas happiness
Buying
Buddy
name of the main character in the movie "Elf"
C
Christ
Cherubs
Calling birds
fourth gift in The Twelve Days of Christmas
Cookies
Candy
Cake
Candles
Candy canes
Cards
Candlelit
Charles Dickens
author of "A Christmas Carol"
Cozy
Cheer
Chimney
where Santa Claus enters the house
Chestnuts
Creche
Church display featuring the stable where Jesus was born
Carve
what you do to the turkey
Clark Griswold
central character of "National Lampoon's Christmas Vacation"
Cranberry sauce
Carols
Clarence
guardian angel character in the movie "It's A Wonderful Life"
Caroling
Carolers
Cousin Eddie
character in the movie "National Lampoon's Christmas Vacation"
See more in our full list of Christmas words that start with C.
D
December
Drinks
served at Christmas parties
Drummer boy
Dressing
Deer
Dasher
one of Santa's reindeer
Dancer
one of Santa's reindeer
Donner
one of Santa's reindeer
Douglas Fir
type of tree used as a Christmas tree
Decorations
Dashing
moving through the snow
Decorated
Drosselmeyer
toy-maker character in "The Nutcracker"
Dickens
author of "A Christmas Carol"
Dressing
Deliver
Deck
decorating the halls
See more in our full list of Christmas words that start with D.
E
Epiphany
Three Kings Day; commemorates the kings visiting baby Jesus
Emmanuel
"God is with us;" the name given to Christ
Eggnog
Evergreen
type of tree
Ebeneezer Scrooge
character in "A Christmas Carol"
Elves
Entertain
hosting parties
Expectations
Elf
Santa's helpers
Exchange
trading gifts
Eat
Ebullient
meaning "excitement"; describes the joy of the Christmas season
Excited
Elm
type of tree sometimes used as a Christmas tree
Eve
the day before Christmas
Events
F
Faith
Four
number of calling birds gifted in "The Twelve Days of Christmas"
Fruitcake
Family
Frosty
from "Frosty the Snowman"
Friends
Father Christmas
Feast
Fireplace
Festive
Freezing
Festival
Fir
type of tree
Frankincense
French hens
third gift in "The Twelve Days of Christmas"
Flock
decorating with imitation snow
Fun
Fellowship
Figgy pudding
spiced pudding mentioned in "We Wish You a merry Christmas"
Figurines
Forgiveness
Fireside
Folklore
Feelings
G
God
Gabriel
angel that tells Mary she will have a son, Jesus
Grace
Gifts
Greetings
Green
Goodies
Garland
Grinch
Guests
Gather
Gingerbread
Gratitude
Gold
color of the fifth gift, rings, in "The Twelve Days of Christmas"
Goose
traditional Christmas dinner
Gourmet
Grace
Greenery
Gravy
Gift-wrapped
Gracious
Giving
Goodwill
Glad tidings
Gift exchange
Gloria
Give
Go
go to church, parties, and to visit Santa
Glory
Games
Glitter
Gloves
Glow
Christmas lights, fireplaces, and children's faces
Geese a-laying
the sixth gift in "The Twelve Days of Christmas"
H
Holy
Hymns
Holiday
Hustle and bustle
Ham
Holly
Home
Hugs
Humility
Heavenly
Happy
Hark
Honor
Host
Hang
Ho Ho Ho
what Santa says before "Merry Christmas!"
Heritage
Harmony
Hot chocolate
Holiday
Hot cider
Holly jolly
as in "have a holly jolly Christmas"
Home cooking
Herald
Hospitality
Helping
Hope
I
Invitations
Ivy
In a pear tree
where the partridge is in "The Twelve Days of Christmas"
Icicles
Innocence
Ice
Inn
no room at the inn for Mary and Joseph
Infant
Incarnate
Illumination
Indulgence
Ice castle
Ice skates
J
Jesus
Jerusalem
Joy
Jingle bells
Joseph
husband of Mary
Jack Frost
Journey
Mary and Joseph took one to Bethlehem
Jolly
Joy to the World
Jingle Bell Rock
Jubilation
Jessica
Mrs. Claus' first name in the Christmas TV special "Santa Claus is Comin' to Town"
K
Kris Kringle
Santa Claus in "Miracle on 34th Street" and "Santa Claus is Comin' to Town"
Kids
Kin
King
Kindness
Kiss
what you do under the mistletoe
Kevin McAllister
main character in "Home Alone"
L
Lamb of God
Love
Lights
Little Drummer Boy
Lords a-leaping
10th gift in "The Twelve Days of Christmas"
Laughter
Lavish
Letter to Santa
Lists
Santa's record of "naughty" and "nice"
Lump
coal left in a stocking
Leave
setting out milk and cookies for Santa
Let It Snow
Ladies dancing
the ninth gift in "The Twelve Days of Christmas"
Libation
holiday drinks
Logs
Loved ones
Luminosity
Christmas lights
M
Manger
Mary
Magi
wise men; three kings
Mail
Maids a-milking
eighth gift in "The Twelve Days of Christmas"
Myrrh
Music
Mrs. Claus
Mittens
Merry and bright
Mistletoe
Miracles
Minister
Midnight
time of Christmas mass at many churches
Mincemeat
Majesty
Magical
Mom
Meaningful
Merry
Miraculous
Mirthful
Make a toast
Making spirits bright
Max
dog in "How the Grinch Stole Christmas"
Meal
Memories
Meaning
Mercy
Milk
left out with cookies for Santa
Mood
N
Nativity
Newborn
Noel
North Pole
Nutcracker
Nutmeg
Nostalgia
Night Before Christmas
Newly fallen snow
Nap
Nuts
Naughty
Night
Neighborly
Nice
O
Ornaments
O Holy Night
Oven
Observance
celebrating the holiday
O Come, All Ye Faithful
Occasion
Open
what you do with gifts
O Little Town of Bethlehem
Olive
the "other reindeer"
Ox
Objects
See more in our full list of Christmas words that start with O.
P
Peace
Praise
Popcorn string
Packages
Partridge
the first gift in "The Twelve Days of Christmas"
Poinsettia
Pie
Prayer
Prancer
one of Santa's reindeer
Peppermint
Parade
Plum pudding
Post Office
where you mail letters and gifts to family and friends
Pageant
Proclaim
Punch
drink served at Christmas parties
Peace dove
Pine
Prophecy
Presents
Pumpkin pie
Purity
Philanthropy
Pickles
traditional Christmas ornament
Potatoes
Preparation
Pinecone
used for decoration
Polar Express
Pipers piping
11th gift in "The Twelve Days of Christmas"
Plenty
Pear Tree
Phone calls
Q
Quail
Quality
Quaint
charmingly old-fashioned
Quince pie
traditional Christmas dessert
Quantity
lots of food and presents at Christmas
R
Rudolph
Santa's red-nosed reindeer
Ribbon
Red
Reconciliation
Reflection
Reverence
Reindeer
Religious
Rooftop
Rejoice
Reflect
Roasted nuts
Relationships
Reunions
Rituals
Reception
Reciprocity
Relish
Respect
Regalia
traditional garb worn by the Pope during Christmas Mass; distinctive clothes and ornaments
Ralphie
main character in "A Christmas Story"
S
Stuffing
Sleigh
Sacred
Scrooge
Sales
Season
Spirit
St. Nick
Santa Claus
Snowball
Snowbound
Star
Serve
Share
Santa Claus
Shop
Shortbread
type of cookie
Sing
Snooze
Snow
Surprise
Symbols
Sugarplums
Sweets
Silver bells
Snacks
Snowflake
Snowfall
Snow angel
Sleigh bells
Snowman
Star
Stockings
Stocking stuffer
Sack
Scents
Spices
Stable
Stress
Seconds
another serving at Christmas dinner
Swans a-swimming
seventh gift in "The Twelve Days of Christmas"
Sleep
Skate
Santa
Santa's helpers
Santa's Workshop
Secret Santa
anonymous gift swap
Snow globe
Sparkle
Songs
Snug
cozy in bed
Shepherd
Shine
Sentiment
T
Three kings
Tinsel
Tradition
Turkey
Triumphant
Toys
Tree
Tree skirt
Tree stand
Trimmings
Trumpets
Thanks
Trim the tree
'Twas the Night Before Christmas
Trips
visiting family
Togetherness
Traffic
Tiny Tim
character in "A Christmas Carol"
Toboggan
Tranquility
Twinkling
TV
where you watch Christmas specials and movies
Turtle doves
second gift in "The Twelve Days of Christmas"
Trinkets
Toyland
Tin soldier
Thoughtfulness
Tannenbaum
fir Christmas tree
Tolerance
U
Unity
Understanding
Unique
Unwrap
Ugly sweater
Unbox
Up on the Rooftop
Under the mistletoe
Unselfish
Universality
V
Vixen
one of Santa's reindeer
Vacation
Vanilla
Values
Virgin
Mary, mother of Jesus
Virtue
Vocalists
Volunteers
Visions
of sugarplums
Visits
W
Wreath
Worship
Wrapping paper
Winter
Wine
Walnuts
Waiting
White
Warm
Wintry
Wondrous
Wise men
Wrapping
Wreath
Wenceslas
character in the traditional carol "Good King Wenceslas"
Whimsy
Wassail
hot mulled cider
Whoville
town in "How the Grinch Stole Christmas"
Welcome
X
Xmas
Y
Yule
Youth
Yuletide
Yule log
Z
Zest
citrus shavings added to Christmas recipes
Zealous
enthusiastic for Christmastime
Activity: Christmas Mad Lib
For a fun and interactive way to use our list of Christmas words, we've created a Mad Lib story below!
With a group of friends or family, choose words from our list or off the top of your heads to add to the blank spaces.
You can choose the words at random or by looking for certain word types, like nouns.
One person should write the words into the blank spaces without showing the story to those choosing the words.
Once you've filled in every blank space, read the sentimental (but nonsensical) story out loud!
Little Timmy's _____ Christmas
Timmy lived on a _____ street in the countryside of _____. Though his parents shared his home, it was the _____ that really raised little Timmy.
As the Christmas holiday approached, he couldn't wait to give (Timmy's guardian) the gift he'd made by hand: a _______.
Timmy took the (gift) with him everywhere — on the bus, to school, and to the corner market where he always liked to buy ____ in the evening.
Two days before Christmas, little Timmy was walking the neighborhood with a friend when he was struck by a craving for (item he buys from corner market).
"Hey ____," he exclaimed, using his friend's nickname. "Let's stop here for a moment!"
Inside the store, Timmy couldn't help clearing the shelf of (item he buys from the corner market).
He couldn't just get one for himself — he needed one for (friend's name), one for each of his parents, three for ____, and he couldn't forget (Timmy's guardian).
As he placed the items on the counter, the cashier said, "That'll be $50."
Shocked, Timmy dug through his backpack, hoping to find a few spare bills. Alas, all he had was his handmade (gift).
"Did you make that? My wife would love it!," the cashier said excitedly. "Are you willing to trade?"
Timmy shook his head and said, "I know Christmas isn't about gifts, but this (gift) is for someone very special."
The cashier understood, and in the Christmas spirit, gave Timmy the hoard of treats and let him keep his (gift).