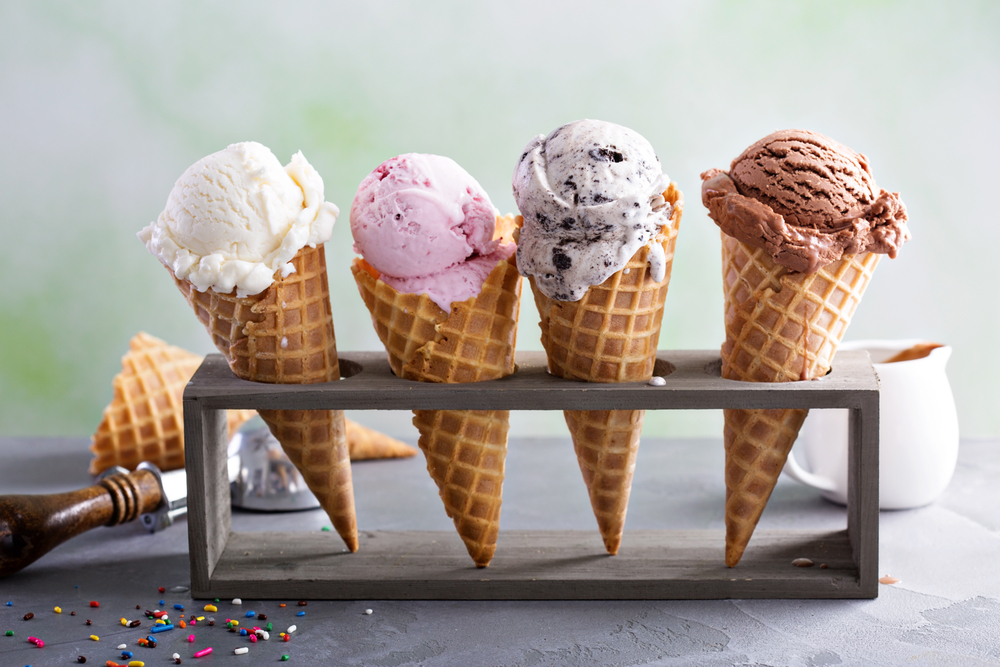 Ice cream has been around since the 1600s, but it didn't become industrially produced and popular outside of elite circles until the mid-1800s.[1]
Ice cream cones were popularized after appearing in 1904 at the World's Fair in St. Louis.[2]
Today, ice cream is one of the most popular desserts, with around 96% of Americans reporting that they eat ice cream.[3]
The U.S. consumes the most ice cream, but it's a popular treat worldwide. Many countries even have their own unique varieties, such as Italian gelato,[4] Japanese mochi,[5] and Turkish dondurma.[6]
No matter your favorite flavor or type of ice cream, we list the best words to describe ice cream below.
Refreshing

Creamy

Heavenly

Enticing

Mouthwatering

Cold

Indulgent

Sugary

Tasty

Luscious

Mellow

Fresh

Irresistible

Crunchy

Glacial

cold

Saccharine

Sour

appropriate for acidic flavors like lemon

Milky

Divine

Tempting

Edible

Tart

appropriate for sour flavors like lemon

Appealing

Choice

superior

Delectable

Rich

Homemade

Ambrosial

delicious

Dulcet

sweet and pleasant

Scrumptious

Delicious

Goopy

Velvety

smooth

Chunky

Numbing

very cold

Premium

high-quality

Frozen

Old-fashioned

Frigid

Ice-cold

Dulcified

sweetened

Fried

ice cream served with a crispy coating

Icy

Delicate

Plain

Candied

Nutty

appropriate for certain flavors like butter pecan and pistachio

Flavorful

Flavorsome

full of flavor

Fancy

Swirled

Satisfying

Silky

Chocolatey

Hard

Cool

Yummy

Tasteful

flavorful

Sweet

Smooth

Treacly

overly sweet

Tangy

appropriate for sour, fruity flavors

Delightful

Appetizing

Chilled

Chilly

Decadent

Aperitive

appetizing

Exquisite

well-made and delicious

Palatable

Cheap

Soft

Sweetened

Sticky

Frosty

Delish

Low-fat

Fruity

Gooey

Sugar-free

Scooped

Flavored

Soupy

partially melted

Speckled

ice cream that includes chocolate chips or candy pieces

Honeyed

sweet

Melting

Salty

appropriate for specialty flavors like salted caramel

Melted

Syrupy

thickly sweet

Tasteless

bland

Bitter

Ice cream is usually sweet, but some specialty flavors are bitter!
Recipe: Easy Ice Cream in a Bag
While you can easily grab a carton of ice cream from many grocery and convenience stores, it can be fun to try making your own ice cream at home, too!
The simplest ice cream recipes call for two plastic baggies, a few ingredients, and around 15 minutes of prep time.
Start by gathering the following ingredients:
Ice (enough to fill about half of a large resealable plastic baggie)
1 cup of half-and-half
1/3 cup of kosher salt
2 tablespoons of sugar
1/2 tablespoon of vanilla extract
You can also use any toppings you'd like, such as chocolate chips, fudge sauce, fruit, or bits of cookie dough.
Combine your half-and-half, sugar, and vanilla extract in one resealable plastic bag. Seal the bag, being sure to press out any excess air.
In a larger plastic baggie, place your ice and salt. Then, place your bag of ingredients inside the bag of ice.
Shake the bag for around seven to 10 minutes until the ice cream hardens. It's best to wear gloves while shaking it, so your hands don't get too cold!
Once the ice cream hardens, you'll have a single serving ready to eat! Add or mix your toppings and scoop the ice cream into a bowl or cone.
If you prefer your ice cream harder, you can leave it in the freezer for a while before eating. If you prefer flavors other than vanilla, you can also mix in things like cocoa powder or espresso powder to create your own unique flavors!