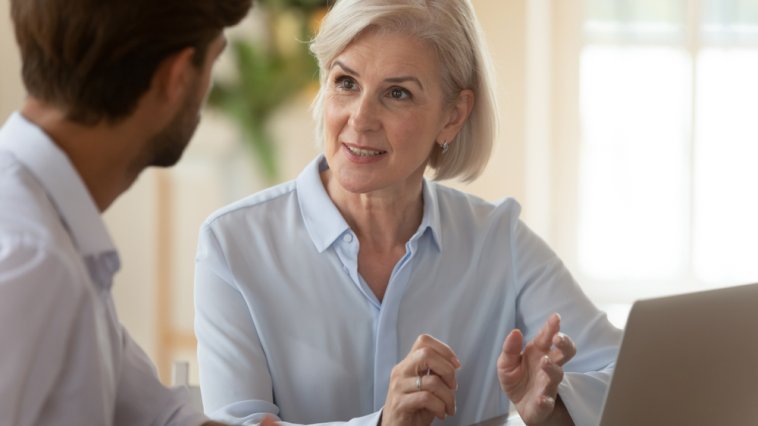 Mentors can be essential to the development of your career, helping you grow as a person and in your field while guiding your path to success.
Of those who work with mentors, nearly 100% feel that their mentor has a strong, positive impact on them and is valuable to them.[1]
Over 90% of employees surveyed also said that they'd stay longer at a company if mentoring and learning opportunities were available.[2]
Mentoring isn't just valued by mentees, either — over 80% of mentors feel empowered by the experience of helping others.[2]
Below, we have more than 50 words to describe a good mentor. Scroll past the list for more details about what makes a great mentor.
Patient

tolerant

Accomplished

highly trained and skilled

Guide

helps you on your path to your goal

Expert

having authoritative knowledge

Knowledgeable

well-informed

Generous

willing to give their time to others

Wise

having knowledge and good judgment

Adviser

a person who gives advice

Adept

skilled

Positive

optimistic

Savvy

knowledgeable and able to make good judgments

Influential

having an impact on other people

Professional

skilled in their field

Successful

accomplished in their field

Constructive

useful

Friendly

kind and pleasant

Inspiring

encouraging others to do well

Teacher

might describe their career or their function as a teacher to their mentees

Reliable

consistently good and trustworthy

Educator

shares knowledge with mentees

Caring

displaying kindness to others

Uplifting

sharing optimism and hope

Respectful

showing respect to mentees

Committed

dedicated to helping others

Supportive

providing encouragement

Invaluable

indispensable

Honest

truthful

Experienced

having gained a lot of knowledge and skill in their field over time

Confident

self-assured

Dedicated

devoted to their work

Enthusiastic

having enjoyment for and interest in helping mentees

Respectable

well-regarded by other people

Kind

considerate

Motivating

inspiring and encouraging

Authoritative

commanding and trustworthy

Social

enjoys spending time with other people

Humble

modest despite their success

Valuable

useful and important

Practiced

having a lot of experience

Sincere

honest and genuine

Intellectual

academic

Smart

intelligent

Capable

able to achieve things

Reassuring

helps you feel less anxious or doubtful

Qualified

trained or certified in their field

Cooperative

working with their mentees toward a common goal

Helpful

willing to give their time and talents to benefit others

Competent

having the knowledge and skill to be successful

Respected

admired by others for their skills and abilities

Skilled

having the knowledge and training to do well in their field

Encouraging

giving support and positivity to others

Effective

successful and good at bringing about results

Available

make themselves open to others for advice and assistance

Skillful

well-practiced and knowledgeable in their field

Exemplary

the best in their field

Direct

able to give honest, clear advice and opinions

Revered

admired and respected by others
Describing the Qualities of a Great Mentor
In the list above, we define each of the adjectives and alternate names that describe mentors.
To help you understand them even better, we've grouped many of them into a series of traits that make a great mentor:
They're established in their field.

Your mentor doesn't need to be decades older than you or at the very top of their field, but they should be established enough to be able to share experiences and knowledge that will be valuable to you.
Key adjectives: Accomplished, authoritative, experienced, confident, practiced, successful, skilled

They have a reputation for being helpful and professional.

Not all people who are successful make great mentors. It requires a combination of experience, skill, and enthusiasm to help others grow and succeed.
Key adjectives: Respectable, generous, honest, constructive, enthusiastic

They're great at solving problems.

One of the best parts about having a mentor is having someone to turn to for advice when you encounter unexpected challenges. Mentors can call upon their experience to guide you through any confusion or issues you face.
Key adjectives: Wise, patient, savvy, smart, competent

They care about your success.

Great mentors don't just mentor for their own benefit. While the experience can provide opportunities for both parties to learn and grow, a great mentor will show investment in their mentees and focus on what they can do to help each mentee meet their goals.
Key adjectives: Supportive, kind, motivating, reassuring, encouraging

They're personable.

Being a mentor requires great people skills. Mentees will gain much more from a mentor who is kind, supportive, and friendly than one who is standoffish or cold.
Key adjectives: Social, positive, humble, sincere, friendly, respected