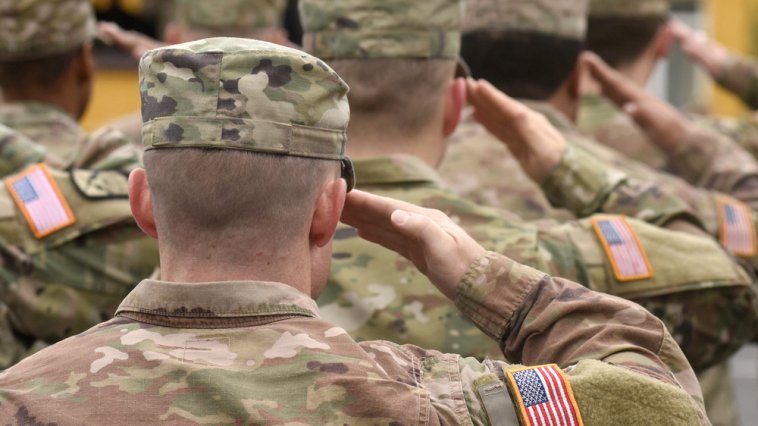 The United States Census Bureau reports that around 18 million U.S. veterans live in the country, about 7% of the adult population.
Our veterans range in age from 18 years old to over 100 and have served in conflicts dating back to World War II.
We celebrate veterans on November 11 each year — a holiday renamed from "Armistice Day" to "Veterans Day" by President Eisenhower in 1954.
But every day is a good day to show appreciation and support for veterans!
Below, we list the words that describe veterans, plus share some famous quotes that honor them.
Ardent

enthusiastic and passionate

Rugged

having toughness and determination

Loyal

showing firm and constant support

Strong

able to withstand pressure

Exemplary

the best of their kind

Selfless

placing the needs of others above themselves

Valorous

showing courage in the face of danger

Intrepid

fearless

Tough

able to endure hardship and withstand harsh conditions

Fearless

courageous

Wise

having experience and good judgment

Admirable

deserving respect

Brave

having the courage to face danger or pain without fear

Seasoned

experienced

Bold

courageous and able to take risks

Expert

having authoritative knowledge

Resolute

purposeful and determined

Meritorious

deserving praise

Gritty

having courage and resolve

Gallant

brave

Adept

proficient at their work

Doughty

brave and persistent

Skilled

well-trained to perform tasks with expertise

Patriotic

devoted to their country

Dutiful

motivated by duty rather than personal desires

Commendable

deserving praise

Courageous

brave

Professional

has authoritative knowledge and skills regarding military operations

Heroic

courageous

Valiant

showing courage and determination

Honorable

principled and worthy of praise

Tenacious

determined

Noble

having high principles and ideals

Proud

satisfied with their achievements

Ace

someone who excels at what they do

Ambitious

determined to succeed

Experienced

knowledgable and skilled

Eager

ready to take on the task

Lionhearted

brave and determined

Audacious

willing to take bold risks

Spirited

energetic and enthusiastic

Accomplished

highly trained and skilled

Trained

having been taught specific skills and behaviors through instruction and practice

Allegiant

loyal to their cause and country

Dependable

trustworthy and reliable

Indomitable

impossible to defeat

Steadfast

unwavering

Disciplined

having controlled behavior and work ethic

Devoted

loyal

Undeterred

persevering even in the face of setbacks

Resilient

able to withstand and recover from difficult situations

Mettlesome

full of courage

Unflinching

fearless

Spartan

disciplined

Staunch

loyal and committed

Dauntless

fearless and determined

Adventuresome

willing to take risks

Gutsy

courageous and determined

Unwavering

steady

Daring

adventurous

Laudable

deserving praise
Quotes to Honor Veterans
The adjectives above can help you describe veterans, but there are also plenty of great quotes to pay tribute to veterans.
We list some of the most well-known and honorable quotes below.
"Our debt to the heroic men and valiant women in the service of our country can never be repaid. They have earned our undying gratitude." – President Harry S. Truman
"There is nothing nobler than risking your life for your country." – Nick Lampson
"The true soldier fights […] because he loves what is behind him." – G. K. Chesterton
"Duty, honor, country: Those three hallowed words reverently dictate what you ought to be, what you can be, what you will be." – Douglas MacArthur
"Here men endured that a nation might live." – President Herbert Hoover
"This nation will remain the land of the free only so long as it is the home of the brave." – Elmer Davis
"The veterans of our military services have put their lives on the line to protect the freedoms that we enjoy. They have dedicated their lives to their country and deserve to be recognized for their commitment." – Judd Gregg
"America without her soldiers would be like God without his angels." – Claudia Pemberton
"Heroism doesn't always happen in a burst of glory. Sometimes small triumphs and large hearts change the course of history." – Mary Roach
"Let us remember the service of our veterans, and let us renew our national promise to fulfill our sacred obligations to our veterans and their families who have sacrificed so much so that we can live free." – Dan Lipinski