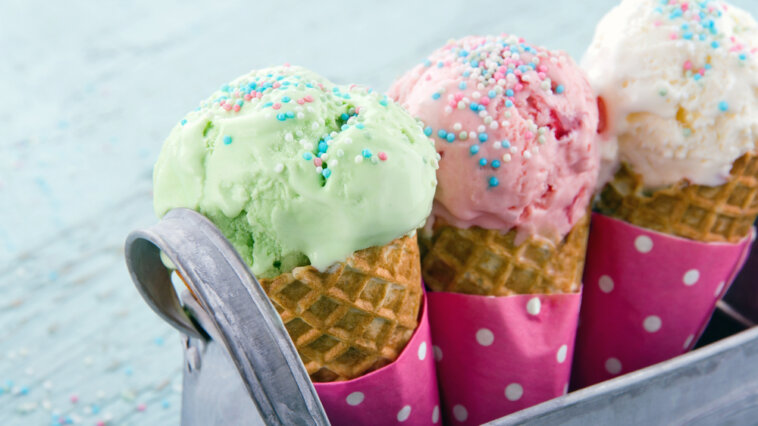 In the U.S., ice cream has been a favorite dessert since the days of our Founding Fathers.
Thomas Jefferson even had his own recipe for the perfect vanilla ice cream, a handwritten copy of which has been preserved by the Library of Congress.[1]
Carrying on the long tradition of loving this frozen treat, the average American today eats about 20 pounds of ice cream each year![2]
Globally, the ice cream market also continues to grow and is predicted to reach sales of nearly $100 billion by 2027.[2]
Ice cream is so beloved that there's even a chain of museums dedicated to it, with locations in New York City, Austin, Chicago, Singapore, and Shanghai.[3]
Whether you want to name your home-crafted frozen treats, are creating an empire to rival Ben & Jerry's, or simply want to laugh at some unique and funny ice cream flavors, we have the list of names for ice creams below.
Meat Cute

ice cream with candied bacon topping; a play on "meet cute"

Squirrel Swirl[4]

cinnamon-swirled vanilla ice cream with hazelnut, pecan, and walnut chunks

Cherry Potter[5]

a play on "Harry Potter"; butterbeer-inspired butterscotch base with cherry chunks

Cold Sweat[6]

spicy ice cream made with peppers and hot sauce

Champagne Problems

for a mimosa-inspired champagne/orange sherbet

Tipsy Piglet

bacon and bourbon flavor

Caffeine Crash

coffee-flavored ice cream with chocolate chunks

Misu Sweet

sounds like "me so sweet"; tiramisu flavor

Great Balls of Fire

ice cream with Red Hots candy mixed in

Mint to Be

a play on "meant to be"; any flavor of ice cream with mint and peppermint pieces sprinkled on top

Grand Old Flag

vanilla ice cream with strawberries and blueberries mixed in to make a red, white, and blue treat

Bird Food

vanilla ice cream with fruit and nuts mixed in

Pudgy Fudgy

fudge-flavored ice cream with fudge swirls

Butter Believe It

butterscotch or buttermilk flavor

Berried Alive

ice cream with various berries mixed in

Return to Earth

regular ice cream with crumbled, freeze-dried astronaut ice cream on top

Flamin' Hot Cocoa

chocolate-pepper ice cream inspired by Mexican hot cocoa

Crumble Bee

a play on "bumble bee"; ice cream with honey and crumb topping

Sweet Freak

a play on "neat freak"; chocolate ice cream with as many sweet mix-ins as you can add

Booger[6]

vanilla ice cream mixed with bright green food coloring

Cheat Sweet

a play on "cheat sheet"; could suit a decadent "cheat day" treat or a healthier-than-usual option like frozen yogurt

Batter Together

a play on "better together"; cake batter ice cream with cake chunks mixed in

Mice Cream

mice + ice cream; any flavor of ice cream with cream cheese swirls
Ice Cream Name Generator
How to Choose the Best Names for Ice Creams
The perfect name for an ice cream flavor depends on the toppings, flavors, and how descriptive or funny you want the name to be.
Keep these tips in mind to help you choose the best names for ice creams:
Put flavor first. It's important to know your flavor profile before choosing a name to ensure that you find the perfect fit. For example, if you know your ice cream will be nutty, you might want to choose something inspired by an animal known for eating nuts (like our example of "Squirrel Swirl"). If your ice cream has an unexpected hint of heat, you might choose a name that conveys its spiciness (like our example of "Great Balls of Fire").
Consider all of the ice cream's characteristics. Toppings for ice cream are endless nowadays — from unexpected mix-ins like bacon to classic combinations like cookie dough and chocolate chips. All ice creams are cold, but their other characteristics vary. They can be salty, sweet, chunky, smooth, classic, or chaotic. Make a list of words you'd use to describe the ice cream, and you can use it as a starting point by finding synonyms or creating puns based on those words.
Use your sense of humor. Ice cream is fun to eat, so the name you choose should be fun as well! Choose a cute play on words or get inspiration from a funny phrase that reflects your ice cream's flavor.