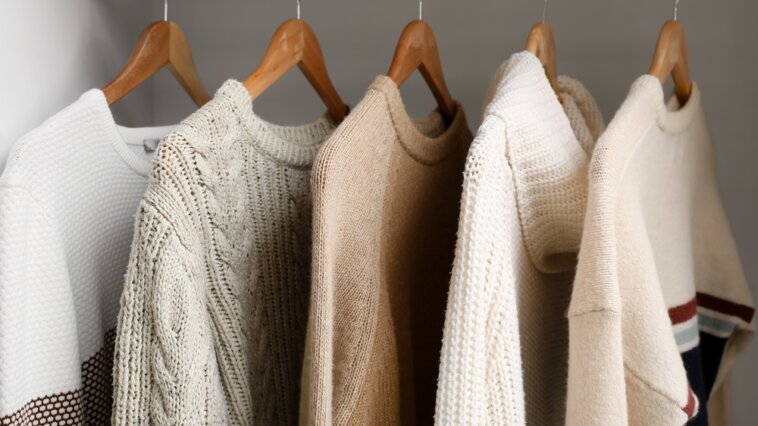 Clothing is a universal commodity everyone uses to protect against the elements and to express their individuality, but it can also affect your everyday life.
Not only does what you wear influence the way others view you, but it can also impact the way you think.
Psychological studies have shown that dressing casually versus formally can affect the decisions you make and how you view the bigger picture.[1]
Whether casual or formal, more effort goes into making many modern-day clothing items than you may realize.
For instance, it takes 2,700 liters of water to create the average cotton T-shirt. That's enough drinking water to last a single person for nearly three years.[2]
Whether you're working on a school project, looking for things that start with the same letter as your name, or simply feeding your curiosity, we have the list of clothing that starts with "K" below.
You'll also find fun ideas for creating your own clothing that starts with "K" below the list.
Kicks

another word for shoes

Khakis

Kimono

traditional Japanese garment that wraps around the body

Kilt

traditional Scottish garment made from tartan cloth

Knee socks

Knee pads

Knickers

undergarment worn by women

Knickerbockers

baggy trousers that gather at the knee

Knitwear

knitted garment

Kerchief

Kevlar vest

bulletproof vest

Kepi

French military hat

Kaftan

similar to a robe

Kagoul

lightweight waterproof jacket

Keffiyeh

traditional Middle Eastern headdress

Kipper tie

type of necktie

Killut

ceremonial robe primarily used in India

Kameez

long shirt traditionally worn in South Asia

Kirtle

women's gown worn in the Middle Ages
How to Create Your Own "K" Fashions
Creating or customizing clothing can be a fun way to put your creativity to use.
Try out our ideas for making your own one-of-a-kind "K" fashion:
No-Sew Knickerbockers
First, put on a pair of loose-fitting pants. Tie a piece of elastic around each leg just below your knees.
Pull enough fabric up above the elastic to poof out your pants around it and cover the elastic.
Next, you'll need a pair of knee socks to pull over your pants. They should cover the lower leg of the pants up to the elastic band.
You just created a pair of knickerbockers!
Customized Knee Socks
There are countless ways you can personalize a pair of knee-high socks:
Tie-dye them by wrapping rubber bands around them and dipping them in fabric dye.
Sew on ribbons, buttons, or charms. If you don't have much experience with sewing, you can make one or two simple stitches for lightweight decorations like ribbons.
Use fabric paint or a fabric marker to add illustrations or words to the socks.
You might even want to add a few other things that begin with the letter "K," such as a drawing of a kitten or kite.
Create a Kerchief
The possibilities when creating or customizing a kerchief are endless. You can use practically any piece of fabric.
Cut your fabric into a square (the size is up to you) and hem up the edges if the fabric tends to fray.
Next, use any of the methods suggested for customizing knee socks above to add decoration to the kerchief.
When you're finished, your kerchief can be used as a mask, a headband, or tied around your neck, arms, or legs.