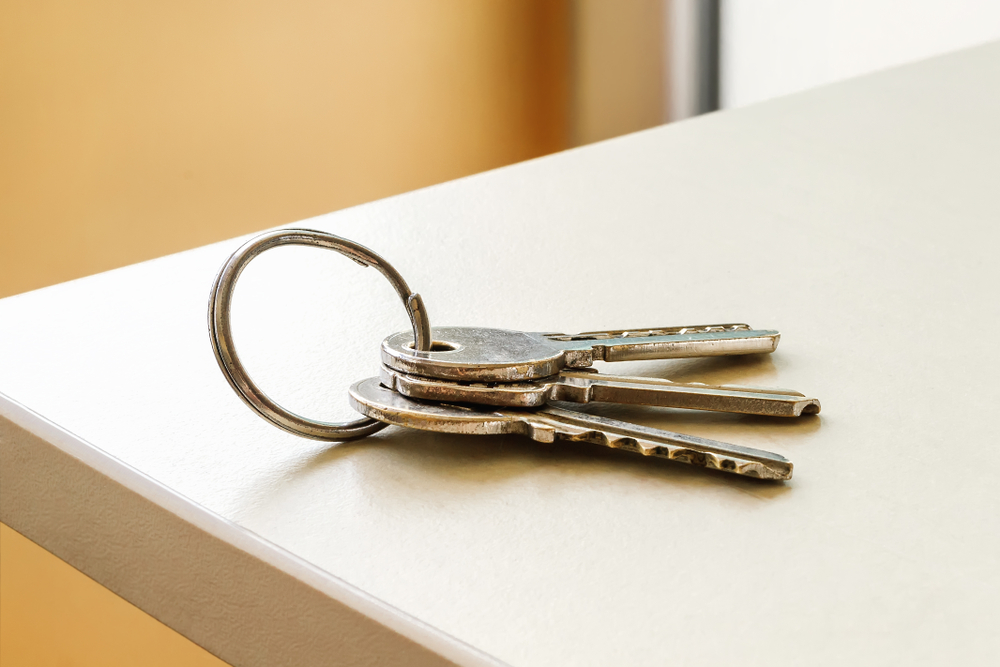 There are more than 80 things that start with K — some of which you can find around your own house!
See our list below, or scroll past the list for an activity related to the letter K.
Household Items
Key
used to unlock things
Kleenex
tissues
Keepsake
item kept in memory of someone or something
Keychain
metal ring used to hold keys together
Kerchief
square cloth; head covering or scarf
Kettle
a container for boiling water
Key fob
unlocks doors electronically
Kitchenette
table and chairs
Kitchen sink
for washing and food prep
Keyboard
from a computer
Kick stool
rolling step stool
Kitchenware
kitchen utensils
Knickknacks
household decorations
Knitting patterns
written knitting instructions
Knob
handle
Kneepad
protective covering for the knee
Keypad
buttons to operate electronic equipment
Knitting yarn
thread used for knitting or weaving
Knocker
mounted to a door so people can knock
Karate belt
signifies the skill level of the wearer
Knapsack
type of bag
Knife
sharp tool used for cutting
Knitting needles
long, thin, pointed rods used for knitting
Kennel
shelter for an animal
Kohl
type of eye makeup
Knife block
countertop organizer for kitchen knives
Kitsch
unusual decorative objects
Toys
Kaleidoscope
tube with mirrors and colorful material, used for viewing changing patterns
Kite
flown from a string on windy days
Kinetic sand
moldable sand
Kangaroo plush
soft toy kangaroo
Koala plush
soft toy koala
Kazoo
small, vibrating musical instrument
Ken doll
plastic figure of a man
Keyboard for kids
musical instrument
Kickball
inflatable ball used for kicking games
Kick scooter
manually powered transportation device
Kitchen set
set of dishes and cooking utensils
Klutz Cat's Cradle
book-based activity kit
K'NEX building set
rod and connector building set
Klutz Friendship Bracelets
bracelet-making craft kit
King chess piece
playing piece in the game of chess
Kinkajou plush toy
soft toy kinkajou
Klutz Glitter Clay Charms
wearable charms craft kit
KidKraft Tasty Treats play food set
set of toy food and drinks
Klutz LEGO Make Your Own Movie
kit to make your own LEGO stop animation movie
King Kong action figure
Kung Fu Panda plush
soft toy Kung Fu Panda
Knuckles plush
a character from Sonic the Hedgehog
Kidizoom Smartwatch
electronic kids' watch
Kikkerland Mechanical Music Box Set
prints your sheet music creations
Kikkerland DIY Tambourine
kit to build a tambourine
Kikkerland Magnetic Sand Hourglass
one-minute timer; creates unique patterns
Kikkerland Make Your Own Harmonica
kit to build a harmonica
Kaboom Explosive Combustion Science Lab Kit
science experiment kit
Kahootz Toys latch rug kit
kit to create a mini rug
KidKraft wooden easel
art easel with storage
Kahootz Toys Spirograph
creates unique spiral patterns
Klutz Make Your Own Mini Erasers
clay eraser craft kit
Clothing
Knitted scarf
Knitted hat
Knitted sweater
Khaki pants
light tan pants
Knitted socks
Keffiyeh
traditional Arabic scarf
Knitted gloves
Knee-high boots
boots that cover the lower lug up to the knee
Kilt
knee-length wrap worn by Scottish men
Kimono
robe
Tools
Keyhole saw
long, narrow saw
Kobalt hammers
used to drive in nails
Kobalt screwdrivers
used to turn screws
Kobalt drill
power tool with a rotating tip
Kobalt socket set
set of different-sized detachable sockets
Kobalt saws
used to cut wood or other materials
Kobalt wrenches
used to grip pieces when applying torque
Klein pliers
used for pulling, holding, or cutting items
Klein screwdrivers
used to turn screws
Klein wire strippers
used to strip electrical insulation from wire
Knurling cutter
cuts patterns on steel
Expensive Items
Kayak
small, narrow boat
Kohler bathroom and kitchen products
bathroom and kitchen fixtures and accessories
Korg Synthesizer
instrument
Kurzweil Music Systems Keyboard
electric keyboard
Kiln
oven used for pottery
Katharometer
measures thermal conductivity
Keratoscope
used to examine the eye
Activity: Spell Your Name With Kinetic Sand
Kinetic sand can be molded, shaped, and stamped in so many ways.
For young children, using kinetic sand can be a fun way to learn their own name! (Bonus points if the name starts with the letter K, too!)
Letter stamps designed for use with kinetic sand can be helpful for this activity.
The child will need to find the correct stamps, flatten the sand, create letters using the stamps, and then put the letters in the right order.
If you don't have any letter stamps on hand, kinetic sand is shapable! Help your child shape the sand to create each letter and spell their name.
You might find it easiest to use capital letters if shaping the sand yourself. You could also use a stick or pencil to write in the sand!
For added fun, turn this into an excavation activity! Hide the letters in kinetic sand. (You can use stamps, alphabet fridge magnets, or any other type of physical letter.)
The child will need to dig to find the letters, make sure they have the correct letters, and place them in the right order.
Kinetic sand can be a great tool for a wide variety of learning activities, like learning numbers or (if your child isn't quite old enough to take on spelling) learning the letters of the alphabet.