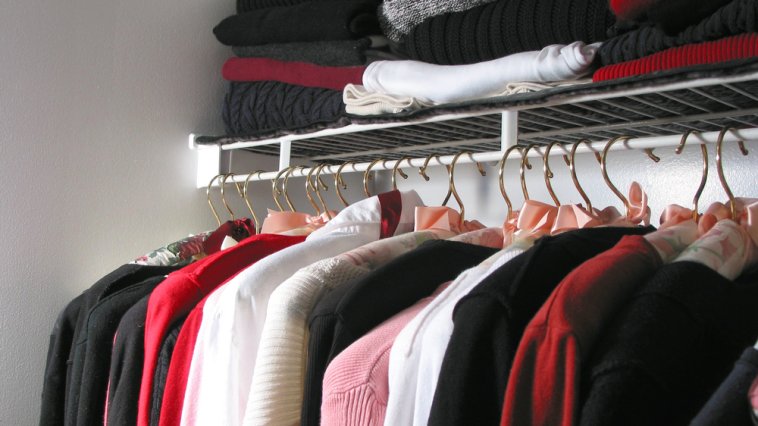 Each year, people worldwide use an estimated 80 billion pieces of clothing! Our clothing use has increased 400% in the past two decades.[1]
While not everyone is interested in fashion, clothing undoubtedly plays a very important role in our lives. It can give us a greater sense of identity, and on a more essential level, can protect us from things like sun exposure and cold weather.
New styles emerge and trends change every year, but some clothing staples have stood the test of history — like the skirt, which is thought to be the second-oldest garment ever created![2]
Below, we list the clothing that starts with each letter, A to Z. Scroll past the list for an activity to help you find more unique options!
A
Ankle socks
short sock that ends just at the ankle
Anorak
waterproof, hooded jacket
Angora sweater
sweater made from the hair of an angora goat or rabbit
Afghan shawl
knitted or crocheted shawl
Apron
a protective garment that covers the front of your clothes while cooking, painting, or doing other potentially messy tasks
Ascot
men's silk necktie
Argyle sweater
sweater with a pattern of diamonds in various colors
Art smock
loose dress or blouse that covers your clothes while working on art projects like painting
A-line dress
a dress with a hem wider than its shoulders
Anklewarmers
tubular knitted garments that cover the ankles for extra warmth
Athletic shorts
sweat-wicking shorts designed for workouts and sports
A-line skirt
a skirt that's fitted at the hip and gets wider toward the hem
Air Jordans
a popular style of Nike sneaker
Abaya
traditional full-length garment worn by some Muslim women
Arm warmer
knitted sleeves worn on the arms
Almond-toe shoe
a shoe with a toe that isn't too pointed, rounded, or square
B
Beret
a felt or cloth cap with a round band and flattish top
Brassiere
undergarment that covers the chest
Bell bottoms
pants with legs that flare widely below the knee
Boots
sturdy footwear that covers the foot and ankle
Bloomers
old-fashioned, loose-fitting underpants
Baseball tee
three-quarter-sleeve shirt with sleeves in a different color than the body
Ball gown
full-length dress worn to formal events
Belt
a strap with a buckle worn around the waist
Bermuda shorts
knee-length shorts
Blazer
lightweight jacket
Bathrobe
a terry cloth robe worn before and after bathing
Beanie
a close-fitting hat
Boat shoes
flat canvas or leather shoes designed not to slip on boat decks
Baseball cap
a hat with a large visor and adjustable band
Bikini
two-piece women's swimsuit
Blouse
a shirt with a collar, buttons, and sleeves
Bathing suit
garment worn while swimming
Boxer shorts
loose-fitting men's underpants that look similar to shorts
Balaclava
close-fitting garment for cold weather that covers the whole head and neck except for the eyes
Briefs
close-fitting underpants
Bustier top
close-fitting and structured strapless women's top
Bowtie
necktie tied in the shape of a bow
Boubou
long, colorful garment worn by men and women in countries including Nigeria and Senegal
Bodysuit
one-piece, close-fitting stretch garment
Batwing top
a top with wing-like, wide sleeves
Bolero
a short, open jacket
Bustle
padding or framing worn under a skirt to puff it out
Bias-cut dress
a dress cut diagonally across the grain
C
Cardigan
a long-sleeved knit sweater, typically with buttons or other closures on the front
Coat
long-sleeved outerwear worn outdoors in cold weather
Corduroys
pants made of thick, velvety cotton fabric
Coveralls
one-piece garment that covers a person's clothes when doing manual work, such as mechanic work
Cloak
loose-fitting, sleeveless robe with a hood worn outdoors in cold weather
Clogs
shoes with thick, wooden soles
Camisole
sleeveless top with shoulder straps and decorative trim
Capri pants
fitted, calf-length pants
Crop top
t-shirt, tank top, sweater, or sweatshirt cut so the bottom hem falls between the chest and stomach
Corset
tight-fitting, structured undergarment
Chaps
leather pants with no seat worn by ranchers and cowboys
Cummerbund
a sash worn around the waist with a men's suit
Cowl neck sweater
neckline with draped fabric that hangs in folds
D
Dinner jacket
short, formal jacket for men with no tails
Denim jacket
jacket made of blue jean fabric
Denim skirt
skirt made of blue jean fabric
Dungarees
blue denim overalls
Dress
one-piece women's garment that covers the torso and extends down the legs
Dress shirt
formal white shirt
Denim shorts
shorts made of blue jean fabric
Down jacket
puffer jacket filled with down (feathers) for warmth
Dashiki
loose, brightly-colored tunic originating in West Africa
Dressing gown
loose robe worn while preparing to dress in the morning
Dolman top
women's shirt with wide sleeves
Dirndl
dress with a bodice and full skirt worn in southern Germany
E
Earmuffs
headband with attached ear coverings
Embroidered top
shirt with decorative, sewn-on thread patterns
Espadrilles
canvas shoe with a fiber sole
Eyelet top
shirt with a pattern of small, round holes around the hems
Eyelet dress
dress with a pattern of small, round holes around the hems
Empire-waist dress
a dress with a fitted bodice that drapes out under the bustline
F
Fatigues
khaki, olive, or camouflaged outfit worn by soldiers
Fur coat
coat made of real or synthetic animal fur
Flannel shirt
long-sleeved wool or cotton button-up shirt, usually with a plaid pattern
Fedora
felt hat with a creased crown and curled brim
Fingerless gloves
gloves with no fingertips
Felt hat
hat made of felt material
Fleece jacket
light jacket made of soft fabric with a texture similar to sheep's wool
Flannel jacket
jacket made of soft, woven fabric
Flip flops
plastic or rubber sandals with a strap between the big toe and second toe
G
Golf shoes
waterproof leather shoes with sole spikes
Galoshes
waterproof shoe coverings for rainy days
Girdle
tight-fitting support garment worn around the waist
Gym shorts
breathable, sweat-wicking shorts designed for exercise
Gloves
hand coverings that protect against dirt or cold
Gaucho pants
calf-length, wide-legged trousers
Gown
long, formal dress, usually with a flowing skirt and fitted bodice
H
Hightops
sneakers with high sides that cover the ankle
Hoodie
hooded sweatshirt
Hosiery
stockings, socks, and tights
Heels
shoes that are raised at the back of the foot
Hotpants
close-fitted short shorts
Herringbone jacket
classic British jacket with a herringbone print
Hawaiian shirt
short-sleeved button-up top with a colorful floral print
Hoop skirt
a skirt worn over support hoops for a voluminous look
Halter top
sleeveless shirt with straps that tie behind the neck
Herringbone dress
dress made from herringbone-print fabric
Housecoat
loose, lightweight robe to wear around the house
Hanbok
traditional Korean clothing
Hobble skirt
long skirt that tapers below the knee
Herringbone skirt
skirt made from herringbone-print fabric
Handkerchief hem dress
dress with an uneven hem made from triangular panels of fabric
Herringbone pants
pants made from herringbone-print fabric
Harem pants
loose-fitting pants that gather at the ankle
Handkerchief hem skirt
skirt made from panels of fabric that fall in triangular points
H-line dress
has a straight silhouette with a slight accent at the waist
I
Inverness
sleeveless cloak with a removable cape
Irish linen shirt
shirt made of high-count linen produced in Ireland
Irrigation boots
waterproof rubber boots
In-line skates
roller skates with multiple wheels placed in a line on the middle of the sole
Izar
garment worn by some Muslim women that covers the whole body
Ice skates
skating boot with a blade attached to the bottom
Ihram clothing
garments worn by Muslim people during pilgrimages
J
Jeans
denim pants
Jumper
can refer to a sweater or a collarless, sleeveless dress
Jean jacket
denim outerwear
Jellies
shoes made of PVC plastic
Joggers
stretchy, breathable pants designed for jogging
Jumpsuit
one-piece garment of an attached top and trousers
Jodhpurs
close-fitting pants designed for horseback riding
Jersey
uniform shirts worn in competitive sports like football and hockey
Jogging suit
loose shirt and sweatpants worn while exercising
Jacket
long-sleeved outerwear for cool or cold weather
K
Kimono
long-loose robe with wide sleeves originating from Japan
Knee socks
socks that extend above the ankle to cover the calf
Knit sweater
sweater made from interlocking loops of wool or yarn
Kurta
loose, collarless shirt worn in South Asia
Kaftan
can refer to a long shirt/tunic or a long, loose dress
Kameez
long tunic originating from India
Knit scarf
scarf made by interlocking loops of yarn together
Kilt
pleated, knee-length tartan garment traditionally worn by Scottish men
Knickerbockers
pants rolled up to just below the knee
Keyhole top
shirt with a cutaway just below the collarbone
L
Leather jacket
jacket made from tanned animal hide
Leather pants
pants made from tanned animal hide
Lace top
shirt with embellishments of lace
Leggings
soft, fitted pants made from a stretch material
Leotard
stretchy one-piece garment that covers the body from the shoulders to the top of the thighs; often worn by dancers
Lingerie
women's intimate apparel
Lettuce hem top
skirt with frills around the neckline, sleeves, and/or bottom hem
Lace dress
dress with a lace overlay or embellishments
Loafers
shoe with a low, flat heel
Legwarmers
tubular garment that covers the leg from the ankle to the knee
Lettuce hem skirt
skirt with a frilled hem at the bottom
Lace skirt
skirt with a lace overlay or embellishments
M
Minidress
dress with a hemline above the knees
Mock neck shirt
shirt with a collar that covers most of the neck, but not as much as a turtleneck
Moccasins
soft, flat slipper-style shoe originating among the North American tribes
Miniskirt
skirt with a hemline above the knees
Mittens
warm hand covering split into two sections for the thumb and the other four fingers
Midriff top
short top that exposes the stomach
Mary Janes
flat, round-toed shoe with a strap across the top of the foot
Micromini skirt
very short skirt
Maxi dress
ankle-length dress
Macrame vest
vest made from cords knotted into decorative patterns
Midi skirt
calf-length skirt
Mules
backless shoe
Muff
tube made of fur or fabric designed to keep the hands warm
Maxi skirt
skirt that reaches the ankle
Midi dress
dress with a calf-length hem
Mermaid dress
close-fitted formal dress that flares out at or below the knee
N
Nightgown
loose, long garment worn in bed
Negligee
dressing gown made from thin, soft fabric
Nightshirt
long, loose shirt worn in bed
O
Overshirt
pullover shirt worn over another shirt
Oxford shirt
button-up dress shirt made from Oxford cloth
Oxford shoes
lace-up shoes with a low heel
Overalls
trousers with an attached front flap and shoulder straps
Overcoat
long, warm coat worn over clothing
Overskirt
outer skirt worn over other layers of skirt or dress
Open cardigan
a cardigan sweater with no buttons or fasteners down the front
P
Pajamas
clothes to wear in bed
Polo shirt
short-sleeved, casual shirt with a collar and buttoned neckline
Pumps
high-heeled shoe with a low-cut front
Petticoat
underskirt, often with lace or ruffles, that adds volume to a skirt or dress
Parka
windproof, often fur-lined jacket designed for cold weather
Pullover
garment (often a sweater) that you put on by pulling it over the head
Pinafore
similar to an apron, but usually worn over a dress specifically
Palazzo pants
loose, wide-leg women's pants
Poncho
loose-fitting, blanket-like cloak
Pants
trousers
Peplum top
shirt with a gathered and flared strip of fabric at the waist
Poodle skirt
long, full skirt with an applique of a poodle popularized in the 1950s
Pashmina
shawl made from fine goat wool
Playsuit
one-piece garment worn by babies and children that covers the whole body
Peter Pan blouse
blouse featuring a flat collar with rounded corners
Peplum dress
dress with a flared strip of fabric attached at the waist
Pleated skirt
skirt with vertical pressed creases in the fabric
Pleated pants
pants with pressed folds on the front
Pinstripe suit
suit printed with very thin vertical stripes
Patchwork coat
coat made by sewing together small pieces of cloth in various colors and patterns
Puffer jacket
waist- or hip-length coat made of puffy, insulated material for warmth
Q
Quilted jacket
insulated jacket with stitching, usually in a diamond pattern
Quick-dry athleticwear
sweat-resistant pants, shorts, and shirts designed for working out
Quarter strap shoes
women's shoes with an ankle strap
Quad skates
roller skates with two front and two back wheels
R
Raincoat
long, waterproof coat
Running shorts
short, breathable shorts designed to allow ease of movement for runners
Ruched top
shirt with the fabric gathered along the seam(s)
Robe
long, loose garment with a tie at the waist
Rainboots
waterproof boots
Riding pants
pants that fit wide in the thighs and tight in the calves, with reinforced fabric along the inseam
Romper
similar to a jumpsuit but with attached shorts rather than pants
Raglan top
shirt with a sleeve that starts at the collar rather than the shoulder
Ruched skirt
skirt with gathered fabric on the sides
S
Shrug
cropped top similar to a cardigan, but covering less of the body
Smock
loose dress or shirt with the fabric gathered at the top
Sandals
light, warm-weather shoe with straps that hold the sole to the foot
Skirt
garment that fastens around the waist and hangs down around the legs
Shorts
short pants that reach no longer than the knees
Scarf
length of fabric worn around the neck for decoration or extra warmth
Suit
trouser, jacket, and shirt set intended to be worn together
Singlet
sleeveless shirt worn under or in place of a shirt
Socks
garment that covers the foot and part of the leg
Sundress
lightweight sleeveless dress with thin shoulder straps
Slacks
casual trousers
Sarong
cloth wrap to cover the body; often paired with a swimsuit
Sweater
knitted long-sleeve shirt worn during the colder seasons
Sweatsuit
matching sweatshirt and sweatpant set
Sweatshirt
loose, thick, long-sleeved shirt worn for leisure or exercise
Sweatpants
loose, warm pants with an elastic or drawstring waist, worn for exercising or lounging
Sheath dress
close-fitting dress
Swimsuit
water-resistant garment designed for swimming
Slippers
soft, comfortable slip-on shoes to wear around the house
Stockings
nylon or silk coverings for the leg and foot
Sunhat
wide-brimmed hat to protect the head and neck from sun exposure
Suspenders
shoulder straps that fasten to the waistband of pants to hold them up
Shift dress
a dress that hangs straight down from the shoulders rather than tapering in at the waist
Shawl
large square or rectangular piece of fabric worn over the shoulders
Shirt
garment that covers the upper body
Swimming trunks
shorts designed for swimming
Sweetheart top
shirt with a curved neckline shaped like the top of a heart
Stiletto heels
shoe with a thin, tall heel
Seersucker suit
suit made from thin, puckered fabric with narrow stripes
Shalwar
lightweight, loose South Asian trousers usually worn with a kameez
Sari
South Asian draped garment made of cotton or silk
Serape
striped blanket or shawl originating in Latin America
T
Tank top
sleeveless shirt
Tutu
fitted bodice and short, full skirt worn by a ballet dancer
Tunic
long, loose shirt
Twinset
matching pullover and cardigan
T-shir
short-sleeved casual top that has a "T" shape when spread out flat
Toga
draped, flowing dress typically covering the whole body aside from the right arm
Toe socks
socks with individual segments for each toe
Tube top
strapless top made from stretchy material
Trousers
pants
Tie-dye t-shirt
shirt dyed by tying parts of it to create colorful patterns in the dye
Tracksuit
sweatshirt or thin jacket and pants to wear while exercising
Tie
fabric worn around the collar with a knot tied at the front
Turtleneck
garment with a high and tight collar that covers the neck
Trapeze dress
dress that gets wider toward the waist and legs
U
Undergarments
garments worn beneath other clothes, such as undershirts and underwear
Undershirt
thin shirt worn under other shirts for extra warmth or to protect the overshirt from sweat
Uniform
clothing worn by members of the same organization or profession, such as airline pilot uniforms
Unitard
one-piece, stretchy garment that covers the body from the neck to knees or feet
V
Vest
sleeveless, waist-length garment with buttons on the front; usually layered with a shirt and/or jacket
Velvet dress
dress made of velvet fabric, which is closely woven and has a thick, short pile
V-neck t-shirt
shirt with a pointed neckline shaped like the letter "V"
Visor
style of hat with a stiff brim but no head covering
Vegan leather jacket
jacket made from faux leather material
Vegan leather shoes
boots, dress shoes, or sandals made from faux leather
Vegan leather belt
belt made from faux leather material
Vintage
clothing produced in previous decades
W
Wellies
Wellington waterproof boots
Wedding gown
formal gown worn by a bride
Waistcoat
vest worn over a shirt and under a jacket
Wetsuit
tight-fitting, water-resistant garment designed for diving, surfing, and other water sports
Woven top
shirt made of fabric that is woven rather than knit or sewn
Wrap dress
dress that closes by wrapping one side over the other and tying it
Wool hat
hat made of wool material
Wool scarf
scarf made of wool material
Wool sweater
sweater made of wool material
Wedge boots
boots with a solid sole that forms a wedge shape
Wedge sandals
sandals with a solid sole that forms a wedge shape
Western boots
cowboy boots
Westernwear
traditional clothing inspired by the styles of the Western U.S. in the 19th century
Wide-calf boots
boots that are extra wide in the calf for larger legs
Work boots
heavy-duty, protective boots
Wife beater
sleeveless undershirt
Wing collared shirt
shirt featuring a high, stiff collar with the top corners turned down
X
X-line dress
dress with a fitted waist and full shoulders, creating an hourglass shape
Y
Yoga pants
stretchy athletic pants
Yarmulke
skullcap worn by Jewish men
Z
Zoot suit
men's suit with a loose jacket and high-waisted trousers popularized in the 1940s
Zip-off pants
convertible pants that zip off at the knee to create shorts
Zip-up hoodie
hoodie that has a zipper rather than being a pullover
Activity: Discovering International Fashion
While our list above covers a wide variety of clothing types, there are plenty more that are unique to different countries and regions throughout the world.
Complete the following activity to find out more about international clothing styles and the unique, beautiful garments people have worn worldwide and throughout history!
Step 1: Choose a country.
You can choose your own if you'd like to dig into history, but it's even more interesting to choose a country where you're unfamiliar with the culture!
Step 2: Choose a time period.
Are you curious about what people are wearing now in the country you chose, or would you prefer to see what they were wearing decades or centuries ago?
Step 3: Search for styles.
The search terms "[country name]" + "[time period]" + "fashion," "traditional clothing," or "clothing" should bring up plenty of results. For example, a search of "Poland 1970s fashion" brings up articles on fashion in Poland after World War II and Poland's popular culture in the 1970s and 1980s. Likewise, "Japan 1700s traditional clothing" brings up great resources on the history of the kimono and other garments.
Step 4: Explore neighboring countries.
Some fashion trends emerge from necessity — for example, wearing warmer clothes if you live in a cold-weather climate! You might find it enlightening to see the trends and styles that were prominent in countries or regions nearby your original choice. What commonalities and differences do you notice? Do the silhouettes, fabrics, patterns, or colors vary between the countries?