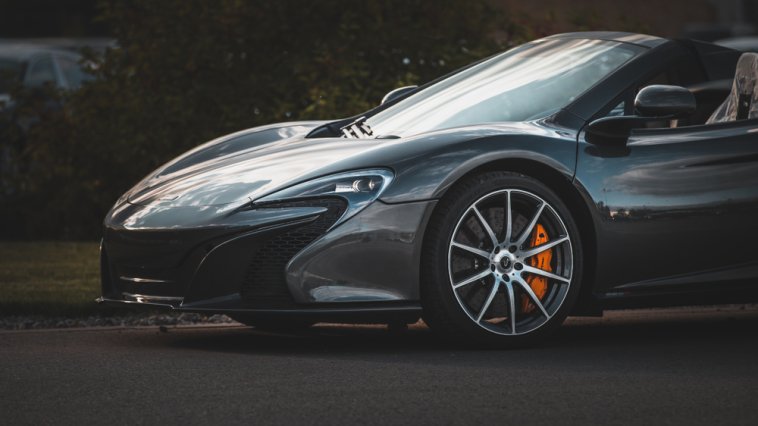 Car races have been held since 1895, not long after the first car was created.[1]
Since then, race tracks have been built all over the world to satisfy drivers' and spectators' need for speed.[2]
Fast cars are also at the heart of wildly popular video games and box-office hits, such as "Grand Theft Auto," which is playable on popular gaming systems, and the "Fast and Furious" film franchise.
It's no secret owners of fast cars love to show off what theirs can do. Custom artwork and other aesthetic modifications are also popular among sports and fast car drivers.
Some even have cool license plates made for the front or back of their prized machine.
Below, we provide the list of many cool license plate ideas for fast cars. We also offer tips for creating your own if you decide to go that route.
CATCH ME

UR2SLOW[3]

"you're too slow"

FARAWAY

2FAST4U

NEED4SPD

"need for speed"

XCELR8[4]

"accelerate"

NO MERCY

LETS GO

NOLIMITZ

"no limits"

STANG

short for "Mustang"

IFLYBY

BYEBYE

QUIKR

"quicker"

SWIFTY

POWER

HRS PWR

"horse power"

OMGMOVE

NVR STOP

OUTRUNR

"out-runner"

SEE YAH

BURNOUT

BIGGAP[3]

WOOHOO[3]

RDNINJA

"road ninja"

RACEME

HOT ROD

LTRG8TR[4]

"later, gator"

WHIZZ

LGHTNG

short for "lightning"

NITROUS

VROOM[3]

SMOKED

BLUR

WILL HOP

BOLT

BRAKNK

"breakneck"

SONIC

MUSLCAR

"muscle car"

FIREBALL

HOTFOOT

SMOKE U

DNT TRY

short for "don't try"

DYNAMO[3]

CHEETA

FAST LN[3]

"fast lane"

MOOVIN

GUILTY

WILDFIRE

CYA L8R[3]

1LIFE

GOTTA GO[3]

ZOOOOM

UNTAMED[3]

10SECNDS

"10 seconds"

NVRL8[4]

"never late"

200 MPH

AWOL

MAX PWR

"maximum power"

FLASH

ROCKET[3]

NOWUCME

"now you see me"

ZERO260

"zero to 60"

ADIOS[3]

AW YEAH[3]

IMFASTER[3]

NVR QWIT[4]

"never quit"

GTA DRVR

as in "Grand Theft Auto" driver; reference to the video game

HISPEED

"high speed"

FST TRAK

"fast track"

UP2SPEED

"up to speed"

WHOOSH

SPEEDY

BEATNU[3]

"beating you"

RECKLSS[4]

"reckless"

RACEME[3]

RAPID FR

short for "rapid fire"

BADBOY/BADGRL

ROADRNR[3]

"road runner"

RD RACR

"road racer"

CHASER

AMPEDUP

ZIPPY

FIREBOLT

FAST 1

FST LNE

"fast lane"

SWOOP

MADRACR

"mad racer"
Fast Car License Plate Generator
How to Create Your Own Cool Fast Car License Plate Names
If you love the adrenaline rush of flying over the pavement in a fast car, you may want to create a unique license plate tailored to fit your preferences.
Use these tips when creating your own unique fast car license plate name below:
If you're getting a state vanity plate, check the restrictions. Each state has different rules for how many characters can fit on a customized license plate, as well as which characters you can use and whether you can include any spaces. Be sure to check your state's guidelines before settling on a name, so you won't have to make changes later!
Take your car's color and other physical characteristics into consideration. You may want to think of words to describe your car. This could be an alternate word to the color, such as "azure" or "cobalt" for a blue car, or even the car's make or model. Once you have a few keywords in mind, look up synonyms and find ways to combine and/or abbreviate words to create your perfect license plate.
Use your own lingo. Do you have a catchphrase or certain words you often use when you're racing or driving around town? Consider having some form of your motto printed on your license plate. If you're drawing a blank, ask friends if they've noticed something you often say.
Use yours or your car's nickname. If you have a cool alias or you've given your car a nickname, try fitting it into your state's license plate character limit and what you think. If you're considering nicknaming a brown car, be sure to check out our list of brown car names!