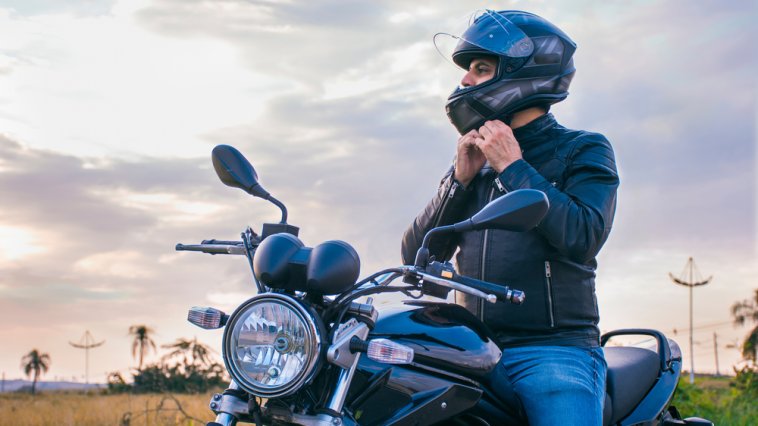 There are several perks to driving a motorcycle. Not only are they generally less expensive to purchase than a car, but the upkeep is also more affordable.
Motorcycle drivers save money on better gas mileage as well as car insurance.[1]
The exercise involved in moving around a large machine also offers health benefits. Additionally, exercise causes the brain to release endorphins, which can lead to improved mental health.[1]
Motorcyclists often join together or form groups to talk about their bikes and ride. Some even organize charity rides in order to benefit important causes.[2]
If you own a motorcycle that's your pride and joy, giving it a unique license plate can be fun and make your bike feel more personalized.
Below, you'll find the list of motorcycle license plate ideas (including funny motorcycle license plates). We also share a license plate generator and ways to create your own following the list.
ILEAN

WEEEE

TORQ

SEEYA

100MPH

IXLR8[3]

"I accelerate"

MINI

BIG BK

BUSTA

BAKOFF

"back off"

EZRIDR

"easy rider"

ENDO

a bike trick

FAST[3]

IGOSLO

"I go slow"

2WLZ

"two wheels"

OFF RD

BRAAAP

biker's way of imitating a motorcycle's noise

B HPY[4]

"be happy"

HOTWHL[3]

"hot wheels"

LIL BK

HOG

SCOOT

DRT BK

"dirt bike"

HOG

HWYRDR

"highway rider"

CRUSIN

WHEELY

VROOM

BEAST

CACHME

"catch me"

DULWLZ

"dual wheels"

4STROK

"four stroke"

HARLEY

YAAS

MOTO

GONEBY

CHOPPR

TRAILZ

BKRGAL/BKRBOY

HIKEIT[3]

BIKER[4]

BABYBK

"baby bike"

MUDRDR

"mud rider"
Motorcycle License Plate Generator
How to Create Your Own Motorcycle License Plate Ideas
Motorcyclists are known for their sense of adventure.
If you'd prefer to create a license plate message tailored to your individual personality or bike, keep these tips in mind to make the job easier:
Take inspiration from your reasons for driving a motorcycle. What's your favorite thing about owning and driving a motorcycle? Whether it's the speed, maneuverability, or the wind against your face, create a list of words associated with riding and look for ways to abbreviate them. For example, if you love the adventure of the ride, you might use "THRLSKR" (thrill seeker), "LIV4PRL" (live for peril), or "ADVNTUR" (adventure).
Give your motorcycle a nickname. If your bike already has a name, shorten it if necessary and consider using that for your license plate. If you haven't yet chosen a nickname, this is a great opportunity to give it one that'll fit perfectly on your license plate.
Keep character limits in mind. Each U.S. state has its own character limit for what can be printed on a state-issued license plate. Motorcycle plates may be allowed fewer characters than other vehicles. Even if you're getting a custom plate made for decorative purposes only, there will be a limit to what you can fit on the plate. Keep the limit in mind when creating license plate ideas.