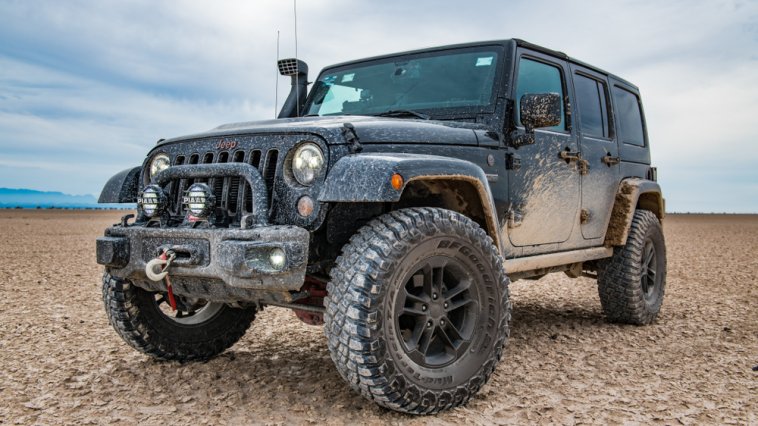 Jeeps began as vehicles for Allied soldiers in World War II but have been on the market for civilians almost as long — since 1945.[1]
Popular among off-road enthusiasts, Jeeps are also favored for their durability, customization options, and classic design.[2]
While you don't necessarily have to give your Jeep a name, choosing a name can be a fun way to reflect your passion for your vehicle and the adventures it brings.
We list our Jeep name ideas below, including some names listed by color so you can find the perfect option for your Jeep.
See below the list for tips on creating your own Jeep name ideas.
Cool Jeep Names
Furiosa

"Mad Max" character

Jeepsy Soul

Dagger

Raider

Phoenix

Honey Badger

Trooper

Sandbar

Warlock

Puddle Jumper

Sand Serpent

Luna

Ranger

Rocky

Toxic Kiss

Wanderess

Glory

Sergeant

Zeus

Copperhead

The Barnacle

Devil Dog

Grenade

Trouble

Punisher

Optimus Prime

"Transformers" character

Fury

Admiral

Mountain Goat

The Tank

military-inspired

Maximus

Miss-Chievous

Salty Dog

Dark Angel

Whitecap

Sand Dollar

Moonstruck

Freedom

Braking Bad

Alpha

Chaos

Mud Puppy

Moneypit

Tank

Journey

Tide

Titan

Intimidator

Sand Witch

beach inspired

Oceana

Sandy

for a beachy vibe

Commander

Paradox

Beautiful Beast

Major Payne

from the comedy film starring Damon Wayans

The Nomad

Bulldog

Mud Bug

Cyclone

Desert Dragon

Whiskey

Smokey

Captain

military-inspired

Digger

Nitro

Bolt

Dazed

Beautiful Chaos

Dune Diver

Atom

Loki

character in Marvel films and Norse mythology

Diablo

Beast

Bombshell

Mudtroll

Shoreliner

Striker

Wicked

Stallion

Ugly Betty

Bigfoot

Pandora

American Beauty

Alpha

Lady Luck

Jellybean

Victory

Coral

Big Mud

Big Texan

Lucky Charm

Lazy Bones

Ginger Snapped

Hitchcock

Slasher

Colt

Solar

Hellboy

Dash

Honest Abe

inspired by Abraham Lincoln

Last Legs

The Great Gull

Needy

Problem Child

Hotwheels

Mud Pie

Avenger

Man Cave

Dazzler

Mud Troll

Brimstone

Cinderella

Mad Minion

Dune Dancer

Mudslayer

Rock Crawler

Jungle Jim

Trail Boss

The Wanderer

Summit Seeker

Canyon Cruiser

The Beast

Trailblazer

Adventurer
Jeep Names by Color
Red
Ruby Rider

Fiamma

Italian for flame

Rebel Belle

Hellcat

Bloodshot

Ladybug

Sangria

Big Red

Red Dawn

Ruby

Blaze

Reba

after the famous red-haired country singer

Fireball

Scarlet

Berry

Crimson Cruiser

Crimson

Red Devil

Inferno

Little Red Rider

Rock Lobster

Red Velvet

Red Baron

Red Hot

Chili Pepper

Flame

Maraschino

Cherry

Foxy

Betty Boop

Poppy

Spitfire

Merlot

Calamity

Scarlet Sentinel
Orange
Punkin

Fireball

Creamsicle

Tangerine Dream

Mango

Cheeto

Julius

Sunkist

Orange Crush

Mighty Monarch

Mandarin

Peachy

Hobbes

Nemo

Cheddar

Tiger

Flame

Clementine

Lady Marmalade

Tangerine

Mimosa Mobile

Charmander

"Pokemon" character

Koi

Carrotmobile

Starfish

Oompa Loompa

Pumpkin Eater

Rafiki

Carrot Cruiser

Tangerine Titan

Coral Cruiser

Mandarin Maverick

Apricot Adventurer
Yellow
Yellowjacket

Goldishocks

Caution

Old Yeller

Yellowtail

Pikachu

"Pokemon" character

Flying Banana

Mellow Yellow

Magic School Bus

Sunrider

Minionmobile

Dandy Lion

Gold Digger

Banana Bandwagon

Sunshine

Blondie

Buttercup

Canary

Big Bird

Goldie

Yellow Submarine

Honey

Daisy

Taxi

Duckling

Golden Oldie

Sunflower

Dahlia

Smiley

Midas

Starfruit

Daffodil

Citrine

Honeycomb

Marigold

Golden One

Acacia

Stinger

Solar Flare

Lemonade

Butter

Butterscotch

Lemonhead

Yellow Fever

Sun Streak

Bumblebee

Spongebob

Tweety

Soleil

French for "sun"

Saffron

Buzz

Marigold Maverick

Daffodil Daredevil

Buttercup Bandit
Blue
Luna Azul

blue moon

Sully

inspired by the Monsters, Inc. character

Serenity

Stella Blue

Poseidon

Blue Steel

Cookie Monster

inspired by the Sesame Street character

Big Blue

Code Blue

Bluebird

Baby Blue

Sapphire

Mystique

Cobalt

Gladiator

Nightwing

Cyan

Rubi Blue

Summer's Storm

Blue Moon

Glacier

Sky

Bolt

Bluedazzle

Blue Devil

Sonic

Bluebell

Berry

Dolphin

Tidal Wave

Genie

Ice Queen

Blueberry

Freeze

Royalty

Groovy Blue

Cobalt Cruiser
Green
Clover

Lizard King

Olive

Willow

Sweetpea

Mary Jane

Lilypad

Gumby

Poison Ivy

The Grinch

Frogger

Goblin

Gremlin

Chameleon

Envy

Picklemobile

Emerald

Yoda

Sage

Flubber

Kiwi

Python

Honeydew

Evergreen

Magic Menthe

Lady Hulk

Godzilla

Green Goddess

Green Lantern

Big Green Machine

Toad

Aventurine

green quartz stone

Kermit

"The Muppets" character

Green Hornet

Serpentine

The Hulk

Marvel superhero character

Apple

Wasabi

Yoshi

Peter Pan

Luigi

Avocado Queen

Booger

Grasshopper

Mantis

Shaka

Jungle Fever

Donatello

"Teenage Mutant Ninja Turtles" character

Juniper

Sage Swashbuckler

Forest Fury
Pink
Shortcake

Princess Bubblegum

named for the "Adventure Time" character

Piglet

named for the "Winnie the Pooh" character

Jeepsy Rose

Starmobile

named for the pink "SpongeBob SquarePants" character Patrick Star

Sakura

after the pink-flowered cherry blossom tree

Pixie

Barbie

Bubblegum Bandit

Cactus Flower

The Panther

Rosette

Flamingo

Pink Champagne

Carnation

Peppa Pig

Blossom

Gumdrop

Pink Lemonade

Bubble Gum

Valentine

Rosebud

Rosie

Blush

Strawberry

Piglet

Pink Prowler

Cotton Candy Cruiser

Rose Runner

Fuchsia Fury
Black
Black Widow

Grim Jeeper

Mamba

Black Pearl

Black Betty

Noir

Blackjack

The Crow

Raven

Midnight

Luna

Shadow

Onyx

Maleficent

Zorro

Black Gold

Venom

Nightrunner

Panther

Black Beauty

Barracuda

Abyss

Shadow Chaser

Dark Horse

Elvira

Dark Knight

Blackhawk

Black Diamond

Nightshade

Knight Ryder

Black Swan

Black Cat

Grimm

Dark Side

Ebony

Jet

Black Hole

Midnight Maiden

Blackout

Night Fury
Silver/Gray
Smoky

Shadow

Rhino

Thunderbolt

Silver Surfer

Marvel comic book character

Sterling

Greystorm

Heavy Metal

Titanium

The Knight

Gunner

Lightning

Platinum

Shrapnel

Silver Bullet

Metalhead

Steel Storm

Warrior

Silver Fox

Savage

Quicksilver

Glitter

Silver Lining

Chrome

Nickel

Meteorite
White
Betty

after the actress Betty White

White Noise

Casper

Frostbite

Icy

Ghost Rider

Phantom

Snowflake

Kahlua

Olaf

Snow White

Cottontail

Marshmallow

White Out

Ivory

Diamond

Avalanche

Polar Bear

Snoopy

Ghost

Unicorn

Alaska

Winter

Frost

White Rabbit

Snowman

Snowcap

White Heat

Snow Drop

Poodle

Arctic

White Tiger

Snowball

White Whale

Angel Eyes

Champagne

White Crawl

Opal

Snow Queen

Blizzard
Tan
Biscuit

Fawn

Hazel

Tawny

Bambi

inspired by the tan-colored deer

Blondie

Buffy

inspired by the shade of tan called "buff"

Gobi

inspired by the Gobi Desert; also the name of one of Jeep's paint colors

Sahara

inspired by the Sahara Desert

Cosmic Latte

inspired by the average color of the universe, which is a light beige[1]

Sandy

Ginger

inspired by tan-colored ginger root

Ecru

French for "unbleached"

Corkie

Bighorn

Elkie

inspired by the tan hide of an elk

Tumbleweed

Cream Puff

Buckwheat

Toastie
Jeep Name Generator
Tips for Naming Your Jeep
If none of the names on our list above are perfect for your Jeep, use these tips to create your own ideas:
Make it personal. Above all, your Jeep name should be something that you love. Choose a name that has meaning to you, is funny to you, or immediately comes to mind when you think of your Jeep.
Use pop culture and historical references. You can choose a cartoon character that's the same color as your Jeep, the title of your favorite book, an unusual word from a song you love… the possibilities are endless! If you're not really interested in pop culture, you can use niche references or call upon history. Our list's example of "Honest Abe" takes its name from the 16th U.S. President, Abraham Lincoln.
Get inspiration from your surroundings. Your city, county, or favorite trail can be great inspiration for your Jeep name, along with words inspired by the environment like "evergreen."