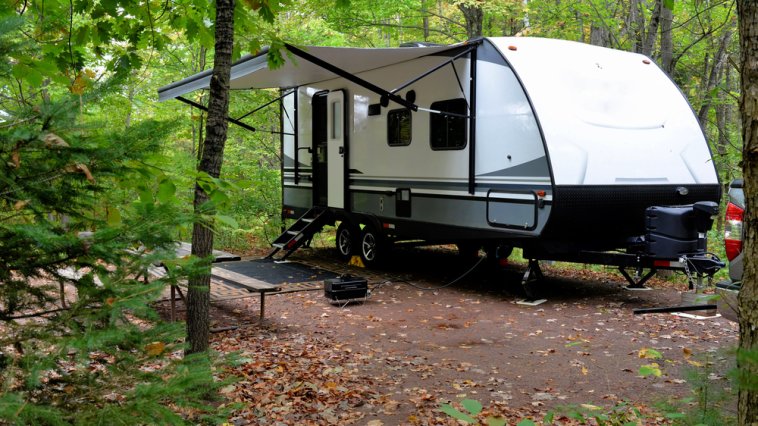 RV ownership has increased more than 50% in the past four decades, and it's estimated that over 40 million people in the U.S. go camping each year!
The first motorized campers appeared in the early 1900s, and by the 1930s, RVs with proper beds, electric hookups, water, and dinettes began to hit the market.
Today, options range from compact and simple pop-ups to retro vans to state-of-the-art tour buses that are practically luxury homes on wheels.
While it isn't quite the rustic tent camping experience, camping in a camper or RV can help you get closer to nature, have memorable outdoor experiences, and enjoy a relaxing vacation.
Whether your travel vehicle of choice is a pop-up, camper, RV, motorhome, or hippie van, we have the list of name ideas to choose from below.
Scroll past the list for a name generator and tips to help you create your own name ideas.
Rambler

Summer Camp

City Ditcher

Day Tripper

Inheritance

Magic Carpet

Pamper Camper

Moneypit

Sun Chaser

Voyager

Road Warrior

Home Sweet Roam

Journey

Class-C

pronounced "classy"; a play on the classes of motorhomes

Wander Woman

a play on "Wonder Woman"

Bucket List

The Wanderer

Tin Can

Cabin Fever

Rolling Palace

The Runaway

Dreams Alive

The Towaway

Road Home

The Compass

Highlander

Adventurer

Easy Goin'

A Little Lost

Road Rambler

Wanderlust

Map Trap

Alpine Express

Mystic Ranger

Old Faithful

Trekker

Lazy Daze

Pathfinder

Fun Finder

Mountainview

Lazy Wanderer

Poppy

for a pop-up camper

Lost River

Sunshine

Rolling House

Prairie Princess

Rowdy Roller

Cara the Van

a play on "caravan"

Anna the Vanna

Freedom Flyer

Tin Top

Happy Days

Ramblin' Rose

Northern Star

Dream Chaser

Moon Dancer

Road to Nowhere

Desert Rose

The Base

Freedom Chariot

Love Shack

Pegasus

Jolly Trolly

Blacktop

Thrill Seeker

Vagabond

The Stagecoach

The PlayStation

Wandering Star

Serenity

Highway Patrol

Pilgrim

Tourists in Transit

Old Faithful

Miss Ameri-camp

The Glamper

short for "glam camper"

Long Haul

Excursionist

Party Wagon

The Mystery Machine

Warrior

short for "weekend warrior"

Gus the Bus

The Penthouse

Hot Mess Express

Wayfarer

Second Act

Transporter

The Happiest Camper

Navigator

The Retreat

Retirement Vehicle

The Dog House

Breadloaf

based on the shape of a VW van
Camper/RV Name Generator
How to Create Your Own Camper/RV Names
If you'd prefer to create your own personalized camper or RV name, keep these tips in mind while brainstorming:
Decide what type of name you want. Do you want something funny, sentimental, ironic, or classic? Setting parameters early on will make creating or finding the perfect name a lot easier!

Try out different synonyms. If there's a certain word you really enjoy, like "wanderlust" or "adventure," check the thesaurus to find more options with the same meaning. You might stick with the original word or find a completely unique option!
Take input from your fellow happy campers. Whether you typically camp with your family, in a group, or solo, you probably know other people who are interested in camping or will come with you on some of your trips. If you're struggling to choose between a few names, ask around and see which names they like best. The decision is still yours, but the opinions of others can help!
Choose a name that brings you joy. Camping can be fun and adventurous or very relaxed. Choose a name that fits your camping style and makes you feel as good as you do mid-trip. Depending on your sense of humor, it might be a name that others find crude or silly, but the important thing is that the name suits you perfectly!