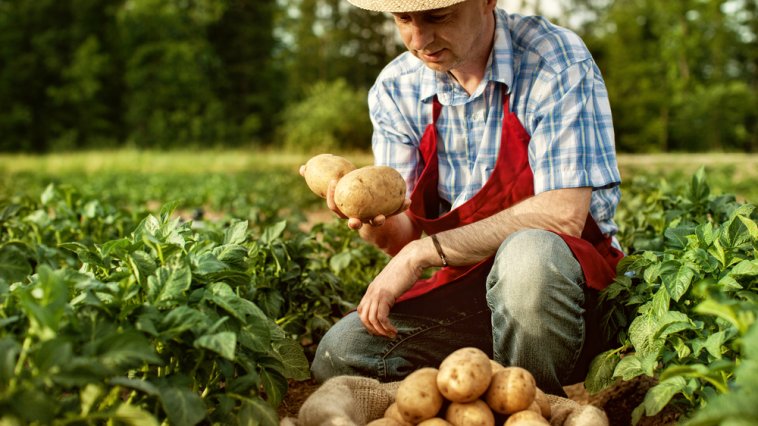 Though today's world is more focused on technology than a traditional agricultural lifestyle, farmers still play a huge role in our daily lives and culture.
In the U.S., there are around two million farms, and 98% of them are operated by families.[1]
Each farm in the U.S. grows enough food to feed 165 people annually[2] — so every individual farm and farmer is very important!
While the work of farmers is essential to life, farming doesn't always have to be serious. In nicknaming, gaming, or character-building, it can be great to use humor to describe farmers and farm life.
Below, we have the list of more than 40 funny farmer name ideas, plus tips to help you come up with your own additional options.
Jolly Rancher

Old MacDonald

inspired by the song "Old MacDonald Had a Farm"

Mr. Husk

inspired by corn husks

Corncob Clyde

Cotton Eye Joe

inspired by the Rednex song from the 1990s

John Deere

a play on the agricultural machinery company

Harvey

short for "harvester"

Scarecrow

Uncle Henry[3]

inspired by Dorothy's farmer uncle from "The Wizard of Oz"

Amos[3]

Jake from State Farm[4]

a play on the character from State Farm's insurance commercials

Farmer John

Bo Peep

Billy Bob[5]

Dell

inspired by the song "The Farmer in the Dell"

Mr. Pepperidge

inspired by the Pepperidge Farm food brand

Bob Evans

inspired by the "farm fresh"-themed restaurant

Jimmy Don[5]

Wilbur[5]

Huckleberry[3]

Colt[3]

Land[3]

Billy Hill

a play on "hillbilly"

Hayllary

a play on "hay" and "Hillary"

Bubba[5]

Farmy McFarmface[6]

Farmer Jack

inspired by the now-defunct grocery store chain

Billy Ray[5]

Cornmeal Cody

Almanac

Ol' Jeb

Buck[3]

Bobby Joe

Aunt Em

inspired by Dorothy's aunt from "The Wizard of Oz"

Cow Girl[7]

Cash[3]

Ranger[3]

Linden[3]

Burlap[8]

Jed[5]

Bodean[5]

Lake[3]

Bo[3]
Funny Farmer Name Generator
How to Create Your Own Funny Farmer Names
If you haven't yet found the perfect farmer name, we have some tips to help you generate more ideas with your own creative spin!
Think of farm tools, animals, and crops. These make great starting points for finding the perfect farmer name. For example, if you love to eat corn, you can come up with a name related to it — like "Corncob Clyde" or "Mr. Husk." Or, if horses are your favorite farm animal, you could choose the name of a famous horse, such as "Hidalgo."

Tailor the name to your own sense of humor. Your funny farmer name should, above all, be funny to you. Do you have a clean, classic sense of humor, or are you more self-deprecating? Simple names like "Bob Evans" (after the restaurant) will be funny to some, while others will prefer more obscure references or sarcastic names.
Get inspiration from popular culture. There are plenty of books, films, and songs about farmers and farm life. If you have any particular favorites, you can use them to inspire your farmer name. Examples from our list include "Uncle Henry" and "Aunt Em," both inspired by farmer characters in "The Wizard of Oz."