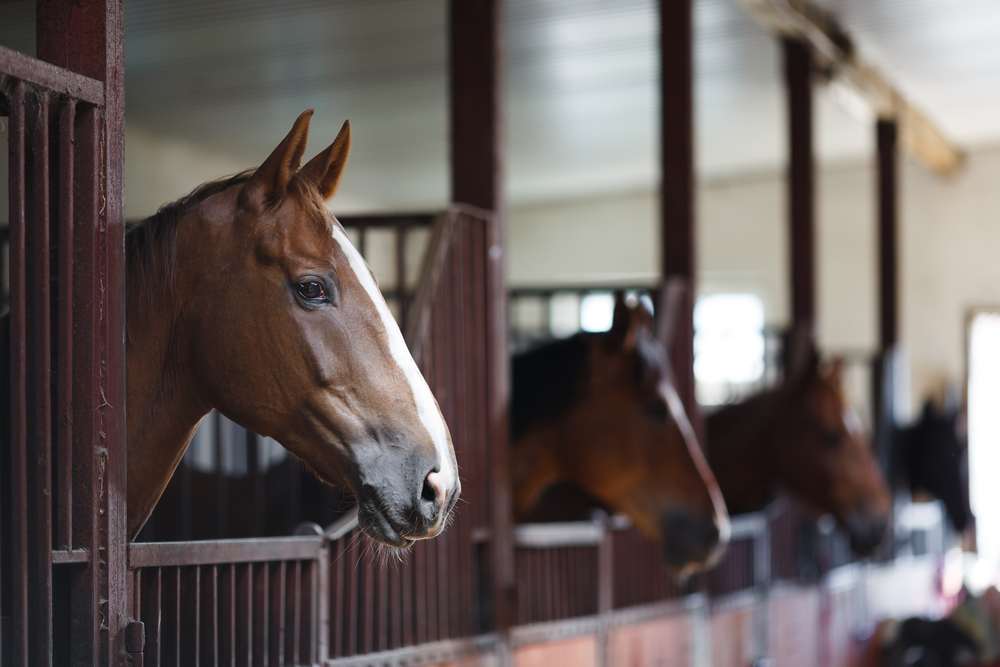 Star Stable allows you to not only name and take care of a virtual horse, but also create your own riding clubs.
When naming your horse or your club, Star Stable provides lists of words to choose from — three words for clubs and two words for horses.
You can choose any combination of words to create your name; we've compiled the best options below.
We also provide tips for selecting the very best name for your club and horse!
Club Names
Sky Wings Community

Ocean Riders Tribe

West Witches Guild

Steel Saddles Sisterhood

Emerald Riders Nation

Fall Foals Friends

Moon Protectors Sisterhood

Thunder Wolves Army

Brave Runners Clan

Shadow Stars Patrol

Sea Tide Travellers

Om nom nom Rush Bunch

Alpha Ladies Guild

Equestrian Dreamers Union

Diamond Cowgirls Inc.

Comet Cowboys Club

Enchanted Star Sisterhood

East Dragonflies Association

Cloud Aces Coalition

Misty City Circle

Bunny Circus Society

Fairy Feathers Society

Invincible Supernovas Generation

Turbo Vampires Legacy

Thunder Mountain Coalition

Enchanted Friends United

Silversong Forest Coalition

Sweet Mountain Sisterhood

Flower Sisters Society

Doom Town Tribe

Emo Enigmas Unit

Lightning Ghosts Lodge

Leaping Foxes Guild

Omni Explorers Agency

Freedom Ghosts Generation

Silent Supernovas Squad

Electric Hooves Legion

Lucky Riders Squad

Glitter Hooves United

Planet Ambassadors Alliance

Alternative Butterflies Division

Planet Rockers Patrol

Dynamic Dancers Patrol

Zany Zebras United

Chinchilla Babies Pack

Doom Dancers Fellowship

Wild Tide Sisterhood

Mega Progress Company

Fairy Flowers Alliance

Lucky Mermaids Allstars

Cat Bubbles Collective

Dizzy Dragonflies Riders

Atomic Ponies Association

Omega Tide Alliance

Turbo Zebras Society

Brave Agents Gang

Curious Dreamers Squad

Glamorous Mountain Girls

Dizzy Whisperers Nation

Cute Rainbows Crew

Brave Town Travellers

Winery Witches Union

Wealthy Werewolves Inc.
Star Stable Horse Names
Solospirit

Royalquest

Dropwing

Coffeechaser

Ashcaster

Mindreader

Acaciaaura

Opalprincess

Onyxqueen

Echoanthem

Pixelracer

Abyssangel

Poshpotential

Twilightwind

Seaspell

Amethystdestiny

Twilightaura

Aceangel

Tigerwillow

Wildtime

Springsurprise

Arcticbelle

Stormtorch

Acaciacrown

Mistjumper

Herohurricane

Chunkychunk

Ashbeam

Ashbullet

Emeraldfire

Phantomrambler

Royalspirit

Luckymoon

Abyssbeauty

Silentwish

Wondergazer

Violetwish

Earthmagic

Desertdragon

Troubleweaver

Phantomrebel

Windanthem

Twinkledust

Blueblossom

Thunderweaver

Earthjumper

Fortunegirl

Wonderwalker

Amberbolt

Flutterheart

Extradream

Autumnbelle

Frostjumper

Berrybeam

Echoforce

Coraleffect

Glitterhunter

Cinderbeam

Chaosanthem

Berryjewel

Cinnamondust

Amberair

Ninjamoon
Tips for Choosing Your Club Name or Horse Name
While Star Stable offers a limited number of name options rather than giving you the total creative freedom to enter any name you want, it's still possible to create an excellent name for your horse or club!
If you don't want to choose from our list above or aren't sure which name you like best, keep the following tips in mind when selecting your name:
Say the full name out loud. If you hear the name, you can really determine whether it sounds good and whether you like it. For example, a club name like "Alpha Ambassadors Association" may seem cool on paper (since each letter begins with "A" and it sounds very official), but after saying it out loud, you might find it too long or difficult to say.
Consider the name's initials. What will the club or horse's initials be? You might want to match the letters to your own initials, spell out another word (like "ALL" — "Alpha Lions Lodge"), or think of how the initials would look in a monogram or logo.
If all else fails, randomize! Pick out words from the lists with your eyes closed, or write down potential names and draw them from a hat. This can make picking the name more fun and can provide some unexpected combinations you wouldn't have considered while browsing the lists!