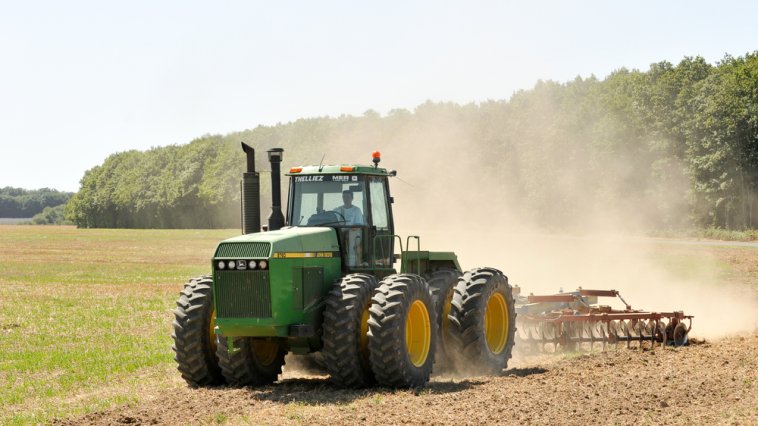 The earliest tractors were inspired by steam engines used on farms in the late 19th century.
John Froehlich, a blacksmith from Iowa, built the first gasoline-powered tractor in 1892.[1]
Today, hundreds of thousands of tractors are sold in the U.S. every year.[2]
People rely on them for clearing and cultivating land, planting and harvesting crops, animal care, and much more.[3]
Like many vehicles, tractors are often given nicknames.
We have the list of 51 unique and funny tractor names you can choose from for your trusty tractor, plus tips for choosing or creating your own.
Green Machine

Grain or Shine

a play on "rain or shine"

Dirt Devil

Mater

inspired by the character from "Cars"

Rust Bucket

[Your main crop] Slasher

Ka-PLOW

Roadrunner

Assassin's Seed

a play on "Assassin's Creed"

Ole Bessie

Alpha Tractor

Stick in the Mud

Grim Reaper

Happily Ever Tractor

a play on "happily ever after"

Right as Grain

a play on "right as rain"

Hillbilly Deluxe

Old [tractor's color]

Rebel Ranger

The Banshee

Lazy Rustler

Lawn Master

Quid pro Grow

a play on "quid pro quo"

Crop Circler

Lawn and Order

a play on "law and order"

Farm Forager

Bumpin' Bumpkin

Big Boss

Ebb and Grow

a play on "ebb and flow"

True Grit

Mud Bud

Grassland Slam

Little Chug

Happy Harvester

Mud Slinger

Plantinator

Tiller Instinct

a play on "killer instinct"

Crop Hopper

The X Tractor

a play on "the X factor"

Red Cropster

a play on "Red Lobster"

Hay Now Y'all

Diggin' It

Sprout's Honor

a play on "scout's honor"

Truth Dirts

a play on "truth hurts

Need for Seed

a play on "need for speed"

The Beast

Wobbly Wonder

Tall, Dark, and Rowdy

Holy Plow

a play on "holy cow"

Crop Top

Grass Monkey

a play on "Brass Monkey"

The Wild Side
If you're new to farming, you might also enjoy our article with funny farmer names!
Tractor Name Generator
How to Choose or Create the Best Name for Your Tractor
Deciding on a nickname for your tractor should be fun!
If you didn't quite find the right name and want to create one or you're having trouble deciding, here are some helpful tips.
Take a vote. Make a list of the names that stand out to you while looking through the list. Then let friends or family members who are familiar with your tractor cast votes to help you choose one.
Make a list of descriptive words. Write down as many words as you can think of that describe your tractor. Mix and match to create the perfect name like "Red Rumbler" or "Smoky Mammoth."
Mix and match syllables. You may want to take farming words and add fun syllables to create names like "Total Wheat-splotion" or "Plow-tastic."
Use your name in the title. A simple way to come up with a nickname is to use your first name, plus an adjective, followed by the word 'tractor'. An example might be "Ben's Trusty Tractor" or "Toby's Old-Fashioned Harvester."