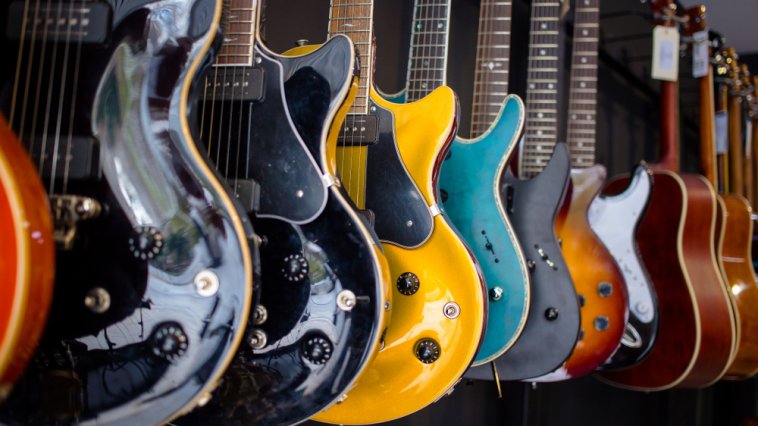 Though the guitar is assumed to have originated in Spain in the early 16th century, a lute-like instrument (similar to a guitar) has been found in ancient depictions dating back to 3500 to 3200 BCE.[1][2]
Today, guitars are one of the most popular instruments in the world. They're a favorite among musicians of country, rock and roll, indie, folk, and many other musical genres.[3][4]
A couple of reasons why they're so popular are that guitars are more affordable and portable than some other instruments, such as drum kits. They're also great for songwriting and guitarists can easily play as a one-person band.[3]
Many legendary guitarists like Jimi Hendrix and B.B. King have given their guitars special names.[5] Whether you're a beginner or you've been playing all your life, you may want to do the same.
Below, you'll find the list of 70+ cool and punny, male and female guitar names. We've also provided a few tips on choosing the right guitar name for you!
Hummingbird

Mayhem

Old Faithful

Harmony

Shredder

The Chord Lord

Stardust

Sweet Awakening

Wild Thang

Melody

Rock and Roller Coaster

Anarchy

Bass Master

Electra

Soul [Sister/Brother]

Rock 'em Dead

a play on "knock 'em dead"

Ol' Blue

Big [Mama/Daddy]

House of Chords[6]

a play on "house of cards"

Strings of Joy

Sparky

Flame Thrower

Torpedo

Baby [Girl/Boy]

Mockingbird

Foxy

Rowdy Roadie

Righteous Rebel

Octavious

The Axe

Fight Dub[6]

a play on "fight club"

Riff Competition[6]

a play on "stiff competition"

Electric Effects

Jade

Jolly Jammer

Rockstar

Finger Pickin' Good

a play on KFC's slogan "Finger Lickin' Good"

[King/Queen] of Cool

Smoky

Dyn-o-mite

Woody

Clef-Hanger[6]

a play on "cliff hanger"

My Happy Bass[6]

a play on "my happy place"

Thriller

Big Shot

Slick

Jailhouse Rocker

String of Beauty

a play on "thing of beauty"

Duke

Misfit

Flicker

Bubba

Silver Bullet

Virtuoso

Pickpocket

Thunder

Hammer

Timber

Rose

Old Hickory

Sound Slasher

Hazel

Olive

Tinman

Spring

Corky

Cinder

Ruby

Sapphire

Onyx

Blackthorn

Apple Blossom

Fern

Plum

Jolly Wood Fellow

a play on "jolly good fellow"

Harmonics

Beast
Guitar Name Generator
How to Choose the Perfect Guitar Name
You might be struggling to narrow down your choices. You'll want to find something that speaks to you and fits your guitar like a musician's glove, after all.
Here are some ideas to help you find the name that's right for you:
What's your chosen music genre and style? Keeping your guitar name in line with these two things will help narrow down the possibilities. A folk singer with an acoustic guitar that's been in the family for generations will probably be looking for something different than a rock-and-roller with a sleek electric instrument. Go with a name that fits your vibe.
Is there something unique about your guitar? If your guitar is scarred with memories or super high-tech, choose a name you can add an adjective to that describes your instrument perfectly, such as "The Cyber Chord Lord" or "Metal Mayhem."
Choose your favorites and ask some friends. It might help to get the opinion of others. Make a list of your favorite names and go over them with a friend or family member who's familiar with your music. Ask them which one they like best and why. Their answer may be just the inspiration you need!