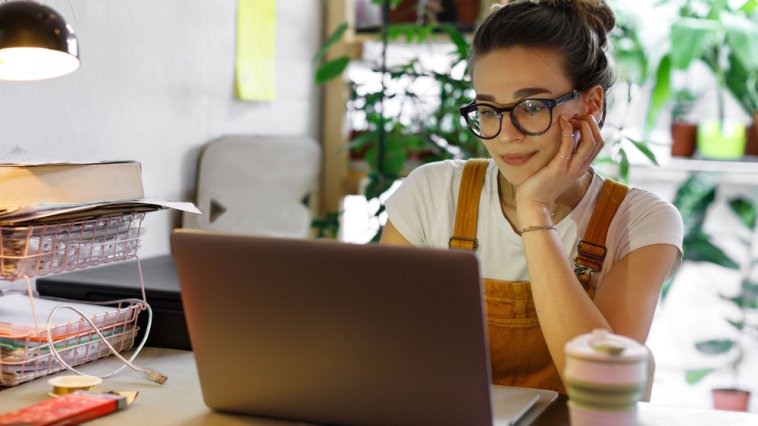 According to most historians, the first mobile laptop was the Osbourne 1, released in 1981. It weighed over 24 pounds and came with a $1,795 price tag.[1]
Today, people use laptops everywhere for everything, from gaming to banking to school to work.[2]
Not only are they the best choice if you need a PC on the go, but they're also great energy and space savers.
In addition, laptop computerss hold higher resale values over time than desktop computers.[3]
If you're attached to your computer 24/7, you might want to give it a cool name. We have the list of options below, whether you're looking for a funny name or something more professional.
You'll also find a name generator and ideas for creating your own names below the list.
Chromy Homie

Mystery Machine

Wi-Fi Hoarder

Lord of the Files[4]

Gigalicious

Lord of the Pings[4]

The Data Collector

Creation Station

Pandora's Box[5]

Speedy

My Precious

Dr. Data

Beatbox 2.0

Weapon of Mouse Destruction

Gone With the Windows[4]

Click Bait[6]

No More Mister Wi-Fi[7]

Charlotte's Web-site[4]

All Bark No Byte

Big Mac

Everyday I'm Bufferin'[7]

Aristotle

Whaddup, Chromie?

Connecto Patronum[7]

Mini-Boss

Iron Man

Cyberspace Ranger

Hardcore Processor

Mega Playa

Three Little Gigs[4]

Mad Hacker

as in the Mad Hatter

Geeky Clean PC[6]

Alphabot

Ghost Writer

Apple of my Eye

Apex Analytics

Phoenix[8]

Technopolis

Mac Attack

Cookie Monster

Appley Ever After

Call of the Wild Web[4]

The Webmaster

A Tale of Two CDs[4]

a play on "A Tale of Two Cities"

Go Go Router Ranger[7]

Duke of URL[7]

The Mousetrap

Socrates

Alpha Einstein[8]

'Disk'o King/Queen

Bits and Bytes[6]

Where the Wild Pings Are[7]

Reboot Rebel

Information Superhighway Explorer

Record Crusher

Tech Tactics

The Terminator

Bro Coder

Matrix Master

Overload Overlord

Night Coder[6]

Media Master

Seize the Data

Quantum Mechanic

Super Shifter

Daring Developments

Hacker Tracker

AI Boss

Mini Mac

Blogger Bot

Space Station

Virus Smasher

Memory Matrix

Encryption Specialist

Hyperlink Hijinx

Piracy Puncher

Chatter Bot

1,001 Arabian Bytes[4]

[Cool adjective] to the Core
Laptop/Computer Name Generator
How to Create Your Own Laptop Names
You might want to choose a more personalized name for your laptop.
After all, laptops, like their owners, come in countless different styles with their own purposes and capabilities.
Keep these tips in mind when brainstorming your laptop's name.
What are your favorite things? This could be your favorite pastime, location, music genre, food, etc. Whatever your favorite thing is, it may offer you the perfect inspiration for what to incorporate into your laptop's name.
What's the primary purpose of your laptop? If you use your laptop for gaming 99% of the time, you might want to take inspiration from your favorite game or username to create something like "Highly Hypnotic's Online Portal." If your laptop's intended for business or education, you might use words associated with your specific activities and goals to generate your name, such as "Fashion Finder 2.0" or "Stock Market Specialist."
What's the desired tone? A cutesy laptop name is likely not one you'll consider if you're looking for something serious or edgy. Deciding first on the general tone you're looking for will make it easier to choose a name that works for you.
Consider acronyms. If you want a short laptop name and one which only you know its true meaning, consider using an acronym. If you want to name it something like "Super Secret Spy Alliance," you could simply call it SSSA, and no one would be the wiser.