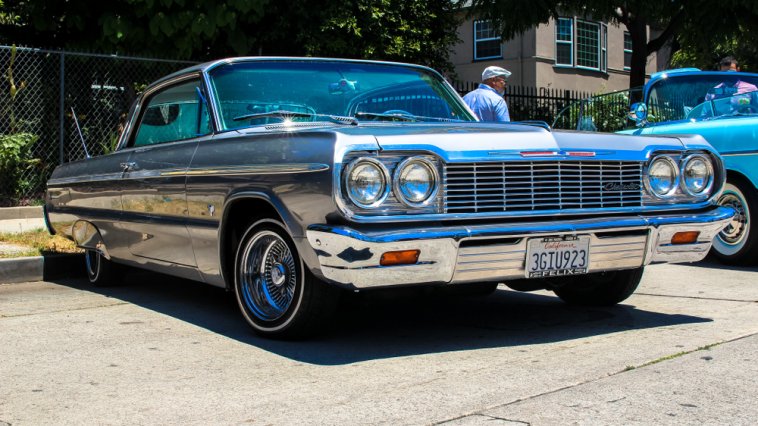 Lowriders are often works of art with extensive aesthetic customizations. Lowered to sit only inches from the pavement, these cars are built for cruising and showing off those customizations.[1][2]
The first lowriders were created among Mexican-American communities in the 1940s and 1950s. During the 1980s and 1990s, lowrider magazines were created, and these vehicles were often featured in hip-hop videos.[2]
This subculture continues to this day and has even spread to other countries, such as Japan.[2]
Below, you'll find the list of lowrider car nicknames fit for any showpiece. We also offer ways to create your own nicknames.

Chromie

for a lowrider with lots of chrome; chrome + homie

Candy

for a lowrider with a candy paint job

Lolita

Solo

as in so low

Bounce

for a lowrider with hydraulics

Lola

The Undertaker

Loco

Loreli

Low and Slow

Minnie

Hydro

for a lowrider with hydraulics

Shorty

Lowne Wolf

as in "lone wolf"

Babycakes

Shortstuff

Sparky

for a lowrider that casts sparks when scraping the ground

Smalls

Legend

King

Underlord

Louise

Low-Low

Logan

Short Cake

Small Fry

Dragon

for a lowrider that's always 'dragging'

Lotus

Rocket
Lowrider Car Nickname Generator
How to Create Your Own Lowrider Car Nicknames
Perhaps you'd prefer to create your own lowrider car nickname. After all, your car will likely be one-of-a-kind.
Here, you'll find helpful ideas for coming up with a great nickname:
What's your favorite thing about having a lowrider? If it's showing it off, you may want to create a name like "King" or "'Lowne Star" (as in "lone star"). If it's the fabulous paint job or interior, try working in a word or two that describes the customization.
Are you part of a car club? If so, consider creating a nickname that ties to the club name. For instance, if you were part of a club called "Phantom Lowriders," "The Undertaker" would be a perfect fit.
Use the car's make and/or model for inspiration. Make and model names can offer inspiration or be altered into catchy nicknames by using alternative spelling, similar words, or the name's meaning. For example, if your lowrider is a Buick Riviera, you could name it something like "Low Tide" (since "Riviera" means coastline).