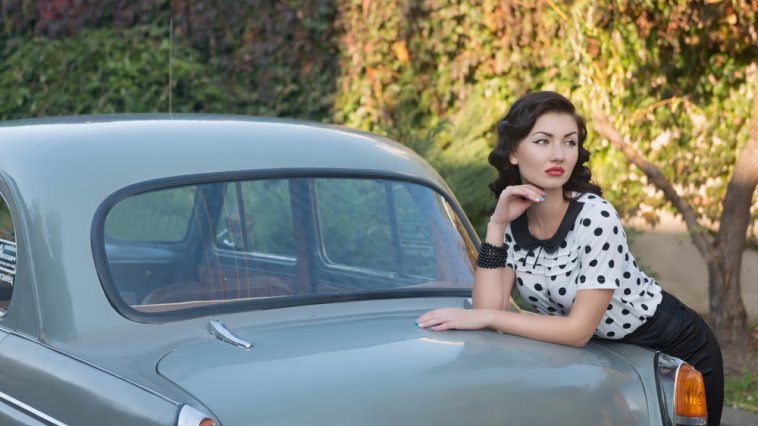 The 1950s were a time of tremendous economic growth following World War II. Families who'd previously been unable could now afford a new car and housing.[1]
Men's fashion became more casual, while women popularized elegance and enjoyed accessorizing.[2]
This decade was also the setting for the hit musical "Grease," featuring characters known as "greasers."
These were generally teenagers with greased-back hair who wore black leather and may have driven motorcycles or fast cars.[3]
Here, you'll find the list of 1950s nicknames any greaser or Pink Lady would be proud to own or give a friend. We've also provided tips to help you make the choice.
Cash

Rizzo

a character in "Grease"

Queenie[4]

Mooch[4]

Spike[4]

Mikey

Buck

a character in "The Outsiders"

Johnny

a character in "Grease"

Dallas

a character in "The Outsiders"

Danny[5]

Rocco[5]

Knuckles[5]

Vance[5]

Crash

a character in "Grease

Slim

a character in "Grease"

Barb

Sandy

a charter in "Grease"

Harv

Candy

Mack

Thunder

Marty

Nick

Curly

Danny Boy

Dolly

Ace[4]

Two Bit

a character from "The Outsiders"

Axel

Ricky

Chatterbox

Smiley

Bobbo

Slick

Ginger[4]

GiGi

Cookie[4]

Bunny[4]

Babs[4]

Bev

Glo

short for Gloria

Donnie

Dusty

Biff[4]

Cherry[4]

CiCi

Speedster

Thrash[4]

Baby Cakes

Bud[4]

Flip[4]

Hoss[4]

Dottie[4]

Augie

Josie

Kitty

Skip

Val

Alt

Bee

Buster

Wheels

Butch[6]

Chip[6]

Tiny[6]

Bub[6]

Duke

Ponyboy

a character in "The Outsiders"

Sodapop

a character in "The Outsiders"

Scooter

Junior

Shooter

Cam

short for Camilla

Fritz

Em

Deb

Eddie

Dice

Dixie
1950s Nickname Generator
How to Choose the Perfect 1950s Nickname
Choosing the right nickname can be hard. It's got to be a perfect fit, and you want to make sure you'll love it a year from now as much as you do today.
Check out our helpful tips below for choosing the perfect 1950s nickname:
Consider personality and physical traits. Nicknames are often given for a reason. If you or the character receiving the nickname have a strong personality trait that ties in perfectly with a nickname on the list, that could be the one. For example, a mechanic might be given the name "Auto," or someone with a sweet tooth might become "Candy."
Combine two nicknames. If you've got your eye on more than one name on the list, you could try combining a couple to see what you come up with. For example, "Two Bit" and "Mikey" could be joined together to create "Two-Bit Mikey," or "Bunny" and "Bee" could become "Bunny Bee."
Choose a nickname you can alter to fit your tastes. If there's a name or names you like, but they aren't exactly right, consider changing them. You might want to use a rhyming name, such as "Trixie" in place of "Dixie," or "Pitz" instead of "Fritz." You might also want to shorten a name (e.g., "Scooter" could become "Scoot") or add a few letters to create something new (e.g., "Axel" could become "Axwell").