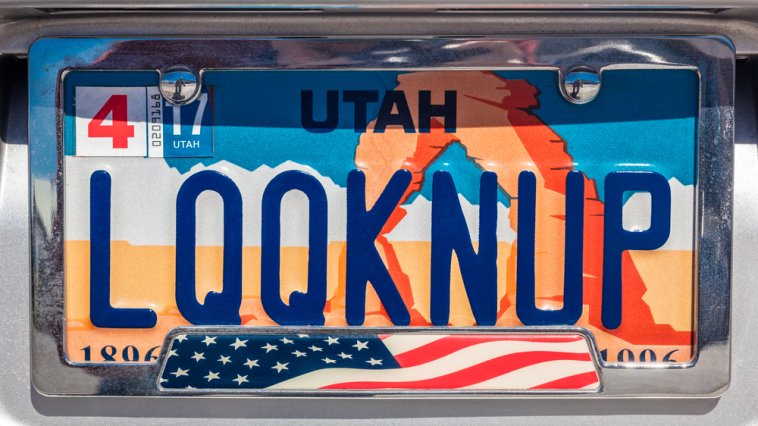 Inspirational words can have an empowering and healing effect. Using them every day may help you stay on track when times are rough and achieve long-term goals.[1]
One positive word or thought leads to another, which can impact your behavior and set the tone for your day.[2]
To ensure you get a daily dose of positivity, you may want to create an inspirational custom license plate.
Not only will it give you a pick-me-up every time you see it, but it can also put a smile on the face of others whenever they notice.
Below, we have the list of inspirational license plate sayings sure to brighten anyone's day. You can also scroll past the list to find tips for choosing the right one for you.
CZTHDAY

"seize the day"

GOAL

FREEDOM

KPGOING

"keep going"

WWJD

"what would Jesus do?"

STRIVE

HRD WRK

"hard work"

CLOUD9

2GETHER

JOLLY

CLARITY

LOVE

HONOR

LIVHPPY

"live happy"

PAYOFF

WARMTH

ETERNAL

GR8FUL

"grateful"

B POSTV

"be positive"

B KIND

PEACE

<3OTHERS

"love others"

JESUS

FAITH

HOPE

CHARITY

REACH

ACHIEVE

BELIEVE

U CAN 2

PATIENZ

"patience"

JOYFUL

DRM BIG

"dream big"

LUV ALL

WONDRFL

LAUGH

SHINE

CHOOSE

HPYSONG

"happy song"

B NICE

MIRACLZ

GOD<3U

SPARKLE

BA LITE

be a light

YESUCAN

FEARLSS

HOPEFUL

VIRTUE

LUCKY

BLISS

WONDER

LOVELY

INSPIRE

MERCY

4GIVE

COMFRT

UR NICE

SWEET

JOY

STRNGTH

FELICTY

GLEE

RAPTURE

MERRY

HEVNLY

"heavenly"

BLSSED

7TH HVN

"seventh heaven"

STNDTALL

"stand tall"

SNSHINE

FORTUN8

"fortunate"

TRUST

LIV4LUV

ENDURE
Inspirational License Plate Generator
How to Choose an Inspirational License Plate Saying
The saying you choose for your license plate will accompany you on all your day-to-day tasks and road-tripping adventures.
Having the right saying accompanying you can make a real difference in your day-to-day life, so you'll want to make sure you pick a great one!
Keep these things in mind when making the decision:
Which has the most meaning for your lifestyle and specific circumstances? Everyone has their own unique trials and triumphs. Consider the things that are most important in your life and which saying has the greatest impact on you when reading through the list.
Make sure it will fit in your state's rules for custom plate character limits. Your state will have its own character limit and restrictions, so be sure to find out what those are in advance to save yourself time and disappointment. For example, some states allow spaces between words, and others don't.
Make it a family decision. If you're not the only one who drives the car or you have regular passengers, you may want their input on choosing a saying. You could read the list out loud and have each person write their top three choices, then see if one has an outstanding number of votes. Each of you could also share your favorite saying along with its personal meaning before making a final choice.