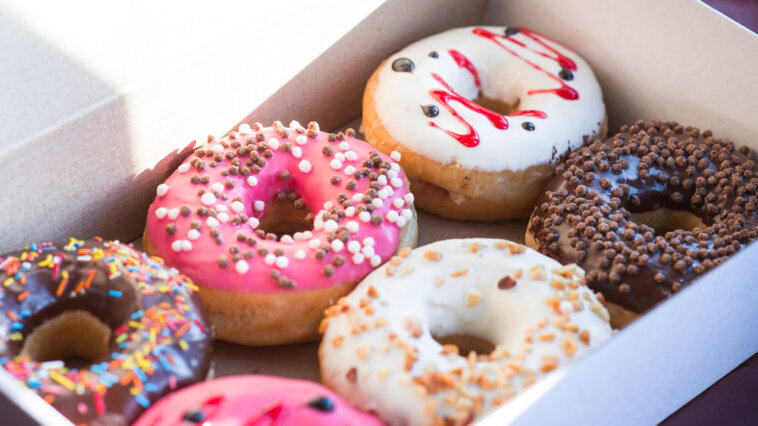 Captain Hanson Crockett Gregory, a mariner from Maine, is believed to have made the first modern doughnut, using a round lid from a tin to give the doughnut its shape.[1]
In 1920, Russian refugee Adolph Levitt improved the baking process by inventing the first doughnut-making machine.[2]
His machines were making him over $25 million a year by 1931.[3]
Today, the doughnut — sometimes spelled "donut" — remains just as popular. Americans eat more than 10 billion doughnuts per year, and over 96% say they enjoy eating this treat.[4]
Whether you're refreshing the menu at your doughnut shop or you want to give fun names to your homemade creations, you'll find the list of funny doughnut names below.
We also provide a name generator and helpful tips for creating your own ideas.
The Hot Mess

for a smore-themed doughnut

Bacon Me Crazy

for a maple bacon doughnut

Sweet and Salty

for a doughnut with salted caramel

Don't Get Me 'tarted

for a lemon doughnut; a play on "don't get me started"

One Tough Cookie

for a doughnut with cookies incorporated in any way

All That Glitters

for a doughnut sprinkled with rock candy or edible glitter

Caramel Apple of My Eye

for an apple-flavored doughnut with caramel icing

Sprinkled With Love

for any doughnut with sprinkles

The Nutty Professor[5]

for a doughnut sprinkled with nuts

Handsome Devil

for a devil's food doughnut

Don't Worry be Sappy

for a maple doughnut; a play on "don't worry be happy"

Little Boy Blue

for a doughnut filled with blueberry jelly

The Tear Jerker

for a doughnut with a sour flavor, such as lemon

Appley Ever After

for an apple and cinnamon-spiced doughnut; a play on "happily ever after"

Amazing Glaze

for a doughnut with a colorful glaze; a play on "Amazing Grace"

Frosty the Doughnut[5]

for a powdered doughnut; a play on "Frosty the Snowman"

I Chews You

for a doughnut with bubblegum-flavored icing

This is a Stroberry

strawberry+robbery; for a spicy doughnut with strawberry jelly or icing

Once Pecan a Time

for a doughnut with pecans; a play on "once upon a time"

Tart Deco

for a doughnut with tart flavors and a cool design; a play on "art deco"

Hole Lotta [flavor]

for doughnut holes with a special flavor

Squeeze the Day

for an orange-flavored doughnut; a play on "seize the day"

The Zest is Yet to Come

for a lemon doughnut; a play on "the best is yet to come"

Piece of Cake

for a sugared cake doughnut

Chocolate Chimp

for a banana-flavored doughnut with chocolate chips sprinkled on top

On Cloud Nine

for a doughnut with marshmallow frosting

Sprinkle Sprinkle Little Star

for a doughnut with sprinkles; a play on "Twinkle Twinkle Little Star"

Hole in One

for a doughnut and doughnut hole with complimentary flavors served together with the doughnut hole on top

Say Cheese

for a doughnut with cream cheese frosting

Fireball

for a spicy doughnut

Beach Life

for a doughnut with tropical flavors
Funny Doughnut Name Generator
How to Create a Funny Doughnut Name
Coming up with your own funny doughnut names can be a challenge, but it can also be lots of fun!
Use these simple techniques to help you create some great options:
Use puns or popular phrases associated with your toppings and flavors. Using an online search engine may turn up more great options. For instance, if you're including any sort of nut in your recipe, you could search using words like "Nutcase" or "Nutty," finding options like "Nutty Professor."
Take inspiration from popular movies or song titles. Try using your toppings and flavors to search for titles that include them. You can also use words that rhyme. We used this trick to create "Sprinkle Sprinkle Little Star," substituting the song title's original wording of "Twinkle" with "Sprinkle."
Share your doughnut creations with friends and family in exchange for their ideas. Getting your favorite people together for a brainstorming session is a super fun way to come up with funny doughnut names. Ask them what the flavor makes them think of and how the donut tastes. Be sure to have a pen and paper ready to jot down ideas as they come.