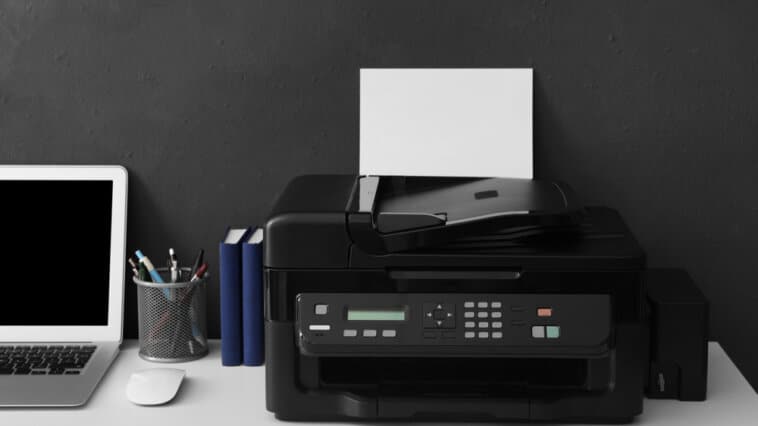 The first printing press was created in 1440 by Johannes Gutenberg, though more rudimentary versions were already in existence.[1]
The printing press provided a way for virtually everyone to access reading material as opposed to only the privileged.[1]
Until then, books were written by hand and illuminated, making them very expensive.[1]
Today, printers are common in most homes and offices, allowing anyone to print documents and images easily and inexpensively.
The printer most often used is the laser printer, which utilizes a beam of light with specialized optic pieces in order to print images on paper.[2]
Considering the variety of printers on the market — 3D, inkjet, thermal, multi-function, dot matrix, LED — you may want to give yours a funny name to highlight its individuality.
If you have multiple printers, choosing a name also makes it easier to identify and choose the right device for your print job.
Whether it's regarding a printer used for educational purposes, the workplace, or in your own home, we have the list of funny printer names below.
You'll also find a name generator and helpful tips for creating your own name ideas.
The Artist Formerly Known as Print[3]

a play on "the artist formerly known as Prince"

[Large/Small] Print

depending on your printer's size

Hot Off the Press

Copy Cat

Master Copier

a play on "master copy"

Lord Inky

Monster's Ink

a play on "Monsters, Inc."

The Little Printer That Could

for a small printer; a play on "The Little Engine That Could"

MC Jammer[3]

a play on "MC Hammer"

Purple Paper Eater[3]

a play on "Purple People Eater"

Prints Charming[3]

a play on "Prince Charming"

Paper Jam[4]

Old Faithful[4]

Monkey See Monkey Do[5]

Cookie Cutter[5]

Do You Copy?[5]

Twilight Zone[4]

The Noisy Cricket

Deja Vu

X-ray[4]

Slow Poke

Mirror Image[5]

Dotty[3]

Let's Jam!

D.D.D.

for a 3D printer

Print Condition

a play on "mint condition"

Ink of an Eye

a play on "blink of an eye"

Ink Up

a play on "drink up"

Ink Panther

a play on "Pink Panther"

Copy That

We're Jammin'

lyrics from a Bob Marley song

Fine Print

Printout

Finger Print

Jam Session

Printzilla[4]

The Ink Thief[4]

The Procrastinator[4]

Paper Hog

Sir Spots a Lot

Ink Blotter

Jet Speed

Rainbow

Not My Type

Strong Silent Type

Blue Print

Jet Lag

Jet Stream

Carbon Copy-er

The Imitator

Cut and Paste[5]

Dead Ringer[5]

Hard Copy[5]

Mirror Mirror[5]

Busy Bee

The Creator

Workhorse

Spot

Off Line
Funny Printer Name Generator
How to Create Your Own Funny Printer Names
Not only does creating a funny name for your printer provide an opportunity to get creative, but it can also make light of an otherwise stressful situation when your printer's having trouble.
Here, you'll find tips to help make creating your own funny names effortless and enjoyable.
Consider using its physical characteristics for inspiration. Try using your printer's color, brand name, model name, size, or other features to create a funny name. For example, a large white printer could be named "Great White" (inspired by great white sharks), or a Canon printer could be named "Loose Cannon" or "Canon in D."
Consider your printer's unique capabilities. Try taking words associated with your printer's extra abilities — such as scanning, faxing, or stapling — and use them to search for puns or popular phrases. An example would be using "Stapler Enabler" for a printer that staples documents. A printer with a built-in fax machine could be called "Face the Fax" or "Fax of Life."
If multiple people use the printer, take inspiration from the printer's purpose. For example, if this is a school printer, you may want to use words like "test," "quiz," or "homework" to create names like "Test Monitor" or "Quiz Master." A printer at a police station could be named "The Paper Protector," "By the Book," or "Paper Patrol." Another benefit to having multiple users is that you can get together to decide on a name.