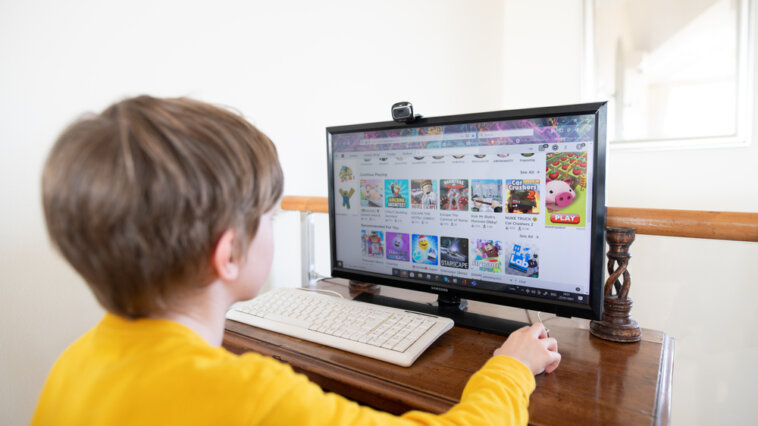 Adopt Me! is one of the top-rated modes on Roblox,[1] with over 30 billion visits since its creation in 2017.[2]
To give you an idea of just how many visits that is, the total world population is around 8 billion[3] — making Adopt Me!'s visits equivalent to every person on Earth visiting about four times!
Adopt Me! is popular in part because it offers opportunities to grow a large variety of pets, ranging from small insects like butterflies to mythical creatures like the ice golem.[4]
New pets and minigames appear regularly,[5] so you can never have too many names ready!
Below, we have the list of Adopt Me! pet names, plus tips to help you create more options unique to your pet.
ƈιɳɳαɱσɳ

☆♡Bløssom♡☆[6]

★¢σѕмσ★[7]

ꩇׁׅ݊ꫀׁׅܻɑׁׅ֮ժׁׅ݊ᨵׁׅᨰׁׅ

ᠻꪶꪮ᭙ꫀ᥅

♡•ғʟᴜғғʏ•♡[6]

🥝❤︎𝚔𝚒𝚠𝚒❤︎🥝[6]

★σαѕιѕ★[7]

★· ʟᴀᴛᴛᴇ ·★[6]

•◦★♡ηιɢʜτᴍαʀε♡★◦•[6]

🥨ᴘʀᴇᴛᴢᴇʟ🥨[6]

⋆ 🎀 𝒷𝒶𝓁𝒾 🎀 ⋆

◦♡°Mιℓкѕнαкє°♡◦[6]

🎀 𝒷𝓊𝓉𝓉❀𝓃𝓈 🎀

★нσηєу★[6]

𝖲υ𐓣𐓣ɣ[7]

Høney Bøbä[6]

☆•sɴᴏᴡғʟᴀᴋᴇ•☆[6]

♡Pєαηυт♡[6]

🍡♡Møchî♡🍡[6]

☾°★°Moon°★°☾[6]

★🍒ᴄʜᴇʀʀʏ🍒★[6]

꧁☆☬κɪɴɢ☬☆꧂[6]

🌴тяσρι¢αℓ🌴[6]

❄🅂🄽🄾🅆🅈❄[6]

𝔏𝔲𝔫𝔞[7]

ᏒᎧᏕᏋᎷᏗᏒᎩ

☘︎︎Lucky☘︎︎[6]

🐢 🎀 𝓉𝒾𝓃𝓎 🎀 🐢

❀ ❁ Ⓢⓤⓝⓢⓗⓘⓝⓔ ❁ ❀[6]

🥐♡Croissant♡🥐[6]

☆Cookie☆[6]

𝕝𝕠𝕟𝕕𝕠𝕟

🅢🅝🅞🅦🅑🅐🅛🅛[7]

🍣ⓈⓊⓈⒽⒾ🍣[6]

꧁~ᗰєᒪØ𝓭ㄚ~꧂[6]

𝕽𝖆𝖙𝖆𝖙𝖔𝖚𝖎𝖑𝖑𝖊[6]

🧁♡︎ⒸⓊⓅⒸⒶⓀⒺ♡︎🧁[6]

🐝💛ℎ𝑜𝑛𝑒𝑦𝑏𝑢𝑛💛🐝[6]

ᧁׁᨵׁׅᨵׁׅ꯱ׁׅ֒ꫀׁׅܻ

ᥴꪮꪮ𝕜ⅈꫀ[7]

¤º° ℕσ𝑜ⓓĹ𝔼 °º¤

🍋Lemon Drop🍋[6]

†ðþåz

✧Ⓟⓔⓝⓔⓛⓞⓟⓔ✧[6]

•´¯`•» Ⓝ𝓐ℂ𝒽ⓞ «•´¯`•

🍩ⒹⓄⓃⓊⓉ🍩[6]
Adopt Me! Pet Name Generator
How to Create Your Own Adopt Me! Pet Names
Naming an Adopt Me! pet is like naming a real pet. You'll want to find something that perfectly matches your little pal, and creating your own name might be the best way to find that.
Keep these tips in mind as you brainstorm name ideas:
Decide on a tone and make a list of words that match it. Do you want a cute, punny, elegant, or tough name? Decide what you want the name to sound like, then make a list of words that give off that vibe. From there, you can format a few of the words with fancy fonts and see which one you like best.
Get inspiration from the type of pet. Adopt Me! features various pet types, from cats to chickens to stingrays and beyond. If you can't decide on cute or clever words to name your pet, think about the animal the pet represents, and an answer might come to you more quickly. For example, if your Adopt Me! pet is a dog, you might want to choose a word like "woof" or "wag" as the basis for your name.
Get inspiration from other things you enjoy. This is an easy way to find a name you're sure to love! Choose your favorite flower, dessert, city, movie character, or anything else you like, then spell it out with a nice font and add emojis to match.
Give yourself options. Start with a list of all the names that come to mind, including any you like from our list and those you come up with using the tips above. You can then narrow it down to the three or five best ones before choosing your final option.