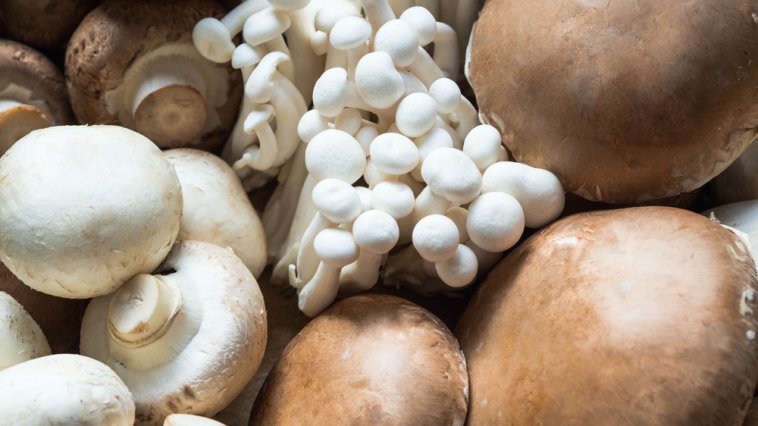 Mushrooms are one of the most sustainable food sources you can find[1] — and they're also very unique.
Unlike fruits and vegetables, mushrooms start as spores. They can grow in spaces of any size, require less water than most plants, and can even grow in the dark![1]
Because they can break down decaying materials like leaves, sticks, and branches, fungi play an important role in our ecosystem.[2]
They've also been eaten for thousands of years. Though not all mushrooms are edible, evidence of mushroom consumption can be found as far back as the 13th century.[3]
Because mushrooms themselves are so unique and interesting, they can make great inspirations for names.
We list the names inspired by and meaning "mushroom" below, plus tips to help you pick the perfect one.
Kinoko[4]

means "mushroom" in Japanese

Auri

after the Aricularia genus

Enoki

a type of mushroom

Lea

short for "Daedalea," a genus of fungi

Celia

short for "mycelia"

Mellea

after Armillaria mellea, the honey or oak mushroom

Mirabelle

after Boletus mirabilis

Aurata

meaning "golden"; inspired by Russula aurata mushrooms

Amanita

a genus of mushroom

Nameko

a type of mushroom

Morel

a type of mushroom

Augustus

after Agaricus augustus

Morgan

after Chlorophyllum morgani

Ramaria

a genus of fungi

Alba

inspired by alba clamshell or brown beech mushrooms

Rosea

inspired by Mycena rosea

Citrina

inspired by Amanita citrina

Maitake[5]

a type of mushroom; means "dancing mushroom" in Japanese

Erin

inspired by "Hericium erinaceus," a type of mushroom

Bella

short for "portabella"

Leotia

a genus of fungi

Leon

inspired by Pleteus leoninus, the "Lion Shield" mushroom

Seta

means "mushroom" in Spanish

Portia Bella

a play on "portabella"

Bernard

after Agaricus bernardii

Astraeus

meaning "star"; a genus of fungi

Angel

after the "destroying angel," Amanita virosa

Elata

inspired by Morchella elata

Chanterelle

a type of mushroom; "Chanty" for short
Mushroom-Inspired Name Generator
How to Choose the Perfect Name That Means Mushroom
Choosing just the right name can be a challenge. You'll want to find something that sounds neat and has a special meaning to you.
To help you narrow your options and find that perfect moniker, keep these tips in mind:
Make a list of your favorite fungi. There are so many different varieties of fungi, and every mycologist has a few favorites. Jot down the species or names you like the most and whittle down your options from there. As a bonus, most mushrooms have both a scientific name and a common name, so you're actually generating twice as many options as you think by listing out your favorites!
Alter mushroom-related words in creative ways. If the options you like sound a bit too scientific or don't quite work as a name, edit them! You can use only part of a word, change the spelling, or choose a name that sounds similar. For example, it's easy to see that "Portia Bella" is inspired by portabella mushrooms, but it's a bit more personable and unique.
Consider your purpose. Are you naming a pet, your child, or a character in your novel or script? The usage of the name can have a great impact on which option is best for you. For example, with pets, you can get away with using scientific words that might seem a bit too unusual to be human names. If you're naming a child, you might want to choose something that's easy to spell and pronounce to make things easier for the child as they get older.