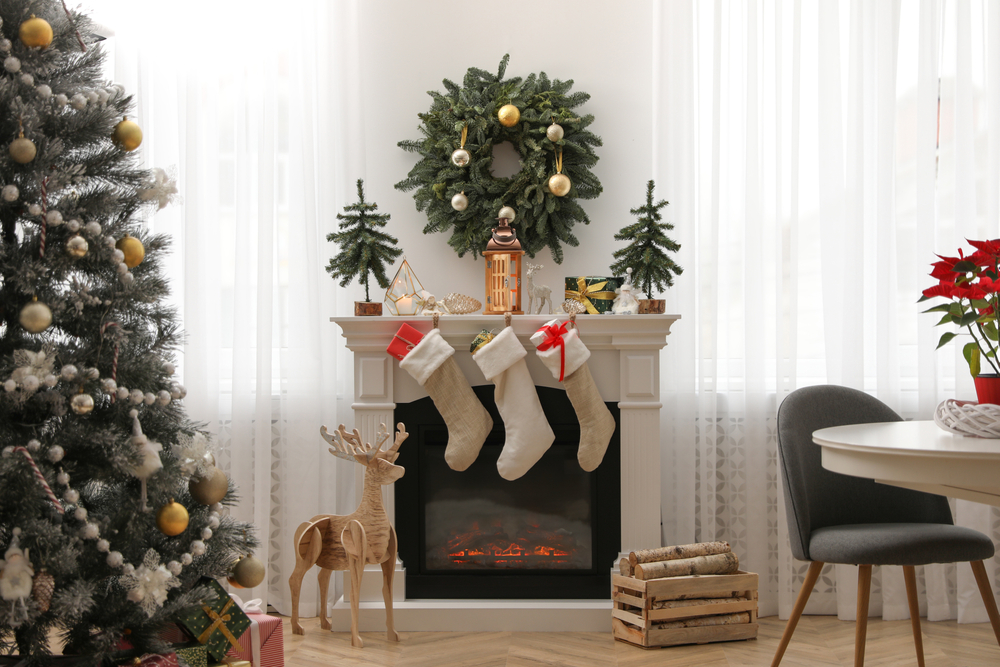 Below, we list nearly 50 Christmas words and phrases that start with the letter D.
Scroll past the list for a cool Christmas craft you can do with your family!
December:
the month of Christmas
Decorations
Dasher:
one of Santa's reindeer
Dancer:
one of Santa's reindeer
Donner:
one of Santa's reindeer
Deck the Halls:
traditional Christmas carol
Deer
Down:
the chimney; how Santa gets into the house
Dash away:
what Santa tells the reindeer to do in "A Visit From St. Nicholas"
Donations:
giving to the less fortunate
Drummer boy
Dimples:
a feature of Santa's face, according to "A Visit From St. Nicholas"
Dolls
Dominick the Donkey:
a character from the classic Christmas song of the same name
Drummers drumming:
referenced in "The Twelve Days of Christmas"
Down:
fuzzy part of a thistle plant mentioned in "A Visit From St. Nicholas."
Dressing:
Christmas dinner side dish
Dashing:
moving through the snow
Decorate:
what you do to the tree and your home
Dickens:
author of A Christmas Carol
Decor
Dinner
Devotions:
Biblical passages about the meaning of Christmas
Displays:
decorated store windows
Divine:
referenced in "O Holy Night"
Doves:
a symbol of peace
Duck:
sometimes served at Christmas dinner
Deliveries
Decorate cookies
Door wreath
Deeds:
good works
Dear Santa letter
Die Hard:
debatably a Christmas movie
Desserts
Drumstick:
turkey leg sometimes served at Christmas dinner
Drippings:
for making gravy
Drinks
Dips:
served with chips as an appetizer at Christmas dinner
Deli tray:
common Christmas dinner appetizer
Dulcimer:
instrument used in some Christmas songs
Donning apparel:
referenced in "Deck the Halls"
David:
"City of David" is another name for Bethlehem
Deviled eggs:
party appetizer
Deo:
referenced in the Latin hymn "Gloria in Excelsis Deo"
Doxology:
hymns of praise
Discussion:
talking about the meaning of Christmas
Decree:
issued by Caesar Augustus in the Bible's story of the birth of Jesus
Activity: DIY Decorations
To get your family in the Christmas spirit, it's fun to create your own DIY decorations!
Design ornaments you can keep for years to come or make temporary decorations to "deck the halls" of your home.
We have a few ideas to get you started below!
Pinecone ornaments: Dip pinecones in sparkly paint. After they dry, add a bow and a hanger to the top of each and hang them as ornaments!
Candy cane reindeer: Using a thick candy cane, shape antlers out of pipe cleaners, then add two googly eyes and a small red or brown yarn pom-pom for a nose.
Wooden spoon snowmen: Paint small, flat wooden ice cream spoons white. Add a face, buttons down the front, and a small strip of fabric for a scarf. Glue string to the back of the spoon for hanging.
Star-shaped tree topper: Cut two pieces of felt into star shapes and glue all but the bottom edges together. Add a photo to the middle of the star, plus other embellishments like glitter glue. You can then place the star on top of your Christmas tree!
Pipe cleaner snowflakes: Twist pipe cleaners around each other until you have eight arms, connected in the middle. Add blue, white, and silver beads (or other colors, if you prefer!) to create sparkly snowflakes! Add small strings to hang them as ornaments or string several together to use as a garland.