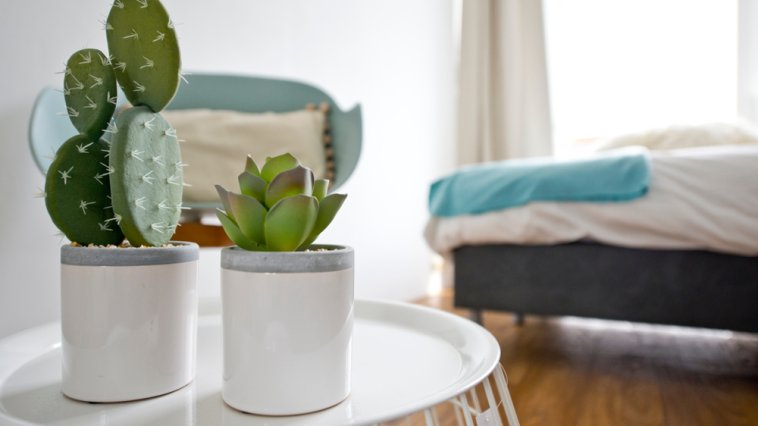 Houseplants have become more and more popular in recent years,[1] and cacti are well-loved by indoor and outdoor plant enthusiasts for their variety and growing characteristics.[2]
While cacti are most associated with desert landscapes, they're actually native to most of North and South America.[3]
There are even a few types thought to be native to East Africa, Madagascar, and Sri Lanka.[3]
In fact, there are nearly 2,000 species of cactus on Earth![3]
Regardless of which type of cactus you have in your plant family, we have over 60 cute and funny cactus name ideas below.
Scroll past the list for tips on choosing the perfect name for your cactus.
Verde

meaning "green"

Spike

reference to the cactus' spines

Fred

Prickle Rick

a play on Pickle Rick from "Rick and Morty"

Stabitha

Pierce

Baby Bulbous

for a round-shaped cactus

Cottontail

for a bunny ears cactus

Spikey

Big Green Giant

Flora

Barb

Fluffy

ironic since cacti have spines

The Green One

Vlad the Impaler

Cactina Turner

a reference to the famous singer Tina Turner

Sunny

Cuddles

Snuggles

Sir Stabbington

Ms. Prickly

Spikasaurus Rex

a play on "Tyrannosaurus rex" referencing the cactus' spines

Katniss

"The Hunger Games" character name that sounds somewhat like "cactus"

Emerald

Spike Lee

a reference to the notable film director

Sunshine

Prickly Pete

Needles

Gus

Blossom

for a flowering cactus

The Unwatered

Porkie

short for "porcupine," which also has spines

Merida

for a fairy castle cactus; named after the Disney character who lives in a Scottish castle

Cherub

for a small angel wing cactus

Mr. Moon

for a moon cactus

Snowball

for a bunny ears cactus; named after the "Secret Life of Pets" rabbit character

Tiny

Eeyore

for a burro's tail cactus, named after Winnie-the-Pooh's donkey friend

Seraphim

for an angel wing cactus

Button

for a small plant

Thumper

for a bunny ears cactus

Gabriel

for an angel wing cactus

Whiskey

for a barrel cactus, since whiskey is aged in a barrel

Dandelion

Granny

for an old lady cactus (mammillaria hahniana)

Elsa

for a fairy castle cactus; named after the Disney character who lives in a snow castle

Tiramisu

for a ladyfinger cactus; tiramisu is made with ladyfinger sponge cake biscuits

Tony Saguaro

a play on Tony Soprano and the saguaro cactus

Tian Tian

for a panda cactus; named after the National Zoo's famous panda

Obi-Wan

for a rat tail cactus; Ewan McGregor had a rat tail when playing the "Star Wars" character

Shane the Sharp

Marty

for a zebra cactus; named for the zebra character in "Madagascar"

Ratatouille

for a rat tail cactus

Prickles

Sharpie

Greenie

Blue Ivy

for a blue column cactus; named after Beyonce's daughter

Dr. Green Thumb

Potted Pepper

T. Swift

for a snake plant; Taylor Swift's "reputation" album and tour had a snake theme

Old St. Nick

for a Christmas cactus

Angelica Prickles

reference to the "Rugrats" character Angelica Pickles

Pokey
Cactus Name Generator
How to Choose the Perfect Cactus Name
Keep the following tips in mind when choosing a cactus name to help you find the perfect option:
Decide what type of name you want. Do you prefer old-fashioned names, funny ones, pop culture references, or cute names? Whatever your preference, making this the first step in choosing your cactus name will make it easier for you to narrow down your options.
Choose a theme based on your other interests. A movie buff, for example, could name their cacti after famous directors. Someone with interest in fishing could give their plants aquatic-themed names. If you have multiple cacti, choosing a theme will also make it easier to name your whole plant family!
Get inspiration from your specific cactus. Great ideas can come from very obvious places, such as the plant's colors, size, or unique features. For example, a golden barrel cactus with bright yellow spines might fit the name "Sunshine."
Give yourself time. The perfect cactus name won't always come to you immediately! Take time to choose so you can find a name you truly love.