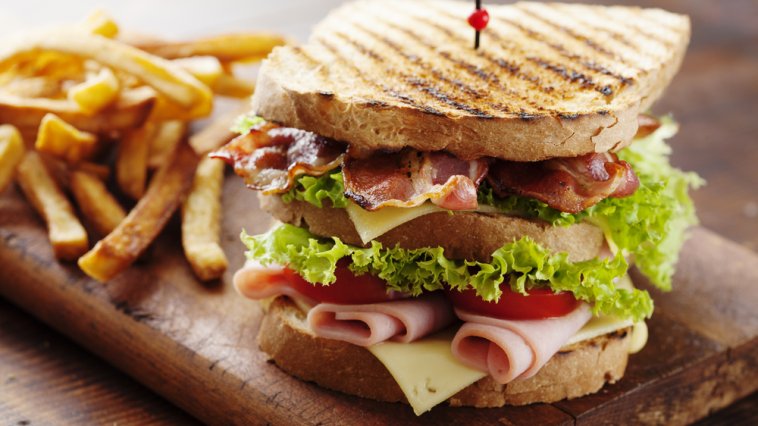 Sandwiches are a classic grab-and-go food you'll find in nearly every restaurant and store.
The only thing required for a food to be considered a sandwich is to put a filling between two or more pieces of bread.[1]
That means that even hamburgers and hotdogs are technically sandwiches.[2] Some people even argue that tacos should be considered sandwiches![3]
Making a sandwich opens a whole world of possibilities. It's one of the few recipes that can include all the food groups singularly or simultaneously.
One way to make ordering, building, and sharing sandwiches more interesting is by giving them funny names.
We have the list of funny sandwich names for any sandwich lover. You'll also find creative ways to come up with a few of your own.
Bread Winner

for an award-winning sandwich

Chick or Treat

chicken sandwich with sweet sauce

Fun on a Bun

a donut cut in half and filled with your favorite frosting and candies

Hogs and Kisses

pulled pork sandwich smothered in barbeque sauce; a play on "hugs and kisses"

Great Balls of Fire

spicy meatball sandwich

I Ham Legend

for any specialty ham sandwich; a play on "I Am Legend"

Every Day I'm Trufflin'

truffle grilled cheese sandwich; a play on the song "Party Rock Anthem" by LMFAO

Knuckle Sandwich

pig's feet sandwich

The Breaded Bird

fried chicken sandwich

Gut Buster

for any sandwich overloaded with fillings

Gooey Gobbler

turkey sandwich with melted cheese inside

Crying Taters

fried onion rings and tater tots with barbeque sauce as a sandwich

Mr. Cluck's Revenge

spicy chicken sandwich

Angry Pig

spicy pork sandwich

Triple Threat

for a sandwich with generous portions of any combination of three types of meat

Birds of a Feather

turkey and chicken sandwich

Raisin the Roof

peanut butter, raisin, and cinnamon sandwich; as in "raising the roof"

Holy Cow

hamburger served with any sweet sauce on a puff pastry bun

Jurassic Pork

footlong submarine sandwich overstuffed with any type of pork; a play on "Jurassic Park"

Bread Pitt

olive and egg salad sandwich; a play on "Brad Pitt"

Hog Wild

for any sort of pork sandwich

Tipsy Pig

pulled pork sandwich with whiskey barbecue sauce

Cowabunga

hamburger with added tropical flavors

Berried Alive

cream cheese and berries sandwich

Happy as a Clam

fried clam sandwich

Bitter Sweet Sammy

for any sandwich that's sweet and spicy

Butter Together

peanut butter and jelly sandwich; as in better together

Say Cheese

grilled cheese sandwich

All About That Bass

fish sandwich made with bass

Pizza My Heart

pizza sandwich with pepperoni, tomato sauce, and cheese

Apple of my Eye

two apple slices with peanut butter and chocolate chips sandwiched in the middle

Salami Get This Straight

salami sandwich; a play on "so let me get this straight"

In a Pickle

pickle and peanut butter sandwich

When Pigs Can Fly

honey ham sandwich served on light, fluffy bread

The Livewire

for any extremely spicy sandwich

Fish out of Water

for any sort of fish sandwich

Luck of the Irish

yogurt, pickle, and cucumber sandwich
Funny Sandwich Name Generator
How to Create Your Own Funny Sandwich Names
The possibilities when making a sandwich are endless. Taste, size, texture, and other components can be mixed and matched in an endless variety of ways.
If you've got a one-of-a-kind, inventive sandwich recipe in mind, or you just want to create your own funny sandwich names, keep these tips in mind:
Include the number of layers or fillings. If you're using several types of meats, cheeses, grilled vegetables, etc., take count of the fillings and make that part of the name. Examples might be the "7-Layer Sammy" or the "10 Spice Piglet Sub."
Use a clever rhyme or alliteration. Alliteration is when words that are side-by-side start with the same letter. This could be used to create a name like "Heather's Honey Ham Hoagie." You could also use rhyming to create a sandwich name, such as "Heavy on the Veggie" or "The Grand Slam Lamb."
Use puns related to the fillings or the sandwich's physical appearance. Consider each filling, as well as the colors, aroma, or other unique traits of your sandwich. Then think of punny ways to use these words in phrases or name substitutions.