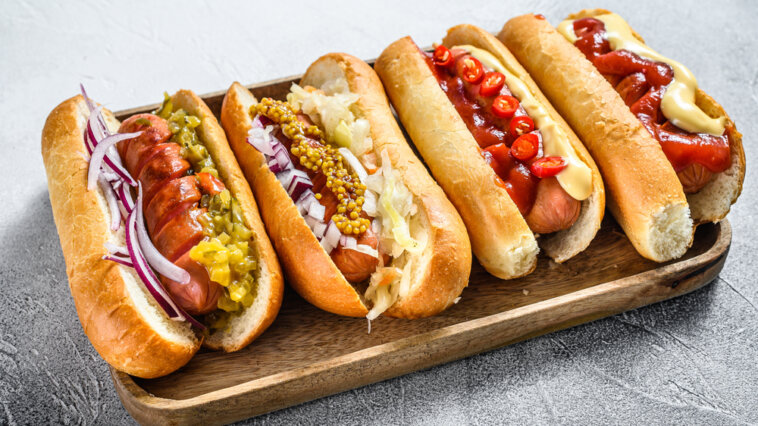 Hot dogs are an American classic. They're a favorite food around the country, but the city with the highest hot dog consumption is Los Angeles, followed by New York City and Philadelphia.[1]
About 20 billion hot dogs are consumed in the U.S. every year. On the Fourth of July alone, Americans eat an estimated 150 million.[1]
Many Americans even celebrate National Hot Dog Day, which always falls on the third Wednesday in July.[2]
True hot dog fanatics can also visit The Vienna Beef History Museum in Chicago, where patrons can learn all about the hot dog's history.[3]
Whether you're searching for cool names for new menu items or testing out creative flavor combinations at home, here you'll find the list of fun hot dog names.
We also share a name generator and ideas for creating your own hot dog combinations below the list.
Show Dog

for a prize-winning hot dog

In a Pickle

for a hot dog with extra pickles

The Big Dill

a play on "big deal"; for a hot dog with a long sliced dill pickle

Holy Guacamole

for a hot dog with guacamole

The Old Rancher

for a beef hot dog with ranch dressing

Bun in a Million

a play on "one in a million"

'Sup Dawg

Barbecuties

barbeque + cuties; for miniature hot dogs with barbeque sauce

Hot Diggety Dog

for a spicy hot dog

Relish Life

for a hot dog with relish

Sun's Out, Buns Out

a play on "sun's out, guns out"; for any bunless hot dog recipe

Puppy Dog

for miniature hot dogs

Just Chillin'

for a chili cheese hot dog

Sumo Dog

for a giant hot dog

Say Cheese!

for a hot dog with queso

The Tofu-riffic Dog

tofu + terrific; for a hot dog made with tofu

Salami Get This Straight

a play on "so let me get this straight"; for a hot dog made with salami and pickles

Salty Sea Dog

for a hot dog with passion fruit mustard or other tropical flavors

The Corny Dog

for a veggie hot dog

Pepper Spray

for a hot dog with grilled onions and bell peppers

It's Getting Chili

a play on "it's getting chilly"; for a chili cheese hot dog

Sourpuss

for a hot dog with sauerkraut

For Goodness Flakes

a play on "for goodness sake"; for a hot dog with a croissant bun

The Aloha Dog

for a hot dog with grilled pineapples and teriyaki sauce or other Hawaiian flavors

Southern Comfort

for a hot dog with bacon and baked beans

The Mex-cellent Dog

Mexico + excellent; for a hot dog with cilantro, corn, lime juice, and sour cream

The BLT Dog

for a hot dog with bacon, lettuce, and tomato

Halloweenie

for any hot dog served during October

Franks a Lot!

a play on "thanks a lot"

Saucespicious Doggy

sauce + suspicious; for a hot dog with a surprise sauce

Show me the Honey

a play on "show me the money"; for a hot dog with honey mustard
Hot Dog Name Generator
How to Create Your Own Hot Dog Names
Coming up with unique names for your hot dog creations should be fun! Think of it as continuing the adventure of inventing your own recipe.
Be sure to try out these tips when creating your own hot dog name:
Consider all the ingredients. Any part of your hot dog creation could be just the inspiration you need, from the type of meat used to make the hot dog to the toppings or the type of bun. For example, a tofu-based hot dog could use a play on the word "tofu" or the concept of meatlessness. Combinations of a few or all ingredients may also be helpful.
What's the flavor profile? If you're using international flavors, use the place of origin as inspiration. If you're going for spicy flavors, you could go with a name like "Hot Stuff" or "Spice of Life."
Add a little humor. Try searching for puns or other humorous ways to use words related to your hot dog. Funny names are always crowd pleasers! You can use your sense of humor to create names like "What's up, Dawg?" or "Franks a lot!"
Try translating keywords into another language. This may spark fresh ideas and provide new opportunities for creativity. Just be sure to check the accuracy with a translation tool or by asking a native speaker if you're using a name from a language you don't know fluently.