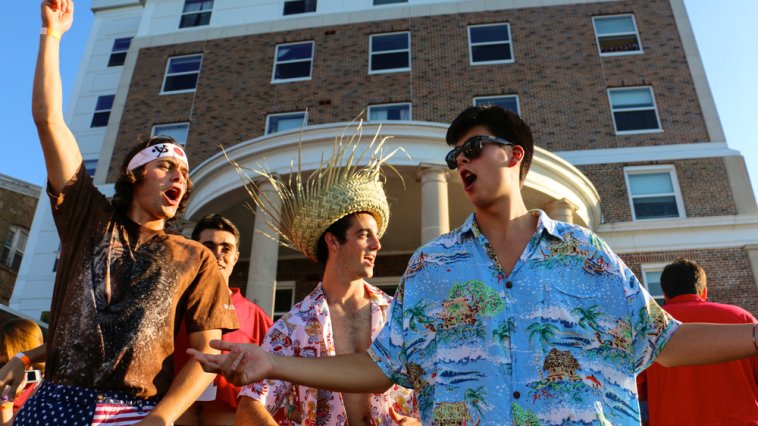 The first fraternity to use Greek letter names to distinguish itself was formed in 1776.
Phi Beta Kappa was created as a men's society dedicated to fellowship and the pursuit of education.[1]
Today, there are tens of thousands of fraternities and sororities in the U.S.[2]
The vast majority have followed the example of Phi Beta Kappa in naming their organization with letters from the Greek alphabet.[1]
While fraternities are known for serving in their communities and sharing a brotherhood that can last a lifetime, they're also known for having a lot of fun!
Whether you're already a frat brother, a group of guys looking to name a club, or forming your own fraternity, you might enjoy coming up with a hilarious name for your crew.
Below, we have the list of over 40 funny fraternity names, plus a few tips for creating your own.
AδAP

Alpha Delta Alpha Rho and a play on "asap"

ΣΡIK

Sigma Rho Iota Kappa and an alternate spelling of "epic"

HΘT

Eta Theta Tau

KAΓ

Kappa Alpha Gamma and an alternate spelling of "car"

KO

Kappa Omicron

NO. 1

Nu Omicron Eva

AKA

Alpha Kappa Alpha

lΘνΣ

Iota Theta Nu Sigma

STAR

Sigma Tau Alpha Gamma

BEsT

Beta Epsilon Sigma Tau

MΞN

Mu Xi Nu

ZAP

Zeta Alpha Rho

YAY

Upsilon Alpha Upsilon

KΘΘl

Kappa Theta Theta Iota and alternate spelling of "cool"

BΓuH

Beta Gamma Upsilon Eta, pronounced "bruh"

AOK

Alpha Omicron Kappa

ZEN

Zeta Epsilon Nu

HOPE

Eta Omicron Rho Epsilon

BANK

Beta Alpha Nu Kappa

BAM

Beta Alpha Mu

PΘP

Rho Theta Rho

KAδH

Kappa Alpha Delta Eta and an alternate spelling of "cash"

ΨΣAH

Psi Sigma Alpha Tau and a play on "yeah"

AXΣ

Alpha Chi Sigma

AΓT

Alpha Gamma Tau and a play on "art'

BΓB

Beta Gamma Beta and a play on "be right back"

ETA

Epsilon Tau Alpha

PAY

Rho Alpha Upsilon

HIδ

Eta Iota Delta and a play on "his"

TIMΣ

Tau Iota Mu Sigma

HΞAT

Eta Xi Alpha Tau and a play on "heat"

ωIT

Omega Iota Tau and a play on "wit"

AMP

Alpha Mu Rho

lΘΘT

Iota Theta Theta Tau and a play on "loot"

sPAΓ

Sigma Rho Alpha Gamma and a play on "spar"

KΣΣN

Kappa Sigma Sigma Nu

ONYX

Omicron Nu Upsilon Chi

δlY

Delta Iota Upsilon and a play on "sly"

ΓIsK

Gamma Iota Sigma Kappa and a play on "risk"

sKY

Delta Kappa Psi

IKΘN

Iota Kappa Theta Nu and an alternate spelling of "icon"

sPY

Sigma Rho Upsilon

APP

Alpha Rho Rho

NEω

Nu Epsilon Omega and a play on "new"

lIT

Iota Iota Tau

BΘΘ

Beta Theta Theta and a play on "boo"

ωAΓ

Omega Alpha Gamma and a play on "war"
Funny Fraternity Name Generator
How to Create a Funny Fraternity Name
Personalities can vary from one group to the next, like day and night, so you may want to create your own funny name.
Here are some ideas to keep in mind as you brainstorm.
Choose an acronym that represents your group. This can be a struggle since the Greek alphabet is limited, so you may want to misspell a word to fit your needs. For example, you can use a lowercase "l" instead of "I" to represent "Iota," or use the Theta symbol (Θ) to represent the letter "o." Since the name is meant to be funny, you don't necessarily need to follow the rules of spelling and grammar!
Take inspiration from your school. This could be through the school mascot or your town/state name. Another idea is to take inspiration from a favorite school subject or an extracurricular activity you all have in common.
Make it a group project. When deciding on a group name, it's a lot easier if everyone's opinions are included. That way you have maximum creativity on your side and everyone gets a say in the final decision.
What's your purpose? If yours is a group that focuses on a love for music or volunteers at the local animal shelter, use that as part of your funny fraternity name. Even if there isn't a specific purpose or goal for getting together, there's always something you can find in common that may be helpful.