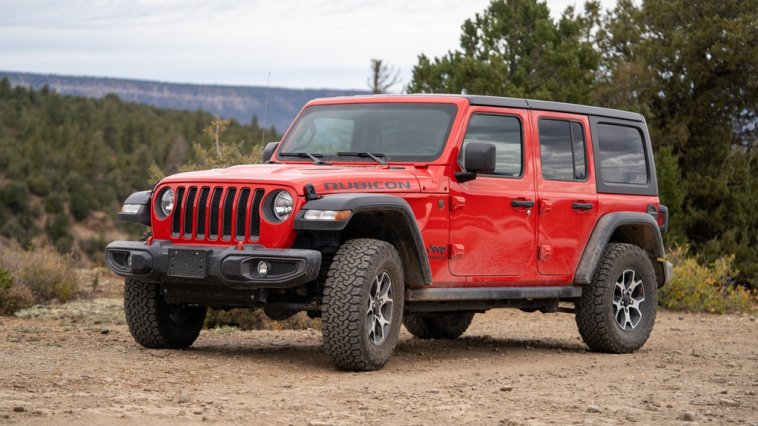 Jeeps are known for their durability and off-roading capabilities. They're great for towing and retain value better than most vehicular brands.[1]
The Jeep brand was created in 1941 to produce military vehicles. Jeeps played an essential part in World War II, transporting vital supplies and soldiers across the battlefield.[2][3]
They were also the first four-door car to be mass-produced, which led to the SUV.[2][3]
Today, Jeep remains at the forefront of all-terrain vehicle innovations and continues to take its passengers on life's greatest adventures.[2]
Custom plates can take your Jeep to the next level and show your sense of humor or style.
Whether it's for a custom front plate or a personalized state-issued license plate, we have the list of Jeep license plate ideas below.
If you'd prefer to create your own, you'll find helpful tips for doing so below the list, as well.
DTCH DVR

"ditch diver"

2FUN4U

GLADE8R

"gladiator"

GOT MUD

J33P

INTOJPN

JEEPN

0lll0JK

XTREMEZJ

ROLL OVR

RFN IT

IH8 HMRS

"I hate Hummers"

EAT ROCK

REAL 4X4

8AHUMA

CMDR Q[4]

P8RIOT

"patriot"

4 SEND

RUBI

J33P4X4

MUDY JP

MUD RDY

THEBOSS

G04LOW

NOPVMNT[5]

"no pavement"

RUBICN

NO ROADS

1BADJK

4D RUBY

MY DFNDR

4X4NOW

MUDY GRL

BLUFF

ARMOR

MOJPN

"more Jeepin'"

44LIFE

JEEPMAN

JP BRAT

JK RULES

SWAMPED

4WD LO[5]

NOURNME

"know your enemy"

1SICKJK

JEEPJK

JEEPR

74JEEP

or the year of your jeep plus the word

1MEANJP

LIBER T

"liberty"

SPORT

CLMB4ME

"climb for me"

BOG4ME

JP LIFE

"Jeep life"

MADE4MUD

CHAMP

SKID

GOVER

"go vertical"

JEEPER

NRFRD

Not Responsible For Rock Damage

LUVMYJP

HUMRKILA

JEEP 4X4

NTHJEEP

CYA JEPN

DIRT RED

OFF RODR

"off-roader"

JP PWR

"Jeep power"

CLIMBER

HIKE YA

a play on "heck yeah!"

JEEPPRO

BEAST

MUDDIN

ROCKRUN

MUD RUNR
Jeep License Plate Generator
How to Create Your Own Jeep License Plate Ideas
Coming up with unique and catchy license plate ideas can be tricky. We've got you covered with a few tips to simplify the process.
Keep these things in mind when creating ideas for your Jeep license plate:
Use your Jeep model for inspiration. Take the name of your model and see if you can shorten it by removing vowels. If possible, add a number or letter to alter what it says. You can also search for puns and synonyms for your model and see what bursts of inspiration you find.
What's your primary purpose for buying a Jeep? Consider what you're most excited about doing in your Jeep. Whether it's a road trip through hard-to-reach lands, exploring rugged terrain, or its towing capacity, choose words associated with this and play around with abbreviations to create license plate possibilities.
Take inspiration from the places your Jeep's taken you. Do you have a favorite spot you go to often in your Jeep? Is there a special road trip you'll never forget? Use these places or things that remind you of them to come up with inventive ideas for your Jeep's license plate.