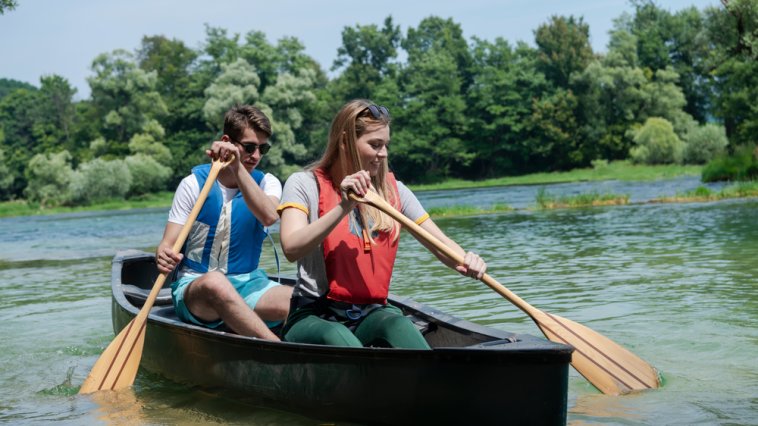 Did you know the oldest boat ever discovered was a canoe? The Posse canoe was found in the Netherlands in 1955 and is believed to be around 10,000 years old![1]
Historically, the most common way of making a canoe was hollowing out a tree trunk or gluing together tree bark.
They were often used by islanders for basic travel and transport and have even been used in war.[2]
Today, canoeing is a popular leisure activity people enjoy doing together or on their own.
There's still one thing many boats have that canoes are missing out on, though — a proper name!
Below, we have the list of super names for a canoe. If you don't find the right name for your boat in the list, use our generator or scroll past the list to find tips for creating your own.
Wee Viking

The Salty Barnacle

The Seven Deadly Fins

River Monster

Get Whale Soon

Rainbow Trout Racer

Sailing Crest

Lazy Islander

Drenched to the Bone

Pirate Puncher

[Your Name]'s Ark

Serenity

Mermaid Magic

Liquid Nitrous

Greatest Row-man on Earth

Happy as a Clam

Mermaizing

Gondolanoe

gondola + canoe

Reel Deal

Hydro-Tide

Marine Lounger

Wild Seahorse

Hooked on Life

Rinse and Repeat

Minnow-Lisa

play on Mona Lisa

Gentle Glider

Crystal Wave

Sweet and Salty

Raving Rapids

On Angelfish Wings

Sandra Pollock

play on Sandra Bullock

Good Ship Ice Cream Pop

Wet Jet

Midnight Monsoon

Treasure Seeker

Mellow Fellow

Sapphire Sprinkles

Hydro-Launcher

[Favorite Color] Seashell

Aquatic Life

Tranquility

Jingle Shells

Drizzling Wonder

Bubbler

Foam Charger

Holy Carp

Lazy River Rider

Cast Away

Hammerhead

Grand Galley

Whimsical Whaler
Canoe Name Generator
How to Choose the Perfect Canoe Name
If none of our ideas are right for you, here are a few tips and tricks to help you create the perfect name for your canoe.
Use "wet" words side by side with any sort of watercraft. A good print or online thesaurus will have tons of words associated with water, such as soak, aqua, flood, and moist, to name a few. There's an equally long list of words to describe the vast world of watercraft. Make a list of the ones you like on both accounts, then mix and match until you find a name you love!
Put your favorite color in front of a sea creature. Write down all the coolest, prettiest, or toughest kinds of marine life you can find, theming your search based on what you're into. Add your favorite color (or colors) in front of these creatures to create cool name options. Try different combinations and pick your favorite. Examples might be "Violet Tang" or "Silver Swordfish."
Get together for inspiration. Sometimes others know you better than you know yourself. You could get a couple of your closest friends together to brainstorm words that describe you, then find a cool water-related word to tie it all together, like "Captain of Chaos" or "Diva's Barge."
Additionally, you may find some of our other ideas and tips helpful. See our lists of boat names with colors and fishing boat names.