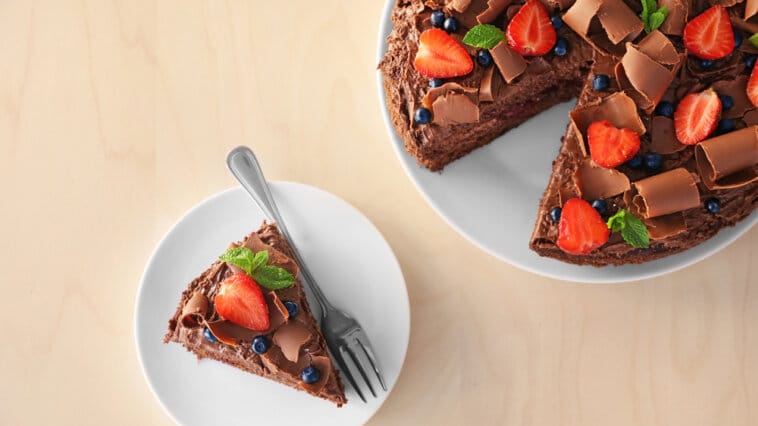 From special occasions like birthdays and weddings to everyday after-dinner treats, cake has been a favorite dessert for centuries.
The sweet cakes we know today became popular around the early 18th century. Earlier recipes were simple, flat discs made from grains — similar to rice cakes.[1]
In the U.S., some of the earliest cake recipes took advantage of indigenous nuts like black walnuts and hickory nuts, setting American cakes apart from classic European cakes.[2]
Over time, a large variety of cake flavors developed. Coca-Cola cake, berry-filled jam cakes, and cakes soaked with rum or bourbon were just a few of the flavors to emerge.[3]
Home-based and professional bakers continue creating new and exciting cake flavors.
Whether you've invented a brand new combination or are putting your own spin on a classic recipe, we have the list of names for cakes below.
Scroll past the list for our cake name generator and some tips to help you create your own personalized cake name.
Lemon Drop

lemon-infused sheet cake with cream cheese frosting and lemon zest topping

Watch Me Whip

cake with whipped frosting layers

Inside Scoops

two layers of cake with an ice cream layer in the middle

Angel's Delight

angel food cake with whipped cream and lemon glaze

Sugar-Coated

cake topped with powdered sugar

Rabbit Food

carrot cake

Choco Monster

multi-layer chocolate cake with chocolate ganache, chocolate frosting, and chocolate shavings

Coffee Break

coffee cake with coffee-flavored buttercream

Blackout

chocolate devil's food layer cake with dark chocolate frosting

Lady Marmalade

cake with orange marmalade

Lemonale

a play on "lemonade"; lemon beer cake

Hot Hot Chocolate

chocolate and chili cake

Want S'more?

chocolate cake topped with marshmallow cream and graham cracker crumbs

Butter On Butter

butter cake with browned butter frosting

Truffle-licious

chocolate layer cake with chocolate ganache

Merry Berry

red and green cake made with berries

Champagne Taste

strawberry champagne cake

Coffee & Cream

coffee-flavored layer cake with buttercream frosting

Cake for Breakfast

cake made with Earl Grey tea

Caramel Kiss Cake

chocolate cake with caramel-filled Hershey Kisses inside

Taste of the Tropics

coconut cake with guava or passionfruit

Happy Tiers

a play on "happy tears"; brightly-decorated, tiered cake for a celebration

Candy Shop

chocolate cake with chopped peanut butter cups, chocolate bars, and other chocolate candies inside

Sticky Situation

cake made with maple syrup and caramel

Royal Wedding

citrus cake with lemon curd and elderflowers

Carnival Caramel Apple

made with apples, caramel, and chopped nuts

Legen-dairy

"cuatro leches" cake made with evaporated milk, condensed milk, heavy cream, and dulce de leche

Flan-tastic

a layer of chocolate cake topped with a layer of flan and melted caramel

Independence Day

white cake with buttercream frosting, garnished with blueberries and strawberries to match the colors of the U.S. flag

Taste the Rainbow

multi-layer cake with rainbow-colored layers

Perfect Matcha

a play on "perfect match"; cake made with matcha powder

Lose Cone-trol

cake baked into a waffle cone

She Sells Seashells

shell-shaped madeleines
Cake Name Generator
How to Create Your Own Names for Cakes
Every baker is different, and there are hundreds of types of cake you might be making.
If none of the options above are perfect for your particular cake, you might want to create something tailor-made to your recipe.
Keep the following tips in mind to create your own unique options:
Consider your flavors and techniques. The cake's taste and your baking process can help you come up with an easy name. For example, think of Pineapple Upside-Down Cake — named for its pineapple flavor and the fact that it's baked upside down, then flipped over to serve. Names like this are simple but classic.
Use your name or the name of the person who inspired the cake. A name like "Ella's Torte" or "Nan's Buttercream Layer Cake" sounds personal and homemade. Plus, if you were taught to bake by a family member or are using someone else's original recipe, your cake name is an excellent opportunity to pay tribute.
Get inspiration from your location or the origin of your ingredients. A Kentucky baker might use a name like "Bluegrass Buttercream Cake," or someone using Caribbean rum might name their cake after the place where that particular brand of rum is made.
Use your sense of humor. Cake is fun to eat, so the name of your cake should be fun, too! Choose something punny, get inspiration from a meme, or create something completely nonsensical that no one would associate with cake. You have the creative freedom to choose anything you want!