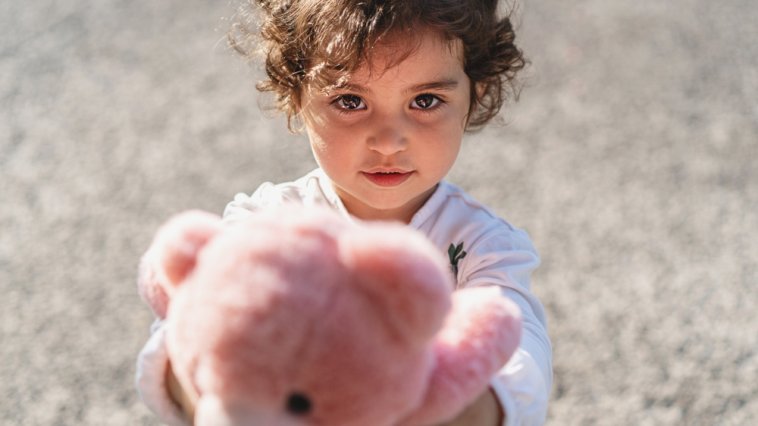 Teddy bears are one of the most beloved toys of our time. Children have especially enjoyed them since 1902 when the Steiff Teddy Bear was first released in Germany.[1]
Not only are they fun to cuddle and play with, but teddy bears are also an ideal way for children to practice caring for others and learn empathy.[2]
The smallest commercially made teddy bear was only .29 inches tall, while the largest was over 55 feet long! You can visit this massive toy bear today at the Exploration Place in Wichita, Kansas.[3]
One of the most exciting things about a new teddy bear is giving it a name. Below, we have the list of 60+ pink teddy bear names perfect for your rosy new bear.
You can also scroll past the list for ways to create your own!
Pinky

Posie

Sprinkles

Taffy

Jellybean

Petal

Strawberry

Bloom

Bella

Rosie

Sunset

Spring

Cupcake

Cotton Candy

Azelia

Coral

Peach

Kisses

Pinkette

Cherry Blossom

Ellie

Rose Quartz

Valentine

Pinktastic

pink + fantastic

Bubbleicious

bubble + delicious

Cheer Bear

as in the pink Care Bear

Sherbert

Pinky Swear

Magenta

Pink Puff

Lotso

as in the teddy bear in "Toy Story"

Sugar Plum

Piggie Bear

Sugar

Candy

Fuzzy Pinkster

Symphony

Sweetheart

Blush

Watermelon

Beary Pink

a play on very pink

Marshmellow Twist

Ooh La La

Rosebud

Ballerina Bear

Raspberry

Lovebug

Flower

Darling

[Lord/Lady] Pink Bear

[Princess/Prince] of Pink

Mauvelous

mauve + marvelous

Tickled Pink

Rhubarb

Sweetie

Juliet

Lemonade

Merry Beary

The Pink [Baron/Baroness]

Cuddlebug

Punch

Bubble Gum

Peach Fuzz

Princess Stuffins

Pastel Bear

Love-a-Lot

as in the pink Care Bear

Wishes
Pink Teddy Bear Name Generator
How to Create Your Own Pink Teddy Bear Names
Teddy bears come in every shape, size, and color. Each person's love for their bear is unique, so you may want to come up with your own name.
Here, we've provided some helpful ideas for naming your furry friend.
Think pink. Try writing down a list of all the pink things you can think of, even if it's a favorite item of clothing or something intangible like the sunset. Next, think of your teddy bear as you read through the list and look out for which option would best suit it.
What are your plans for your teddy bear? If your special bear will be attending tea parties in its finest attire, you should give it a super classy name like "Pink Diamonds" or "Rosy Tiara." If it'll be joining you on all your adventures, no matter how wild or messy, give it an adventurous name, such as "Pinky the Pirate." Whatever your plans for your teddy bear, keep them in mind when deciding on a name.
Look for unique characteristics. If your teddy bear has a certain expression — e.g., happy, sad, surprised — you may want to use it as inspiration for the name. Its clothes, the texture of its fur, and other physical traits are great for help in generating name ideas, as well.