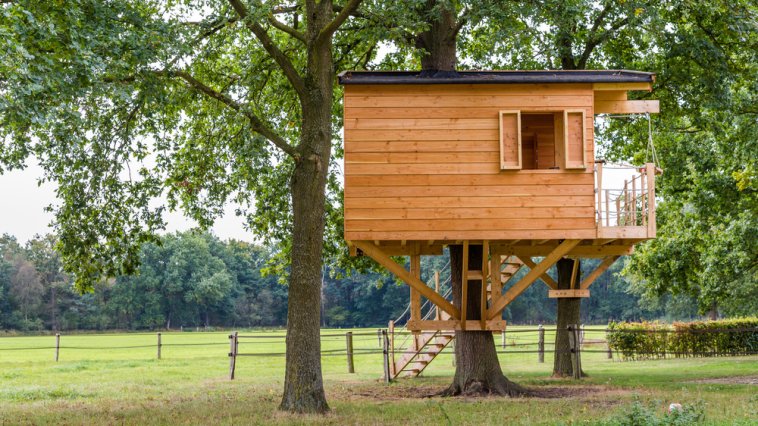 The earliest treehouses began as platforms built in the trees in places that were prone to flooding.
Enclosed structures soon followed, which were more similar to what you often see today.[1]
Young people worldwide enjoy playing and having adventures in treehouses, while grownups savor the escape from everyday life and draw closer to nature in them.
No matter your age, they're the perfect combination of fun, whimsy, and the comfort of home.
In Papua, the Korowai Tribe still lives in treehouses to this day. Some of them are even 100 feet off the ground.[2]
We have the list of 57 treehouse names below, as well as ideas for how to create your own!
Treetopia[3]

Dream Factory

Woodland Fortress[4]

Paradise in the Sky

Tarzan's Tower

Pirate's Lair

Jungle Hut

321 Treetop Lane

[Your name]'s Hideaway

Elysium

Bigfoot's Place

Crystal Skies Palace

House of Zeus

The Mystree Clubhouse

a play on "mystery"

The Zen House

Call of the Wild

[Favorite bird]'s Nest

Bird's Eye Den

Space Station

Cloud Patrol Headquarters

Hobbit Hole

Sky High Playhouse

Hunter's Hideaway

Henchmen's Skyhigh Hideaway

Koala Hut

The Bat Cave[3]

Adventurer's Fort

My Tree-laxing Station

a play on my relaxing station

Whimsical Haven

Out on a Limb

Tree Villa[3]

The Lazy Canopy

Shady Shack

Restful Lodge

Cozy Cottage

The Ramshackler

Outback Playhouse

Wilderness Retreet

a play on wilderness retreat

Sweet Escape

Sunset Haven

Treetop Palace

My Happy Place

Level Up

Serene-tree[5]

a play on serenity

Trunk-quility[5]

a play on tranquility

Castle in the Sky

The Zen Sky Garden

The Adventurer's Imagination Depot

Floating Island

Chop Shop

Dragon Watch Post

Topsy Turvy

The Mighty Birdhouse

Monkey Mansion

To Infinity and Beyond

Sky Kingdom

[Your name]'s Log Cabin
You might also be interested in our related lists to help you find awesome names for your clubhouse, man cave, or she shed.
Treehouse Name Generator
How to Create Your Own Cool Treehouse Names
Treehouse designs and atmospheres are as varied as the people who use them, so you may want to create your own unique treehouse name.
Check out our tips to make the process easier:
What's the purpose of your treehouse? Is it a place where you and your gang of friends gather to hang out and have fun? Is it more of a private sanctuary where you can read and relax? Whatever function your treehouse serves, keeping it in mind will be helpful when creating a name, such as "Adventurer's Fort" or "Sweet Escape."
Does it remind you of anything? If the inside or outside of your treehouse reminds you of something, you might want to use that as inspiration for its name. This could be a physical object, such as a mushroom or a pirate's ship, or it could be a place you've visited.
Brainstorm name ideas with others if you'll be sharing the treehouse. If you plan to spend most of your time in the treehouse with your siblings or friends, ask them to get involved in coming up with ideas for the perfect name. You may want to narrow it down to a few favorites together, then take a vote for the best one.