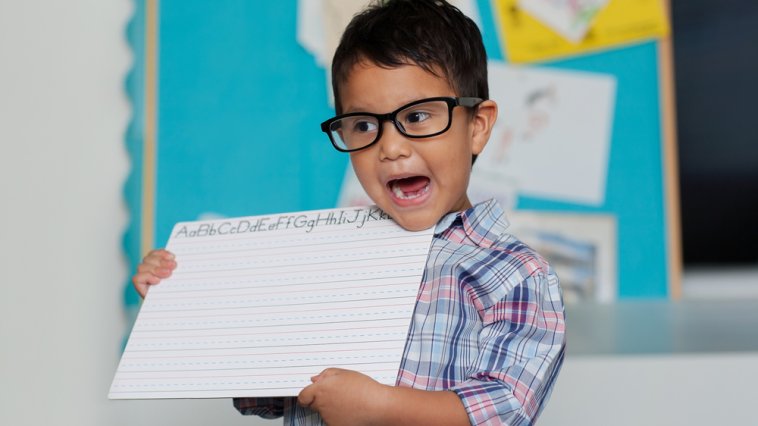 "Show and tell" is a classic classroom activity that allows kids to share their favorite things with classmates.
While it's a fun activity and a break from normal classroom instruction, "show and tell" also helps students build important skills.
It can help them to become more comfortable with public speaking, develop their descriptive language skills, and learn to organize their thoughts into coherent ideas.[1]
As the students watch each presentation, they also develop listening skills and find out more about their classmates' common interests.[1]
Below, we list common "show and tell" items that are easy for kids to take to school and easy to find around the house. We cover every letter of the alphabet, from A to Z.
Scroll past the list for tips to help you choose the perfect "show and tell" item!
A
Alphabet block
Action figure
Ambulance toy
Atlas
Acrylic paint
Album
Alice doll
from "Alice in Wonderland"
Alphabet book
Artwork
Animal figurine
Astronaut figurine
Apron
"Alice in Wonderland" tea party set
Arctic fox plush
Arm from Mr. Potato Head set
Apple
Avengers figurines
Alligator figurine
Address book
Abraham Lincoln book
Animated movie on DVD or Blu-ray
Army costume
Ace playing card
Ant-Man figurine
Aunt's photo
Accordion
Airplane model
Antler headband
reindeer antlers worn at Christmas
Alaska postcard
Army soldier figurine
Anchor from a toy boat
Anna doll
from "Frozen"
Alarm clock
Arizona postcard
Angel costume
Ariel doll
from "The Little Mermaid"
Alien figurine
Alabama postcard
Armadillo plush
Anaconda toy
Arkansas postcard
Aladdin doll
Argyle socks
Aardvark plush
Ant farm
Anteater toy from zoo animals set
Ape plush
Angel doll
Astronaut costume
Angry Birds plush
Aurora doll
from "Sleeping Beauty"
Ankle brace
Anteater plush
Alien ship model
Alpaca plush
"A" Scrabble tile
Anakin Skywalker action figure
from "Star Wars"
AM/FM radio
B
Baseball cap
Blanket
Basketball
Baseball
Book
Baby doll
Baby blanket
Barrette
Beaded necklace
Beaded bracelet
Baseball bat
Backpack
Bandaids
Basket
Bear plush
Black Panther figurine
Batman figurine
Bubblegum
Barbie doll
Brother's photo
Bandana
Badge
Ballet shoes
Belle doll
from "Beauty and the Beast"
BB-8 figurine
from "Star Wars"
Balloon
Bubbles
Bunny plush
Bingo cards
"B" Scrabble tile
Bracelet
Butterfly clip
Buzz Lightyear figurine
from "Toy Story"
Bulldozer toy
Bento box
Beret
Binder
Bucket
Button
Ball
Bath toy
Beanie Baby
Bicycle bell
Blocks
Beanie
Baseball cleats
C
Crayons
Cat plush
Coloring book
Car toy
Coin
Cowboy/cowgirl costume
California postcard
Clifford the Big Red Dog plush
Cinderella doll
Crown
Captain America action figure
Cousin's photo
Candy Land board game
Cricket from toy bug set
"Corduroy" picture book
Cupcake toy from play baking set
Colorado postcard
Cookie Monster plush
from "Sesame Street"
Connect 4 game
Charlie Brown book
Chutes and Ladders board game
Chase figurine
from "PAW Patrol"
Chess piece
Comb
Candy bucket from Halloween
Caterpillar from toy bug set
Cape
Cowbell
Cookie toy from play baking set
Castle model
Cucumber from kitchen toy set
Coat
Crocodile from animal figurine set
Captain Marvel action figure
Chameleon figurine
Clown figurine
Cheetah figurine from zoo animal set
Connecticut postcard
Cow from farm animal figurine set
Coyote figurine
Checkers game
"C" Scrabble tile
Cobra figurine
Captain Hook action figure
Chimpanzee plush
Camera
Corn on the cob from kitchen toy set
"Captain Underpants" book
Catnip toy
Carrot from kitchen toy set
D
Dime
Digital watch
Diary
DVD
Donut pan
Decal
Deck of cards
Dice
Desk calendar
Dr. Seuss book
Digital camera
Drawing pad
Driftwood
Doll
Dog plush
Digital video recorder
Doc McStuffins toy
Dodgeball
Dolphin plush
Disc (CD or DVD)
Disney Princess doll
Doodle mat
Dump truck toy
Dinosaur figurine
Down jacket
Donald Duck plush
Digital clock
Dad's photo
"D" Scrabble tile
Dragon figurine
Drum sticks
Doctor toy kit
Daisy
Delaware postcard
Dinosaur plush
Dollar bill
Dory plush
from "Finding Nemo"
Deer plush
Daisy Duck plush
Disney movies on DVD
Daffodil
Dominoes
Dora the Explorer doll
Dado Cubes
Drum pad
Darth Vader figurine
from "Star Wars"
Dragon plush
Dandelion
Duffle bag
Delaware map
E
Eraser
Eyeglasses
Envelope
Earbuds
Eyelash curler
Earplugs
Elsa doll
from "Frozen"
Easel
Elastic
Earth Puzzleball
Egg holder
Elephant plush
Encyclopedia for kids
Elf on a Shelf
Empire State Building model
Eagle plush
Engraved wood
Elmo plush
from "Sesame Street"
Easter egg basket
Etch a Sketch
Earrings
Energizer batteries
Egg cup
Embroidered jacket
Earth atlas
Ellis Island book
Exercise ball
Eel plush
Excavator toy
Earmuffs
Elk plush
Ear thermometer
"E" Scrabble tile
F
Flower
Friendship bracelet
Football
Frisbee
Finger puppet
Farm animal figurine
"Frozen" doll
France postcard
Fidget spinner
Franklin the Turtle book
Fairy wings from costume
Fly swatter
"Frozen" DVD
Football jersey
France map
Flip flops
Father's photo
Foot from Mr. Potato Head set
Friend's photo
"F" Scrabble tile
Florida postcard
Four from number block set
Fiona plush
from "Shrek"
Fortune cookie
Fur hat
Falcons shirt
Atlanta Falcons football team
Firefly toy
Five from number block set
Flashlight
Flounder plush
from "The Little Mermaid"
"F" alphabet block
Firetruck toy
Fox plush
Ferret toy
Family photo
Flag
Flamingo figurine
Fruit toy from fake food set
Fishing rod
Frog plush
"F" alphabet magnet
G
Glitter gel pen
Gift card
Glasses
G.I. Joe action figure
Glitter slime
Giraffe plush
Glitter glue
Gavel toy from lawyer costume
Game Boy
Goofy plush
Disney character
Germany map
Golf ball
Gloworm
Godzilla figurine
Glow stick
Gardening gloves
Googly eyes for crafting
Gold coin
Golf tee
Germany postcard
Goat figurine from farm animal set
Gorilla plush
Glider
toy plane
Georgia map
Goldfish crackers
Gulliver's Travels book
Game controller
Gator figurine
Gumball
Guitar pick
Galaxy telescopic image
Guidebook
Gallon jug
Gloves
Graphic tee
Genie plush
from "Aladdin"
Ghost story book
"Guardians of the Galaxy" movie on DVD
Grocery tote
Giraffe figurine from zoo animal set
George Washington book
"G" Scrabble tile
Glue stick
H
Headphones
Hand puppet
Hot Wheels cars
Hacky sack
Harmonica
"Harry Potter" movie on DVD
Handbag
Handkerchief
"Harry Potter" book
Horse plush
Highlighter
Hungry Hungry Hippos game
Hallmark card
Hummingbird photo
Hat
Hourglass
Hex key
small tool used to tighten screws
Helmet
Hair bow
Hand sanitizer
Hooded sweatshirt
Hawaii postcard
Hair clip
"H" alphabet block
Hamster plush
Han Solo action figure
from "Star Wars"
Hello Kitty figurine
Hedgehog plush
"H" magnet
Helium balloon
Horse figurine
Human skeletal system model
Headband
Hippo from zoo animal toy set
Hair curlers
Halloween costume
Horseshoe
History book
"H" Scrabble tile
Hog plush
Hairbrush
I
iPad
Index card
Ice pack
Insulated thermos
ID bracelet
Idaho map
Illustration
Instant camera
Indiana map
"Inch by Inch" book
Inline skates
Iowa postcard
"I Spy" book
Ice cream scoop
Iron-on patch
Iowa map
Icing spreader
Iguana plush
Ink pen
"I" Scrabble tile
Indiana postcard
"Itsy Bitsy Spider" book
Insect-catching kit
Ice cream cone
Idaho postcard
"Inside Out" movie on DVD
Ice cube tray
Igloo toy
"Incredibles" character figurines
Illinois postcard
Infant doll
ID card
Incredible Hulk figurine
Illinois map
J
Jewelry box
Journal
Jigsaw puzzle
Joke book
Jump rope
"Jurassic Park" movie on DVD
Jack-in-the-box
Jacks
"Jurassic Park" dinosaur figures
Jewelry-making kit
Jackrabbit plush
Jail costume
"J" Scrabble tile
Juggling kit
Jacket
Jungle animal figurines
Jasmine doll
from "Aladdin"
Jenga
Jeep model
Joystick
Jasmine costume
from "Aladdin"
"Jungle Book" movie on DVD
K
Keychain
Kite
Kazoo
Kinetic sand
Kangaroo plush
Knickknack
Knitting pattern
Koala plush
Kickball
Knitted scarf
King chess piece
Ken doll
Kitten photo
Kiwi
Kneepads
Keyboard
Knitted hat
Kentucky postcard
Kaleidoscope
"Kung Fu Panda" movie on DVD
Kinkajou plush
Kettle
Knitting yarn
Kristoff doll
from "Frozen"
Kentucky map
"K" Scrabble tile
Knight chess piece
Knitted sweater
Kermit the Frog plush
Knot tying kit
Kindle e-reader
Karate belt
Kansas postcard
Key
Knitted socks
Kleenex
Kansas map
Kleenex box cover
Knitted gloves
L
Library card
Lanyard
Lemon juicer
LEGOs
Lip balm
Leash
Ladle
"Lion King" plush
Lace
Lizard plush
Limerick book
Lion toy from zoo figurine set
Ladybug plush
Locket
London Bridge puzzle
"Little Einsteins" DVD
Letter from alphabet magnet set
"Life" board game
Letter puzzle
Legs from Mr. Potato Head set
Lab coat from doctor costume
"The Lion King" movie on DVD
Leopard plush
Lemon
"The Lorax" book by Dr. Seuss
Lifeguard costume
Little Red Riding Hood costume
L.O.L. Surprise! doll
London postcard
Lighthouse model
Letter block from alphabet set
Lamb plush
"The Little Mermaid" movie on DVD
Lightning McQueen figurine
Lemur plush
Lime
Louisiana postcard
Lips from Mr. Potato Head set
Lunch box
Lewis and Clark book
Lobster plush
Llama plush
Lincoln Logs
"L" Scrabble tile
Luggage tag
Lotion
M
Magnet
Measuring spoons
Map
Mechanical pencil
Medal
Memory card
Measuring tape
"Maleficent" movie on DVD
Masking tape
Marbles
Manila folder
Maurice Sendak book
Manatee plush
Mickey Mouse plush
Mailman costume
Massachusetts postcard
Miniature dollhouse furniture
Mark Twain book
Music box
Magnifying glass
Moana doll
Mr. Potato Head
Maine postcard
Martial arts costume
Monopoly board game
Makeup bag
Mighty Morphin Power Rangers figurine
Mermaid doll
Maryland postcard
Mythology book
Mousetrap board game
"Monsters Inc." movie on DVD
Mom's photo
Mittens
Mrs. Potato Head
Moose plush
Minnie Mouse plush
Mask
Mulan doll
Michigan postcard
Monster figurine
Model train
Milky Way galaxy illustration
Mufasa plush
from "The Lion King"
Minnesota postcard
Motorcycle diecast toy
Minion plush
M&Ms
Mouth from Mr. Potato Head set
Mood ring
Marshmallows
Merida doll
Macaroni art
Mississippi postcard
Mallard duck plush
Monster truck toy
Model car
Missouri postcard
"M" Scrabble tile
Measuring cup
Monkey plush
Montana postcard
Model airplane
Mouse cat toy
Meerkat plush
Marker
Movie on DVD or Blu-ray
Mermaid costume
Mug
Magazine
N
Necklace
"N" Scrabble tile
Night light
Nickel
Nail polish
Novel
Notebook
Neon paint
Newspaper
New York map
Napkin ring
Needlepoint
New Hampshire postcard
Neon marker
Nevada map
Nori the Narwhal Beanie Baby
Number magnet
New Jersey postcard
Nintendo Game Boy
Nurse costume
Necktie
New Zealand postcard
Net for bug-catching
Nebraska postcard
North Carolina map
"Nine" numbered wood block
Novelty socks
Nectarine
Noodles
Neopets
New Mexico map
Narwhal and Jelly finger puppets
Nametag
New Mexico postcard
Neon chalk
Nerds candy
Nutcracker
North Carolina postcard
Neckerchief
Nose from Mr. Potato Head set
North Dakota map
Ninja Turtle figurine
from "Teenage Mutant Ninja Turtles"
Necklace-making kit
Nerf ball
New Hampshire map
Nativity figurine
New York postcard
Nose plug
Nesting doll
New Jersey map
Nala plush
from "The Lion King"
Number puzzle
Nemo plush
from "Finding Nemo"
Nascar model racecar
Nugget of gold
Nevada postcards
Nerf blaster
Nebraska map
Neon Play-Doh
North Dakota postcard
O
Ornament
"O" Scrabble tile
Oilcloth
Orangutan plush
Owl plush
Oregon postcard
Ocean animals toy set
Orca plush
Obi-Wan Kenobi figurine
from "Star Wars"
Oil pastels
Origami crane
Ohio map
Olaf plush
from "Frozen"
Octopus kite
Oscar the Grouch figure
from "Sesame Street"
Oven mitt
Outdoor explorer kit
Optimus Prime figurine
from "Transformers"
Octopus plush
Oval puzzle piece
Orchid picture
Ostrich plush
Oregon map
Operation board game
Owen Grady action figure
from "Jurassic World"
Orange crayon
Oklahoma map
Otter plush
Oil paints
P
Photograph
Pen
Penny
Paintbrush
Photo album
Pawn chess piece
Paperback book
Palette
Potholder
Pet's photo
Pin
Paint
Poetry book
Postcard
Potpourri
Panda plush
Paperclip necklace
Pennant
Puppy plush
Pencil
Plane model
Paperweight
Penguin plush
Purse
Puppet
Play food
Pennsylvania postcard
Pebble
Playing cards
Paper doll
Ping pong paddle
Puzzle
Popsicle stick art
Pool floats
Princess costume
Pig plush
Polly Pocket
Perler beads
Pullover sweatshirt
Pirate ship model
"Peppa Pig" plush
Picture frame
Pokemon trading cards
Pillow Pet
Python plush
Pumba plush
from "The Lion King"
Pirate action figure
Polar bear plush
Peacock illustration
Praying mantis figurine
Powder compact
Panther plush
Post-it
Pony figurine
Paper
"P" Scrabble tile
Q
Quarter
Queen chess piece
Quart jar
Quarter-cup measuring cup
Quarter-teaspoon measuring spoon
Q-tip
Quote of the day desk calendar
Quilted jacket
Quartz stone
"Q" Scrabble tile
Quinoa
Quilt
Queen Elsa doll
from "Frozen"
Queen of Hearts doll
from "Alice in Wonderland"
Quill
R
Rollerblades
"R" Scrabble tile
Ruler
Ribbon
Riddle book
Radio
Rubik's Cube
Recorder
Rice paddle
Rabbit plush
Ragdoll
Racecar toy
Reindeer plush
Rocket model
Rain forest photo
Rolling pin
Rock
Raptor figurine
Remote control car
Rhyme book
Racket
Raffle ticket
Rhinocerous from zoo animal figure set
Rain boots
Rey figurine
from "Star Wars"
"Rainbow Fish" book
R2D2 toy
from "Star Wars"
Robot toy
Roo plush
from "Winnie the Pooh"
Red panda plush
Rainbow illustration
Russia map
Railroad car toy
Rattle
"Red Riding Hood" book
Remote control helicopter
Reptile plush
Rugby ball
Rhode Island postcard
Raincoat
Race track for Hot Wheels cars
Record
Red fox plush
Roach from plastic bug set
Rattlesnake toy
Raccoon plush
Revlon make-up
Receipt
Rat plush
Rock music CD
Remote control boat
S
Sunglasses
Stamp
Soccer ball
Slinky
Scrapbook
Softball
Snow globe
Slime
Spaceship model
Scrabble board game
Snow White doll
Disney Princess
"Star Wars" action figure
Sponge
Solar system model
"Scaredy Squirrel" book
Storybook
"Star Wars" DVD
Shoelace
Scholastic book
Spiderman action figure
Speaker
Simba plush
from "The Lion King"
Sombrero
Superman action figure
Sled
Scented candle
"Secret Life of Pets" movie on DVD
Superhero action figure
Stegasaurus figurine
Spalding basketball
SpongeBob SquarePants doll
Spacesuit costume
Shin guard
Sister's photo
Shopkins
Stormtrooper figurine
Soundtrack CD
Smiley face
Sorry! board game
Stick
Satin pillowcase
Seven from number block set
Stitch plush
"Lilo and Stitch" character
Ski mask
Star stickers
School bus toy
Submarine toy
Stress ball
Strawberry toy from plastic food set
Squeaky toy for dogs
Sunflower
Sea turtle plush
Snake toy
Sweet potato from plastic food set
Sippy cup
Skyscraper building blocks
Saxophone toy
Sprinkles
Sock monkey
SUV toy vehicle
Scattergories board game
Sailor hat
Shark plush
Stormtrooper costume
Scuba suit
Spider toy
Snoopy plush
Sloth plush
Snake plush
Sketchbook
Sand dollar
"Scooby-Doo" DVD
Sandbox toy
Snail plush
Shark figurine from sea creature set
Squirrel plush
Shadow puppet instruction book
"Shaun the Sheep" DVD
Sea otter plush
Scorpion toy from fake bug set
Science fiction book
"Schoolhouse Rock" DVD
Sailboat toy
Souvenir shirt
Starfish plush
Seahorse toy
Safety goggles
Security guard costume
Sandwich keeper
sandwich-sized food container
Skates
Sandpaper
Squid toy
South Carolina postcard
Sealion plush
Ski boots
Scrunchie
"Scooby-Doo" plush
Scooter
Siberian husky plush
Soup spoon
South Dakota postcard
Screen-printed shirt
Suitcase
Skateboard
Sunscreen
Sheep plush
Seashell
Sweatband
Scarecrow figurine
"S" Scrabble tile
Shampoo
T
Teddy bear
Trophy
Thesaurus
Tennis ball
"T" Scrabble tile
Tiara
Table tennis paddle
Thimble
Tinsel
decorative foil used for parties or holiday decor
Tutu
Thumb drive
Tabby cat plush
"Transformers" action figure
Thank you card
Tee
peg used in golf
"Toy Story" movie on DVD
Thermometer
Triceratops figurine
Tie-dye shirt
Tractor toy
Tambourine
Truck toy
Tiddly Winks game
Trinket
small ornament or bauble
Tongs
Tape measure
Teeth
fake teeth from a costume, such as vampire fangs
Tree frog figurine
Treasure Hunt board game
Trumpet toy
Train model
Turkey craft from Thanksgiving
"Teenage Mutant Ninja Turtles" action figure
Tugboat toy
Tie
Tiger figurine from zoo animals set
Tinkerbell plush
Disney character
T-Rex figurine
Tomato from plastic food toy set
Titanic history book
Thumper plush
from "Bambi"
Teacup
"Toy Story" doll
such as Buzz Lightyear or Woody
Taxi model
toy car
Twig
Tulip photo
T-Rex skeleton model puzzle
Timon plush
from "The Lion King"
Tassel
such as the one worn on a graduation cap
Tic-tac-toe game
Tortoise plush
Thor action figure
Telephone toy
Tigger plush
from "Winnie the Pooh"
Toucan toy
Tennessee postcard
Tablet
such as an iPad or Kindle
Thread
Tinkertoy
construction set
Tennis racket
Tap shoes
Tiana doll
from "The Princess and the Frog"
Tiger plush
Tom Sawyer book
Texas postcard
Terrier photo
Tarantula toy from fake bug set
Turtleneck shirt
Temporary tattoo
Tote bag
Toad plush
Teapot toy
Tank toy
military vehicle
Tape recorder
Textbook
U
Umbrella
U.S. map
Ukulele
Utah map
Unicorn sticker
Utility belt
Underwater camera
"Up" movie on DVD
University sweatshirt
Ugly Duckling book
U.K. postcard
"U" Scrabble tile
UNO game
Uniform
UFO figurine
Uncle's photo
Utensil
Unicorn plush
U.K. map
Ugly holiday sweater
Underwater pool toy
U.S. flag
Utah postcard
V
Valentine's Day card
Video game
"Very Hungry Caterpillar" book
Vampire fang mouthpiece
"Velveteen Rabbit" book
Viking ship model
Video game controller
Velociraptor figurine
Veterinarian costume
Virginia postcard
Vegetable toy
Vacation picture
Velvet fabric
Vermont postcard
VHS tape
Visor
Vinyl record
Vampire bat plush
"V" Scrabble tile
Video camera
W
White paint
Windchime
Watch
"Winnie the Pooh" plush
"W" Scrabble tile
Wrench
Whale plush
Wizard costume
Wooden building blocks
Wolf plush
Wand
Wireless speaker
"Where's Waldo?" book
Wings from a fairy or angel costume
Wiffle ball
Watercolor paint set
Wonder Woman figurine
Wildflower
Wyoming postcard
Wallet
"Willy Wonka and the Chocolate Factory" DVD
Washington postcard
Watering can
Wig
Walrus plush
Woody doll
from "Toy Story"
West Virginia postcard
Whistle
Witch costume
Wooly mammoth plush
Wombat plush
Wisconsin postcard
Whirlybird
Water bottle
"Winnie the Pooh" DVD
Wallaby plush
X
"X-Men" comic book
"X" alphabet magnet
Xylophone
"X" Scrabble tile
Xbox controller
X-ray set
"X marks the spot" treasure map
X-wing plane model
from "Star Wars"
Xerox paper
"X" cookie cutter
Xiaosaurus dinosaur photo
"X-Men" movie on DVD
"X" alphabet block
Xenosaurus figurine
Y
Yearbook
Yo-yo
Yoshi plush
from "Super Mario Bros."
Yellow paint
Yoda figurine
from "Star Wars"
Yahtzee game
Yellow model school bus
Yellow Play-Doh
Yardstick
Yankees hat
Yacht toy
Yoda plush
from "Star Wars"
"Y" Scrabble tile
Yellow cab toy
Yakisoba noodles
Yearly planner
Yu-Gi-Oh! trading cards
Yeti plush
Yachting cap
Yellow rubber duck
Yarn
Yak plush
Yoga mat
Z
Zebra plush
Zookeeper costume
Zombie plush
"Z" Scrabble tile
Zelda video game
Zip-up hoodie
"Zootopia" movie on DVD
Zuma plush
from "Paw Patrol"
Zero number block
Zoo animal figurine set
Ziti noodles
"Z" magnet from alphabet set
Ziploc bag
Zucchini toy from play food set
Zebra shark plush
How to Choose the Perfect Show-and-Tell Item
Choosing the perfect show-and-tell item can be a challenge!
The best show-and-tell items have rich stories behind them, making it easy for the presenter to find a lot of things to say as they share the item with their classmates.
Keep these tips in mind to choose the perfect item:
Choose something personal. An item that's a particular favorite or has a strong memory attached will be easy to talk about. Your child will show more enthusiasm when talking about their favorite toy or a picture from a recent vacation than they would when talking about a random household object!
Be practical. Consider the item's value, size, safety, and breakability before sending your kid off to school with it! For example, if your kid loves Xbox, you might want to send the controller rather than the Xbox itself. The controller will be easier to carry — and less expensive to replace if it gets broken or lost!
Be prepared. Choose your item (or several items, if the class does "show and tell" on a regular schedule) as early as possible. Generating ideas in advance of the activity can give you time to find the best items and the best story to tell, rather than bringing whatever you have on hand at the last minute. A little bit of storytelling practice the night before "show and tell" can't hurt, either!