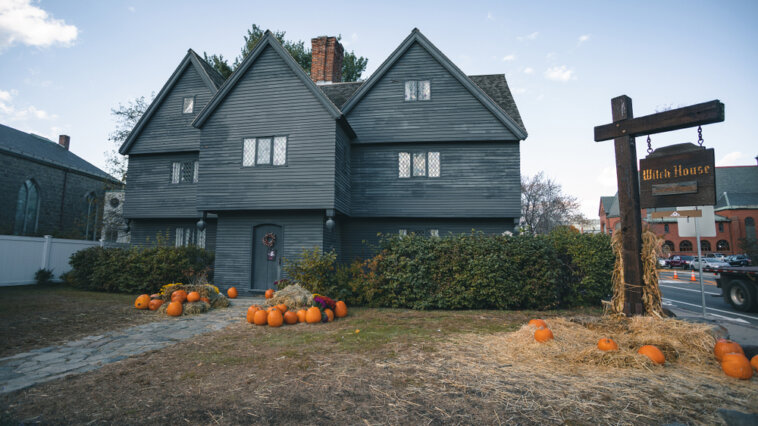 Witchcraft dates all the way back to pre-Christian Europe,[1] and one of the earliest known depictions of a witch appears in the Bible.[2]
In 1 Samuel (a book of the Old Testament), King Saul enlists the help of a witch to summon the prophet Samuel's spirit and find a way to defeat the Philistine army.[2]
The name of the witch in this story is the Witch of Endor — a name based on the city where she lived.[3] For as long as witches have been known, there have been cities and towns associated with them.
As history has progressed, the list of places associated with witches has only grown.
Perhaps the most famous in the United States is Salem, Massachusetts — the setting of the Salem witch trials in the 1600s.[4]
Smaller, less notorious towns also have witchy histories. Adams, Tennessee, for example, is home to the "Bell Witch," who (according to legend) has haunted a local cave since the early 1800s.[5]
Whether you're writing a film script or novel or naming your town in a game like Animal Crossing, we have the list of witch town names below.
Scroll past the list for tips to help you choose the best witch town name for your purpose.
Hemlock Woods

inspired by the poisonous plant used in potions[1]

Magick Meadow[6]

uses the archaic spelling of "magic"

Grimoire

named after a book of spells

Holmavik[7]

inspired by the Icelandic village, home to the Museum of Icelandic Sorcery & Witchcraft

Houndstongue Hollow

inspired by the toxic plant houndstongue, a potion ingredient in "Macbeth"[1]

Catemaco[8]

inspired by the Mexican city known for its traditions of sorcery

Sigil[9]

inspired by symbols said to have magic powers

Salem[9]

as in Salem, Massachusetts, the location of the Salem witch trials

Mystic[9]

meaning spiritual or transcendental

Adams[10]

inspired by Adams, Tennessee, a small town known as the home of the Bell Witch

Triora[7]

inspired by Triora, Liguria, known as the "Italian Salem"

Beltane

named after the ancient "May Day" festival

Pendle Hill[8]

inspired by the site of the "Pendle witches" trials in the 1600s

Witches' Hill

suitable for a town where many witches live

Turin[7]

inspired by Turin, Italy, which is said to be located on both the white magic and black magic axes

Moors[11]

Altar Cove

named after the witch's ritual workspace

Equinox Grove

named after the two days per year when day and night are equal in duration

Skyclad Valley

named after the practice of unclothed rituals

Togoville[7]

inspired by the West African city known for its traditions of voodoo and magic

Eastwick[12]

as in "The Witches of Eastwick"

Burkittsville[13]

inspired by the setting of "The Blair Witch Project"

East End

as in "Witches of East End"
Witch Town Name Generator
How to Choose the Best Witch Town Name
The perfect witch town name for you will depend on how you plan to use it. A writer and gamer will have vastly different needs and tastes, after all.
Keep these helpful tips in mind when making the choice:
Decide on a tone. Do you want a name that sounds realistic or fantastical? There are plenty of real towns associated with witches that can inspire your name, or you can choose something that sounds more magical and fanciful, like "Magick Meadow."
Look into the history of witches and magic. Witchcraft and magic date back centuries, with evidence of such practices found around the world. With such a deep and rich history, there's plenty of inspiration to explore. Search for stories about famous witches, witch trials, ancient potions, and mystical practices. Any word that stands out to you could be the start of the perfect town name.
Consider your audience. Depending on who else will interact with your witch town, you can decide how obvious you want your town name to be. If you're playing a game with friends who are also knowledgeable about witches, for example, you can choose a name inspired by an obscure historical reference or magic term. If you're writing a novel that you hope will be read by many people, you might want to choose something with a clearer connection to witches so your entire audience is sure to understand it.