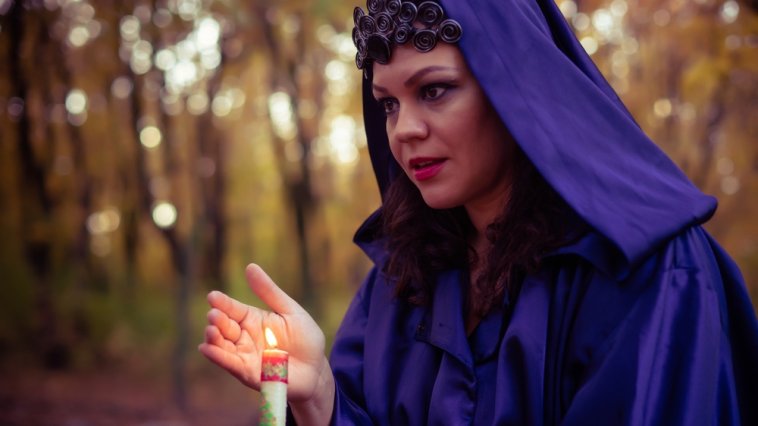 Stories of witches have been around throughout history.
In popular culture, they've been portrayed as everything from evil, green-faced women ("The Wizard of Oz") to suburban housewives ("Bewitched") to teens with special powers ("The Craft").
Early witches were often fearfully regarded as practitioners of "dark" magic, but many were simply natural healers or had spiritual beliefs outside of Christianity.[1]
Such misunderstandings led to witch hunts like Massachusetts' Salem witch trials in the 1690s.[2]
Today, witches are still somewhat misunderstood but have found less fear and more acceptance over time.
Many young people associate witchcraft with free thought and a connection with nature.[3]
Below, we list the words associated with witches, including explanations. Scroll past the list to find out about famous witches in popular culture.
Occult

supernatural, mystical, and magical beliefs, practices, or phenomena

Witchcraft

practicing magic and/or pagan traditions

Coven

a gathering of witches

Voodoo

religion combining elements of Roman Catholic ritual and African religious rites; often involves sorcery or spiritual possession

Hecate

Greek goddess presiding over magic and spells

Wicca

religious practice inspired by pre-Christian traditions; often involves witchcraft and a reverence for nature

Warlock

a man who practices witchcraft

Witch-hunt

searching for and persecuting witches

Talisman

an object that brings good luck; often a ring or stone with an inscription

Sabbat

meeting of witches

High Priestess

leader of a coven

Spell

words used to bring about magic

Hoodoo

a religion primarily found in parts of the Caribbean and the southern U.S. that involves sorcery and spirit possession

Alchemy

transforming, creating, or combining materials; a medieval precursor to the science of chemistry

Cauldron

large iron kettle used for preparing brews, potions, and Sabbat feasts

Witching hour

a magical time when the barrier between worlds opens, allowing mystical beings to cross; often thought to be between midnight and 3 a.m.

Fairy cross

a stone charm that wards off bad luck

Salem

a village in colonial Massachusetts where thirty people were found guilty of witchcraft in the late 1600s

Familiar

a "familiar spirit," or animal connected that will obey a witch

Altar

a table, bench, stump, or rock where a witch places her materials while practicing her craft

Witch trials

an investigation to uncover the practice of witchcraft and punish its practitioners

Pagan

someone who holds religious beliefs outside of the major world religions

Magic

influencing events through supernatural forces and practices

Sorcery

the use of magic

Conjuring

conducting rituals to call upon spirits

Samhain

festival marking the beginning of winter

Amulet

an ornament or piece of jewelry that gives protection

Mascot

something that brings good luck

Wizard

a man with magic powers

Curse

invoking supernatural powers to inflict punishment

Incantation

words spoken as a magic spell or charm

Divination

seeking knowledge of the future through supernatural forces

Foretelling

predicting a future event

Hex

a magic spell or curse

Conjurer

a person who conjures

Bruja

Spanish word for a witch or a woman with knowledge of folk magic

Black magic

invoking evil spirits or using magic for malicious purposes

Incantor

someone who performs incantations

Scrying

using a crystal ball or other reflective object to see the future

Circe

an enchantress in Greek mythology

Broomstick

household tool for sweeping that a witch can use to fly to Sabbat

Sorcerer

a person who claims to have magic powers

Enchant

to put someone under a spell

Walpurgis night

a meeting of witches on May Day's eve in German folklore

Charm bag

a drawstring pouch worn around the neck or waist that contains herbs, gemstones, or other objects

Supernatural

forces beyond scientific understanding or the known laws of nature

Handfasting

making a pledge by shaking or joining hands; sometimes used in place of "wedding" or "marriage"

Wand

branches cut from sacred trees and used in some rituals or practices by witches

Hocus-pocus

words used by a person performing magic

Graeae

three "grey witch" sisters in Greek mythology

Beltane

ancient May Day festival celebrating the springtime

Craft

a shortening of "witchcraft"; also the name of an iconic 1996 film about teenage witches

Jinx

a spell to bring bad luck upon others

Ducking

the practice of tying a person's hands and feet and throwing them into a pond or river to find out whether they were a witch

Necromancy

communication with the dead through sorcery

Enchantress

a woman using magic or sorcery to put someone or something under a spell

Bewitch

to cast a spell over someone
Famous Witches in Popular Culture
Interested to know more about how popular culture has portrayed witches over time?
We've gathered some of the most famous examples below!
"American Horror Story: Coven" is a TV series following a group of witches in New Orleans, also featuring flashbacks to the Salem witch trials.
"Charmed" (premiering in 1998 and rebooted in 2018) is a TV series following three sisters — Prue, Piper, and Phoebe — who are powerful good witches.
"The Chronicles of Narnia" features several witch characters, including Jadis (the White Witch) as the antagonist of "The Lion, The Witch, and the Wardrobe."
The 1996 film "The Craft" follows four high school outcasts who become interested in witchcraft.
Hermione Granger is one of many witches-in-training at the Hogwarts School of Witchcraft and Wizardry in "Harry Potter." She's known for her quick wit and encyclopedic knowledge of magic.
"Hocus Pocus" is an iconic 1993 Disney film following the Sanderson sisters, three witches accidentally resurrected by a teenager in Salem on Halloween night.
The British fantasy drama "Merlin" follows the warlock of the same name from Arthurian legend.
"Sabrina the Teenage Witch" is a comic book series following a young half-witch, Sabrina Spellman, who lives with her witch aunts, Hilda and Zelda Spellman. It's been adapted into several animated series, films, and live-action TV series.
L. Frank Baum's "The Wonderful Wizard of Oz" features the good witches of the north and south and the wicked witches of the east and west. While the Wicked Witch of the West was unnamed in the original book, she was later given the name Elphaba and a rich backstory in "Wicked: The Life and Times of the Wicked Witch of the West" by Gregory Maguire.