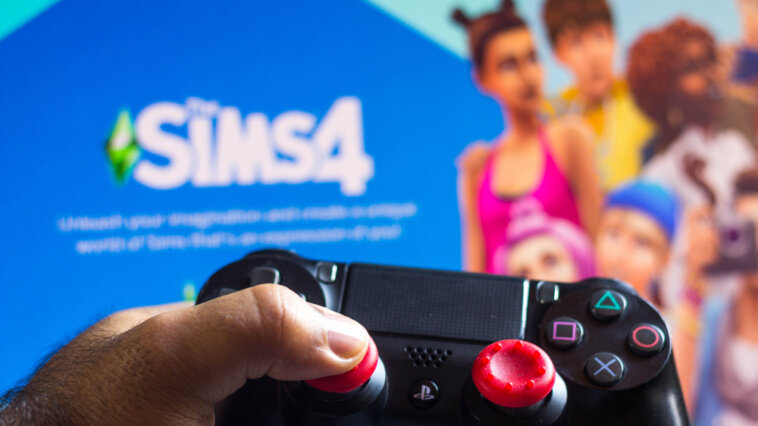 The Sims has been around since the year 2000. Creator Will Wright designed the game after losing his home to a fire, seeking to explore the idea of whether money can buy happiness.[1]
The game quickly became a hit, selling more than six million copies in its first two years.[2]
The Sims has continued to evolve in the more than two decades since its debut, spawning sequels, expansion packs, mobile games, a language (Simlish), and even a short film starring Brazilian singer Anitta.[2][3]
There are premade characters in The Sims — such as the Goths, Pleasants, and Crumplebottoms[4] — but customizing and renaming characters is part of the fun of the game (along with watching the wild turns their lives take).
Below, we have the list of names for Sims, plus tips to help you choose the best names for your characters.
Female
Male
Gender-Neutral
Surnames
Sims Name Generator
How to Choose the Best Names for Sims
Choosing the perfect names for your Sims can seem intimidating, but have fun with it.
There are plenty of options to choose from, and you can always rename your character later if you'd like.[18]
Keep these tips in mind to make the right choice on the first try:
Consider your Sim's background. Details like the character's cultural background, the neighborhood they live in, and their personality traits can help you decide on a name more easily. For example, if your character's aspiration is romance, you might want to choose a name that sounds romantic and sweet, such as "Genevieve." If your character has Alien skin, you might want to choose something that sounds mysterious and futuristic.
Get inspiration from celebrities and characters. Whether you're a fan of a certain person/thing or you just want to explore a variety of names, taking inspiration from celebrities, film, television, and books can be an easy way to find options you like. You can find first names, surnames, and full names by doing something as simple as checking the Wikipedia page for a TV show (which will list character and actor names). For even more options, search for celebrities and characters from countries other than your own.
Take your time. It might seem smart to plug in the first name that comes to mind and move on to your next task in the game, but remember that you'll follow these characters throughout their lives. Weighing your options and thinking through your decision can help you find a name you truly love, so you won't need or want to change it later.
Plan ahead. Sims aren't isolated — they live within households and neighborhoods, and their families grow over time. If you're just starting your game or establishing a new family, you might want to save a list of related names to use for future characters. For example, if you choose "Jordan Rhodes" for your first character, you might want to keep a few other names that match well with "Rhodes" in mind for their future children.