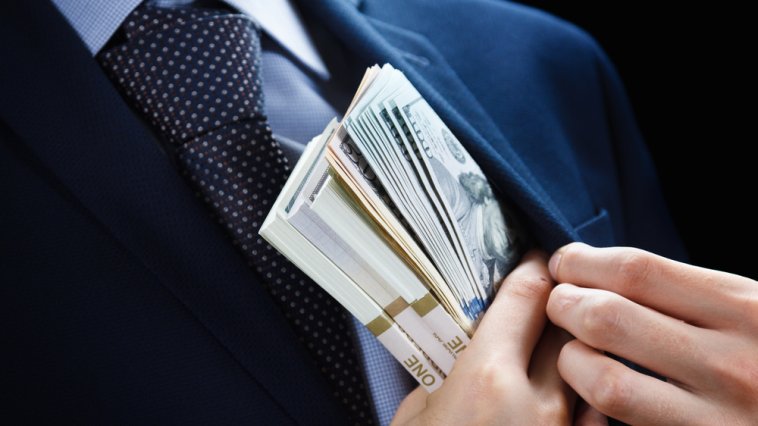 According to Merriam-Webster, corruption is "dishonest or illegal behavior, especially by powerful people." It's also defined as "decay or decomposition."[1]
Corruption can come in the form of bribery, embezzlement, fraud, or a number of other deceitful acts.[2]
Former U.K. Prime Minister David Cameron said, "[…] there are no countries where corruption is inevitable. Nor — and this is the flip side to it — are there any countries that are immune from it. Corruption infects every society in every part of the world."[3]
If you're looking to name a truly corrupt character, you may want to give them a name that means "corrupt" or "corruption" for greater impact.
Below, we have the list of 20+ names meaning corruption, as well as a few tips for making the choice or creating your own!
Coriolanus

inspired by the corrupt dictator Coriolanus Snow in "The Hunger Games"

Raven[4]

meaning thieving; Scandinavian origins

Macbeth

inspired by the corrupt main character of this Shakespearean play

Loki

Norse God of mischief and trickery

Mercury[4]

Greek God of financial gain and trickery

Maleficent

meaning harmful or destructive

Alcatraz

prison known for corrupt prison officers

Madea[4]

meaning cunning; Greek origins

Dolion[5]

meaning deceitful; Greek origins

Fox[4]

meaning sly one

Cameron[4]

meaning to follow a crooked path; Scottish origins

Anikan

inspired by the corrupted "Star Wars" character Anikan Skywalker

Bucky

as in Bucky Barnes, a "Captain America" comics character that becomes corrupt

Vice

nickname for Victor or Victoria; meaning immoral behavior

Joffrey

inspired by the corrupt ruler Joffrey Baratheon in "Game of Thrones"

Bela[5]

meaning destruction; Hebrew origins

Buster[4]

meaning someone who breaks things

Saruman

inspired by the "Lord of the Rings" character

Regina

inspired by Regina George in "Mean Girls"

Shane

inspired by Shane Walsh in "The Walking Dead"

Maximon (or Max)[4]

Mayan God of trickery
You might also find our articles on names that mean selfish and names that mean broken to be helpful!
Corruption-Inspired Name Generator
How to Choose or Create the Perfect "Corrupt" Name
You may need a little help deciding which name is right for you, or perhaps you prefer to come up with your own.
Keep these things in mind when making the choice or coming up with your own corrupt name ideas:
Consider the main corrupt characteristics or actions of the character. This can help you narrow down your choices. For example, if your character is involved in law enforcement, you may want to go with "Alkatrez" (an alternate spelling of "Alcatraz") or search for the names of other prisons or officers known to be corrupt.
Search for names using similar words or acts of corruption. Looking at names that are tied to words similar to corrupt will broaden your options. In addition, searching for names that are associated with corrupt actions may be helpful. For example, Raven means "thieving," which is illegal behavior, and is therefore corrupt.
Look to corrupt figures or deities in history. You could try searching for ancient gods and goddesses known for being corrupt. There are also countless royal and political figures, past and present, whose names people will associate with corruption.