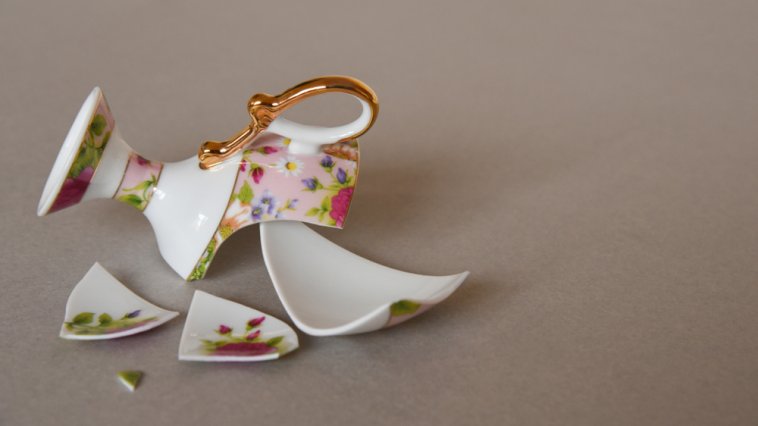 When we hear the word "broken," we may think of many things: broken hearts, broken glass, broken bones.
The word has several definitions, including "violently separated into parts," "not working properly," and "having undergone or been subjected to fracture."[1]
These negative connotations make "broken" an uncommon name meaning.
However, for a dysfunctional character or one with a tragic background, a name with this meaning can be quite fitting.
Below, we have the list of names meaning "broken," plus tips to help you further develop name options for your project.
Riven[2]

meaning split or torn apart

Deirdre[3]

Irish name meaning broken-hearted or sorrowful

Dany[4]

meaning "damage" in Catalan

Persephone[5]

Greek name meaning "bringer of destruction"

Cassie[6]

adapted from the French word for "broken," which is "cassee"

Haki[7]

Hawaiian for "broken"

Rikki[8]

Finnish for "broken"

Brooklyn[9]

adapted from the Dutch place name "Breukelen," meaning "broken land"

Crystal

like glass, which is easily broken

Estella[10]

meaning "splinter" in Catalan

Danni[11]

meaning "damage" in Corsican

Claudia[12]

meaning "lame"; Latin origin

Mal

short for "maladjusted" or "malfunctioning"

Broch[13]

short for "zerbrochen," the German word for "broken"

Pasach[14]

Biblical name meaning "thy broken piece"

Claudius[15]

meaning "lame" or "limping"; Latin origin

Kennedy[16]

meaning "misshapen head"; Irish origin
"Broken" Name Generator
More Ways to Find "Broken" Names
There aren't dozens of options for names that mean "broken," but there are some things you can do to expand your list of options if you're willing to consider less conventional connections to the word "broken."
Keep the following tips in mind to curate your list of potential names:
Create a list of words with similar meanings. Look up words in other languages and synonyms for "broken" in English. From there, you can look up names that don't specifically mean "broken," but have close enough meanings that they'll work perfectly for your purpose.
Think of things that are easily breakable. You can get inspiration for your "broken" name from things that are known to break easily, like glass. A name like "Crystal" could work perfectly for your needs.
Get inspiration from other characters and real people. Consider which names come to mind when you think of the word "broken." Are there any names from history, your personal life, or your favorite movies and TV shows that you associate with brokenness? You might choose something like "Teddy" (after Leonardo DiCaprio's character in the film "Shutter Island") or "Beatrix" (after Uma Thurman's character in the "Kill Bill" franchise).