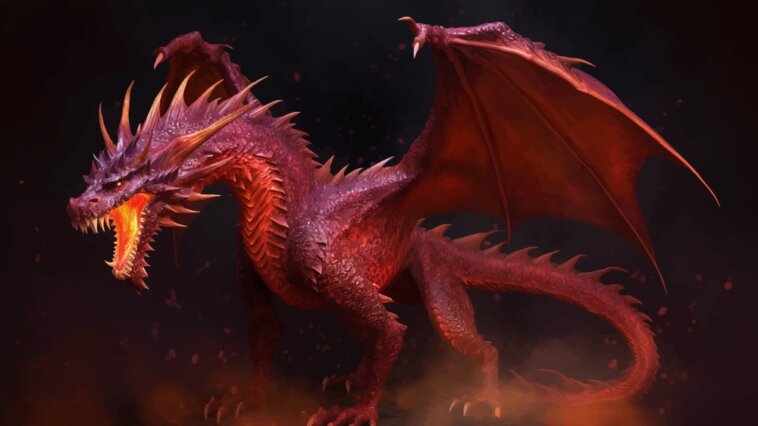 Dragons have a rich and diverse background that has developed through myths and legends in many cultures around the world.
Though descriptions of their appearance and nature vary by location, dragons are generally believed to be large lizard- or serpent-like creatures.[1]
Experts have speculated that dragons are often inspired by real-life animals, such as dinosaur fossils, crocodiles, and whales.[2]
Today, stories of dragons have evolved into popular movie and video game characters, with purple dragons often being one of the rarest.
One of the most exciting things about receiving a purple dragon toy or joining a new gaming adventure as a purple dragon is giving it a name.
Whether it's for a plushie, a fierce figurine, or you're looking to name a video game character, we have the list of purple dragon names below.
You can also scroll past the list to find helpful tips for creating your own ideas.
Amethyst Fires

Iris Starblazer

Twilight Talons

Lavender Shadows

Lavender Lightstorm

Flames of Indigo

Violet Angel

Dawnfire

Heather Winds

Wisteria Whirlwind

Spyro

Lilacwing

Orchideous

Lavender Draconi

Malefor

Indigo Wishes

Dahlia Duskfire

Purple Terror

Aster Ashflame

Periwinkle Pyre

Hibiscus Heat

Plum Puff

Periwinkle Wyvern

Magenta Guardian

Iris Ember

Mulberry Magma

Berry Blast

Ultra Violet

Hyacinth Mist

Lavender Gusts

Fuschia Fiend

Grapes of Wrath

Snapdragon Sizzle

Horned Heliotrope

Wisteria the Mysterious

The Mauve Marauder

Violaceous Legend

Pansy Pendragon

Crocus Combustion

Orchid Inferno

Indigo Incinerator

The Indigo Serpent

Hyacinth Haze

Grape Glare

Jam Jellyflame

Elderberry Ember

Sunset Phantom

Burgundy

Zinnia Zephyrflame

Carmine Raptor

Lilac Wisp

Roselle Radiance

Lupine Lava
How to Create Your Own Purple Dragon Name
Creating a dragon name can be a fun and creative process! Let your creativity soar, and use whatever method works best for you.
Keep these tips in mind when creating your own unique and imaginative purple dragon name:
Decide on or identify the dragon's personality. Think about your purple dragon's personality traits and characteristics. Is it strong and powerful? Wise and elderly? A total jokester? Once you understand its nature, you can create a name to match.
Take inspiration from its physical appearance. Consider using descriptive words in your dragon's name. For example, if your dragon has shimmery scales, you might use "Iridesca" or "Glimmer" as part of its name.
Take inspiration from foreign languages. Look up relevant words (like "dragon," "fire-breathing," and "purple") in ancient or foreign languages to find ideas for interesting names that aren't as commonly used. For example, "purple" is translated to "Murasaki" in Japanese, and "Ice Dragon" translates in Danish to "Isdrage."