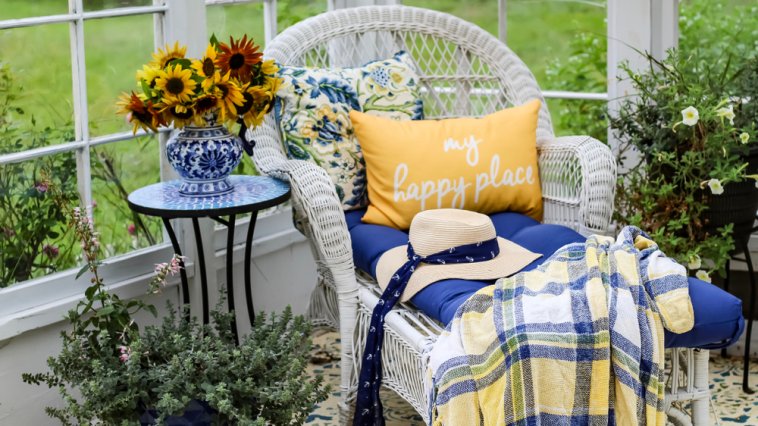 The "she shed" emerged as a feminine alternative to the "man cave" — a dedicated space where a woman can relax, enjoy her hobbies, and take a break from everyday life's stresses.[1]
In 1929, the famed writer Virginia Woolf published an essay called "A Room of One's Own" where she argued in favor of holding both literal and figurative spaces for women writers to thrive.[2]
The she shed is essentially a modern version of Woolf's "Room of One's Own" — but expanded beyond just writers to women with any passion, from gardening to gaming to yoga and beyond!
She sheds are totally customizable to suit your interests and budget. They can range from a converted shed in the backyard to a spare room, a basement, or even a small corner of a studio apartment.
Below, we list more than 30 she shed name ideas, plus tips to help you choose the perfect fit!
Her Hideaway[3]

Diva Den[4]

[Name]'s Oasis

The Secret Garden[5]

Lady's Lair[3]

Queen's Quarters

Sugar Shack[6]

Comfy Cottage[6]

Babe Cave[4]

Sunset View Cottage[5]

Femme Den[4]

Enchanted Cottage

SHEdquarters[7]

Shed Sweet Shed[4]

[Name]'s Nook

Happy Hideaway

Valley of Tranquility[5]

Cozyshack

Lady's Lounge

[Name]'s Sip & Sit[5]

The Dame's Dome[3]

Ma'am Cave[4]

Wonderland

Dame's Domicile[3]

Mom Cave

The Nesting Place[4]

The Nook[4]

My Escape

Paradise Valley[5]

Cozytown

The Alcove

Mystical Garden[5]

Little Pemberley

after Darcy's estate in Jane Austen's "Pride & Prejudice"

Royal Garden[5]

[Name]'s Paradise[5]

Sunshine Alley[5]

Angel's Oasis[5]
If you're planning his-and-hers caves or have a friend planning his man cave, see our list of man cave name ideas!
She Shed Name Generator
How to Choose the Perfect She Shed Name
You're an individual with unique hobbies and interests, and the name of your she shed should reflect your personality.
Keep the following tips in mind when choosing a name to be sure you find the very best fit for your special space!
Choose the perfect tone to suit yourself. Someone with a punny sense of humor might want to use something like "SHEdquarters," while someone who likes to romanticize might choose something like "Enchanted Cottage." The name you choose should be tailored to you and should match your personality.

Think of your ideal environment. Your hangout might be in your own basement, spare room, or backyard, but that won't stop you from styling it like your favorite place — perhaps the beach, the woods, or a classic cottage. Choose a name inspired by the place where you feel happiest!
Make an alliterative phrase with your name. Choosing a word that matches well with your name can make for an easy and catchy she shed name. For example, someone named Hayley might use "Hayley's Haven," or someone named Bri might use "Bri's Bliss."
Consider the uses of your she shed. Do you plan to use the space for a hobby, such as crafting or learning an instrument? Or will it just be a space to kick back and relax with a cup of coffee or a glass of wine? Your plan for using the space can impact the name you choose. For example, someone who plans to create a sewing room might choose something like "Needlecraft Nest" or "Threaded Bliss."