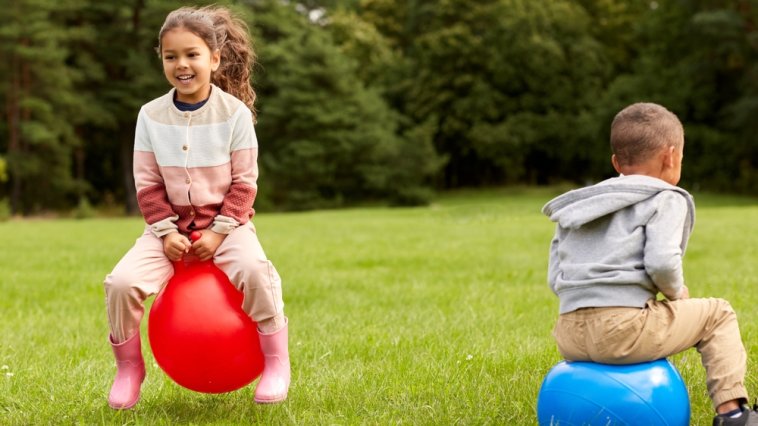 Have you ever wondered what makes things bounce? When an object collides with any surface, they push away from each other.[1]
Newton's first law states, "Every object will remain at rest or in uniform motion in a straight line unless compelled to change its state by the action of an external force." The force pushing two objects apart drives the object colliding with a floor or wall to bounce.[2]
So why do some things bounce while others don't?
This is determined by the object's molecular makeup. For example, rubber is made up of long, tangled molecules that can flex without breaking, while iron is made up of rigid molecules that won't bend easily.[3][4]
Below, we have the list of 37 things that bounce, as well as a few related science experiments you can try at home.
Ball
can be a tennis ball, basketball, or another type of toy ball
Shuttlecock
used for badminton
Kangaroo
Springs
Marble
Balloon
bounces when filled with air
Rabbit
Frog
Boba
pearl-shaped balls of tapioca found in bubble tea
Dice
Trampoline
Pogo stick
Jelly bean
bean-shaped candy
Rubber popper toy
Hopper ball
large, inflatable ball that you can sit on while bouncing
Silly putty
Fresh cranberries
Spring horse toy
Tire
Orbeez
small, colorful toy balls
Drumstick
Stress ball
squishy ball toy
Clementine
type of round fruit
Q-tip
Grains of salt
Pom pom
Sprinkles
Water droplet
Grasshopper
M&M
chocolate candy
Coin
Plastic bead
Pebble
small stone
Eraser
Plastic straw
Play-Doh
Inflatable pool toy
Fun Science Experiments With Bouncing Objects for Kids
The concept of things bouncing can be a lot of fun to learn about and test for yourself. You may be surprised by some of the things that do and don't bounce.
If you're looking for ways to investigate things that bounce, try a few of these ideas:
Test the effects of temperature. First, guess whether a ball will bounce higher or lower when it's at room temperature, when it's hot, and when it's cold. Then test your theory and record the results.
Create a bouncy egg. Put an egg in a bowl and submerge it in vinegar. Let it sit for 24 hours. Then drain the bowl and add fresh vinegar, being careful not to damage the egg. Now, let the egg sit for another 24 to 48 hours. The shell will dissolve away and leave you with a bouncy egg. It's still fragile, but fun to squish and use for light bouncing.[5]
Test the bounce of a large and small ball. For this experiment, find a large ball, such as a basketball, soccer ball, or volleyball, and a small ball, such as a tennis ball or softball. Now make a prediction of which will bounce higher. You can test this by dropping them both from a high place or simply bouncing them against the ground outside. It might be helpful to have someone standing by to watch and confirm the results.
Experiment with things that bounce back. Look around your house for things that bounce back like a rubber band, an empty balloon, or a string of elastic. Ideas for experimentation might be making a guess of how far they're able to stretch or how many of a designated object they can stretch around. Next, test your hypothesis and keep a record of the results.