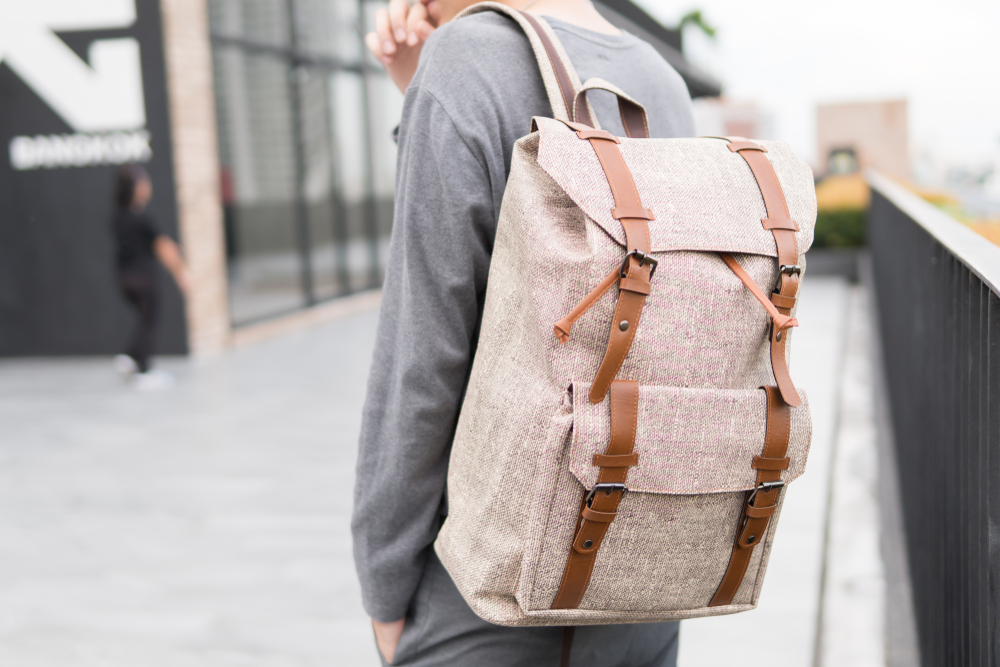 Whether you're looking for show and tell ideas or just curious about which things start with "B," we list more than 160 items below. We include definitions for things that might be unfamiliar to you.
Scroll past the list for a fun scavenger hunt activity using the list!
Household Items
The following items are everyday things that start with the letter B, which you can find around the house.
Blanket
Baseball cap
Backpack
Birthday candles
Balloon
Bottle
Bookshelf
Bedtime stories
Bath mat:
rug
Baking pans
Barbeque grill
Bubble gum
Bottle holder:
fabric bag designed to hold a water bottle
Baking sheet:
flat metal sheet pan
Baby blanket
Bandana:
scarf
Barrette:
hair clip
Baby monitor
Bag
Bakeware:
items used for baking
Baking utensils:
whisks and spoons
Basket
Bar glasses
Banana hanger:
hook for hanging bananas to keep them fresh longer
Band saw
Bannister:
rail
Bottle rack:
small shelf designed to hold bottles
Beads
Bassinette:
a small bed for a baby
Badge
Bookbag:
backpack or tote bag
Bar cart
Barbed wire
Barbeque pit
Barbeque utensils
Baseball bat
Basin:
sink
Baster:
dispenses liquid
Bath towel
Bathroom air freshener
Barware
Bathroom cleaner
Bathing cap
Bandage
Bulbs
Babyproofing supplies
Bath sponge
Button punch:
machine for making custom buttons or pins
Bible
Beanbag chair
Box cutter:
small tool designed for cutting cardboard
Bath tissue:
toilet paper
Bathtub
Bat box:
wooden box similar to a birdhouse, but for bats
Beachwear
Bag organizer
Bins:
storage
Bell
Benadryl:
allergy medication
Bench
Birdhouse
Bento box:
lunch box
Beret:
hat
Binders:
folders
Bleach:
cleaner
Blu-ray player
Broom
Bucket
Burglar alarm
Burp cloths:
cotton cloths for babies
Buttons
Toys
The following toys and toy brands start with the letter B.
Ball
Bicycle
Books
Barbie
Baby doll
Baseball
Basketball
Bath toys
Baby doll bottles
Beanie Babies
Baby doll carrier
Beach bucket
Bicycle bell
Baby doll clothes
Bingo cards
Badminton set
Baby doll stroller
Build-A-Bear plush
Board games
Baby doll comb and brush set
Bicycle horn
Baby doll diaper bag
Bubbles
Baby doll pacifier
Baby Shark bath toys
Baby Shark puppets
Baby Shark singing plush
Baby doll bed
Baking set
Barbie Dreamhouse
Bubble machine
Basketball hoop
Bear plush
Beetle by Volkswagen car toy
Beluga whale plush
Bicycle basket
Big Wheel:
plastic tricycle with a larger front wheel
Blaire Wilson by American Girl
Blocks
Boats
Bug Box toy
Bug's World Educational Capture kit
Battlebots Arena by Hexbug
Bulldozer
Clothing
You can even find Bs in your closet! These clothing items and accessories start with B:
Bathing suit
Boots
Belt
Blazer
Blouse
Boxer shorts
Band tee:
t-shirt bearing the logo or image of a musical artist
Button-down shirt
Business pants
Business shirt
Beanie:
type of hat
Bathrobe
Baseball tee:
long sleeve t-shirt with darker sleeves
Ballet flats:
women's shoes with no heel
Bikini:
type of swimsuit
Basketball shoes
Belt buckle
Ballet shoes:
shoes for ballet dancers
Baseball cleats
Basketball shorts
Bra
Bell-bottom jeans:
jeans with flared legs
Biker jacket:
leather jacket
Bell-sleeve top:
top with flared arms
Bermuda shorts:
almost knee-length shorts
Bike shorts:
mid-length shorts for biking
Boat shoes:
flat shoes with rubber soles
Bonnet
Bowler hat
Bowtie
Business shoes
Balaclava:
ski mask
Bowling shirt
Bowling shoes
Bolo tie:
tie made from a cord and an ornamental fastener
Bolero jacket:
short, tailored men's jacket
Expensive Items
Big spenders might own the following high-value items that start with the letter B:
Ballgown
Bracelet made of gold or sterling silver
Bridal gown
Bridesmaid dress
Books that are rare or first edition
Badgley Mischka shoes
Badgley Mischka dresses
Badgley Mischka handbags
Bass boat:
small boat for bass fishing
Bay boat:
for low-profile, inshore fishing
Bowrider:
a boat with seats in the bow area
Bugatti cars
Activity: Scavenger Hunt
While you might not have a Bugatti parked in your driveway, you're sure to find many of the items on our list around your own house!
For a fun way to use our list and fill an afternoon, conduct a scavenger hunt for the items.
Follow these steps to participate:
Decide your scoring system. Will you count the number of items you find, or award more points for rare and unusual items? The scoring system is entirely up to you and can be as simple or complicated as you choose! Just be sure all participants know the rules before you play.
Print a copy of our list for each person who wants to play. You'll need a copy of the list, so you know what to look for while you hunt. With a printed copy, you can check items off as you go.
Search the house for items on the list. Leave no corner unsearched! Our list includes items from the kitchen, bedroom, bathroom, closet, and even the garage or backyard. You can cross the items off the list or snap photos to prove that you found them. We don't recommend gathering all of the items together, though — with well over 100 on our list, you could end up with a pretty big pile!
Offer a prize to the person who finds the most items or earns the most points! The prize can be anything you want, from a handmade victory crown to a meal from your favorite restaurant to something small that you already have around the house (like a sweet treat).